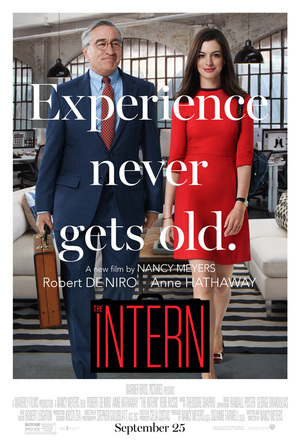 Photo courtesy of Warner Bros. Entertainment.
When 70-year-old Ben Whittaker, played by Robert DeNiro in The Intern, shows up for his first day of work, the experience feels familiar to anyone who has ever been an outsider.
During his interview at About The Fit, an online clothing retailer, Ben is asked if he even remembers his college major. Ben's twenty-something coworkers load up their desks with technology he doesn't recognize. Their stares and smug comments make it clear that he doesn't fit in. He doesn't even know how to turn on his MacBook Air. His boss, CEO Jules Ostin, played by Anne Hathaway, barely acknowledges him.
For a typical teenage intern, this would be a recipe for failure. But Ben has one asset that few real world interns have. Through decades of experience as a corporate executive, he has already learned how to play the game. He knows how to build professional relationships, how to handle a difficult boss, how to get help and give help in return. He understands that if you dress like a professional, people are more likely to treat you like one. (A lesson he generously shares with his hoodie-wearing co-workers.)
Knowing these unwritten rules of office survival is Ben's saving grace. The film's great irony is that Ben's decades of professional experience are the reason he was able to 'make it' as an intern. It is also the reason the movie is a comedy, not a tragedy.
Imagine if The Intern were played by a low-income young person of color, who grew up in East L.A. or Brownsville, Brooklyn. What if nobody ever told him that he should plan on arriving at an interview fifteen minutes early because his bus might run late? What if nobody ever showed him how to ask for advice from colleagues without sounding defensive? What if he couldn't stay late to bond with his hardworking, mercurial boss because he had to get to his second job at McDonald's, in order to pay for his college tuition?
As the CEO of an organization that helps hundreds of low-income, first generation young people find and succeed in internships every year, these questions are all familiar to me. My students haven't grown up going to Take Your Children to Work Day at professional offices. They haven't learned business etiquette over the family dinner table. They can't wear status symbol handbags or shoes, because they use their summer paychecks for college tuition.
It is incumbent upon all of us to give every young person the training they need to manage situations like these. The Opportunity Network teaches thousands of low-income students how to be career fluent, ready to manage the everyday challenges of professional life before they walk into the workplace.
Every day at work I see young people with the intelligence, motivation and drive to become the next generation of business leaders and innovators. If we give them a good start, their stories will have happy endings, just like The Intern.
Calling all HuffPost superfans!
Sign up for membership to become a founding member and help shape HuffPost's next chapter