A straight-faced O.J. Simpson told the Nevada parole board Thursday that he's a good guy who got mixed up in a bad situation.
"I always thought I've been pretty good with people, and have basically spent a conflict-free life," Simpson said.
The former gridiron great added, "I'm not a guy who lived a criminal life. I'm a straight shooter."
Simpson made no mention of the 1994 double murder of his ex-wife, Nicole Brown Simpson, and her friend, Ron Goldman.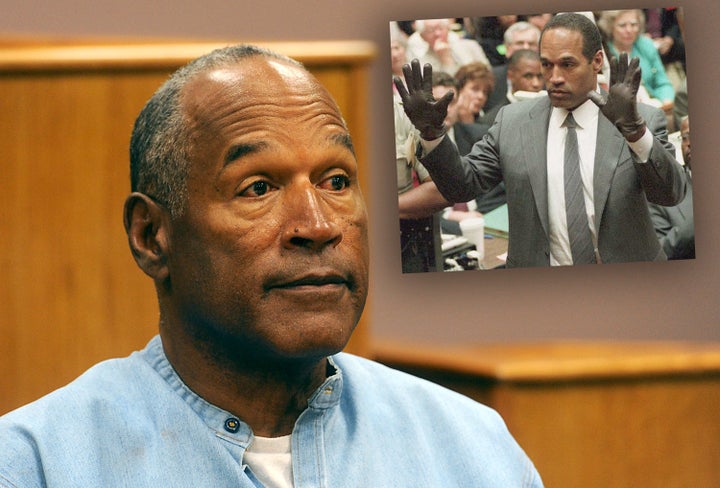 Neither Simpson or anyone present at the hearing discussed the 1995 "trial of the century," in which he stood accused of stabbing Goldman more than two dozen times and of cutting his ex-wife's throat so deep that her head was nearly severed from her body.
The reason, according to a legal expert: The murders could not be considered by the board.
"He was found not guilty and that occurred long before the crime for which he is being punished," Los Angeles criminal defense lawyer Steven Cron told HuffPost. "When you're found not guilty, that's the end of that discussion."
Simpson was acquitted in the criminal trial, but a civil lawsuit filed by the victims' families resulted in a 1997 judgment finding Simpson liable for the deaths. However, that lawsuit also went unmentioned on Thursday.
According to Cron, the civil verdict was also inadmissible at the parole hearing.
"It wasn't a conviction," he said. "That was a civil proceeding, in which the standard is much lower than it is in a criminal case. A civil case is a preponderance of the evidence, where in a criminal trial you have to have proof beyond a reasonable doubt."
Back in 1989, Simpson pleaded no contest to physically abusing his ex-wife ― another infamous bit of his past that Cron said was not relevant to the parole board.
Instead, the board had to focus on how Simpson has behaved since his 2008 conviction for armed robbery and kidnapping. 
"When he got sentenced, the judge would have had access to his entire criminal history and would have known about that," the attorney said. "Presumably, all of that was factored into his sentence. The parole board is looking more at what has this inmate done since the date of sentencing. The fact that more than 25 years ago he had another case was not relevant."
The board also had to look at his chance of reoffending and his prognosis for leading a law-abiding life.
"I'm no fan of O.J. Simpson, believe me, but they had to judge him just as they would any inmate and he apparently met those factors," Cron said.
Simpson, 70, could be released as early as Oct. 1.
REAL LIFE. REAL NEWS. REAL VOICES.
Help us tell more of the stories that matter from voices that too often remain unheard.
BEFORE YOU GO
PHOTO GALLERY
O.J. Simpson Timeline