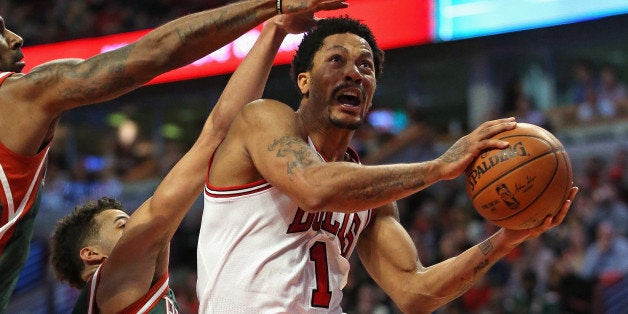 Somewhere amid the exhausting barrage of Derrick Rose injuries, the Chicago Bulls lost their elite status. No longer were they a young and ambitious team to be feared, but rather a franchise stuck in quicksand, wondering if their fallen star would ever be the same.
When healthy, Rose has been a generational type of player who pulled off the ultimate: capturing NBA MVP at just 22 years old. That's three years younger than when Michael Jordan earned his first MVP with the Bulls in 1988. Rose -- who has played in just 100 regular season games since then -- is back in the fold, looking explosive, dynamic and fearless, though perhaps not as effective as he once was. Moreover, the Bulls possess one of the most lethal frontcourts in the league and a head coach that demands maximum effort from his players.
Defensive dominance has led Tom Thibodeau's team to sustained success over the previous four years, even with Rose sidelined. This season, the Bulls allowed opponents to shoot 43.5 percent from the floor, good enough to tie Indiana for third in the league. Thibodeau's teams rarely allow the kick-out triples either, a key reason why the Bulls also ranked second in three-point percentage against.
To be sure, this is not the stout Golden State Warriors defense -- whose defensive guru is former Thibodeau staff member Ron Adams -- and Chicago has had defensive lulls this season. In fact, their defensive rating has hovered around league average much of the year. As the Bucks have shown, the Bulls are prone to half-court breakdowns, both off of isolation and dribble handoffs, often not helping enough or even helping too much. They have made up for it in other ways so far, but with all due respect to Michael Carter-Williams, O.J. Mayo and Jerryd Bayless, Jason Kidd's bunch is consistently at a disadvantage in the backcourt, no matter the opponent.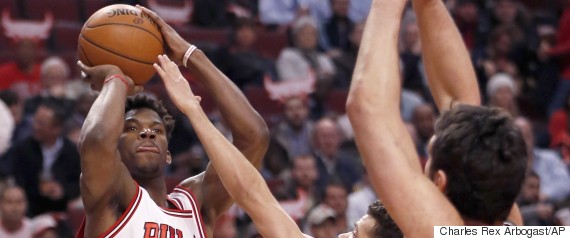 Naturally, this brings us back to Rose, because even with a top-notch defense, an emerging star at shooting guard in Jimmy Butler (above) and strong frontcourt play from Joakim Noah, Taj Gibson, Nikola Mirotic and Pau Gasol, Chicago will not contend -- let alone advance past Cleveland or Atlanta -- without No. 1. As we've come to expect from the 26-year-old point guard, stringing together quality performances has proven challenging. When he's not right, Rose fails to consistently attack the paint. He settles for perimeter jump shots -- never a strength of his -- and doesn't assert himself in late-game situations. But when he's right, Rose wills his team to win, because nobody can legitimately defend him one-on-one or in the pick-and-roll.
The NBA Playoffs lend themselves to great individual storylines. Rose may never be the player he was before a series of catastrophic knee surgeries, and that's OK. But the Bulls currently have a roster capable of beating anybody in a prolonged series -- and that all hinges on whether Rose can be the guy, if only for a couple months.
CORRECTION: A previous edition of this article incorrectly stated that Michael Jordan won his first MVP in 1991, at the age of 28. It has since been changed to properly reflect that Jordan won his first in 1988, at 25.

Email me at jordan.schultz@huffingtonpost.com or ask me questions about anything sports-related at @Schultz_Report, and follow me on Instagram @Schultz_Report. Also, be sure to catch my NBC Sports Radio show "Kup and Schultz," which airs Sunday mornings from 9 to 12 EST, right here.
Calling all HuffPost superfans!
Sign up for membership to become a founding member and help shape HuffPost's next chapter