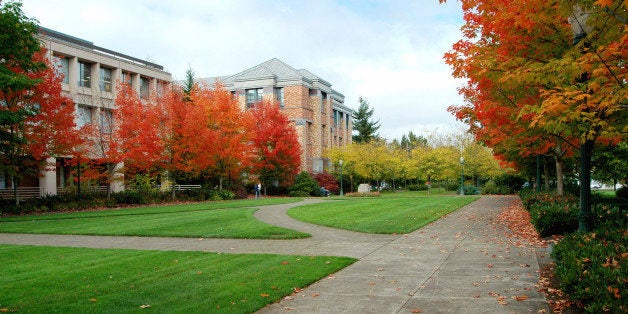 It seems as though every day there is another story in the news about a sexual assault or act of sexual violence on a college campus. Many of these stories involve Greek organizations -- look no further than the video involving Indiana University ATO members that surfaced on the internet last week.
The video, which shows members of the house engaging in explicit sexual acts, has made it far beyond the Twitter feeds of IU students and all the way to international headlines. Despite the shock and disgust voiced by many after watching the video, there seems to be an overall question emerging: Why do these acts of sexual violence on campus continue to happen, and what can we do to stop them?
Don't get me wrong -- the series of violent sexual acts on campuses in recent years have sparked action and change at many schools, including IU. The Indiana Fraternity Council started an organization known as MARS, or Men Against Rape and Sexual Assault, which works to promote awareness of IU's sexual assault initiatives. Prior to last week's incident, ATO was a member of the organization.
Whether or not they are effective, initiatives to prevent sexual violence on campus are in place. The real problem here, I fear, is far more general.
Earlier this week in class, one of my professors brought up the ATO situation -- not to voice their own opinion on the issue, but to discuss it in a legal context. I watched as a student sitting in front of me rolled their eyes and said "I hate how people keep bringing this up."
And that's when it dawned on me. Despite the fact that we live in a community and embrace a culture that fosters sexual violence like this, we're still afraid to talk about it. We're afraid to address and identify the different types of sexual violence, the ways to prevent it, and the effects it has on our friends, peers and classmates.
In September, the Washington Post reported that one in five college women are victims of sexual assault during their time in university. We're surrounded by statistics just like this one, and yet people are still annoyed by those trying to start productive conversations about sexual violence on campus.
Because so many people are still uncomfortable with discussing sexual violence, we are often left with no choice but to turn to the media. While there are accurate reports about acts of sexual violence on campus in the news, there are several others that are totally missing the point -- and contributing to the misconceptions surrounding sexual violence today.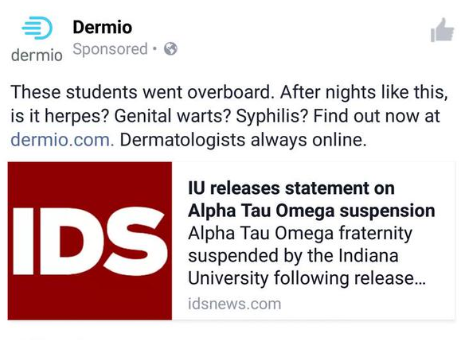 Take the Dermio advertisement found on Facebook, which as pointed out by Indiana University student and Twitter user Adam Smith, appropriates the fraternity's act of sexual violence by turning "real suffering into an advertising opportunity." As if the risk of STDs is the real issue at hand here.
The media's skewing of stories, such as the ATO one, isn't the only reason young people have a misconception about sexual violence. If we're going to truly start a productive conversation about sexual violence on campus, then we must recognize the multiple misconceptions surrounding the issue. After all, you don't have to be "radical" or "extreme" to discuss rape culture. And you can't ignore the startling statistics surrounding male sexual assault victims, either. While these are all generally sensitive topics, the last thing we need to be doing is straying away from them.
It's no secret that the events at ATO have sparked controversy and debate. The student in my class who was upset about the discussion could tell me that my perspective of the situation is biased, or that I can't fully understand it because I'm not a member of the Greek community. But something tells me that's not the issue here.
So as long as there's reports in the news about sexual violence on campus, I'm going to keep talking about it -- not because I want to dwell on the suffering of others, but because I want to spark awareness that leads to positive change.
Don't be afraid to "keep bringing it up."
Calling all HuffPost superfans!
Sign up for membership to become a founding member and help shape HuffPost's next chapter