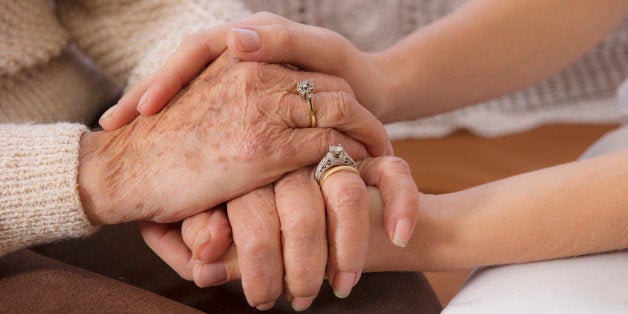 If you're like most Americans, chances are you met some of your closest friends while you were in school, which means many of those friends are exactly -- or very close to -- your own age. As a result, we've come to view friendships with people much older or much younger than us as unusual. But there are many reasons to seek out these friendships. And, in fact, Good Housekeeping called a "generation gap" friendship one of the two most essential friendships in a woman's life.
"Bridging the generation gap not only increases the friend pool, but it also expands and supports mental well-being," Anna Kudak, co-author of What Happy Women Do, told the magazine. "Friendships with older and younger people help broaden your perspective, which in turn allows you to have compassion and empathy in your day-to-day life."
For women and men alike, there's no reason why these friendships can't be as close as those with people of similar ages. Robert Kurzban, an assistant professor of psychology at the University of Pennsylvania who studies factors that affect friendship quality, found that matching age was not a predictor of friendship quality or closeness.
"A lot of our relationships are formed in a formal education environment so we wind up with relative [age] homogeneity," Kurzban told the Huffington Post. But, he adds, "The best predictor of friendship rank is where you think that person puts you in their friendship 'queue.' The hardest kind of person to become important to is the kind of person who has a lot of people who like them."
Some famous friend pairings fall into this category: Bette Midler and 50 Cent are dear friends, for example, thanks to their shared interest in local charity. She's 68, he's 38. Fitty serves on the board of Midler's New York Restoration Project to help restore parks and community gardens in low income neighborhoods. Midler gushes that he's "a gorgeous star" and "the Godfather of Jamaica, Queens."
And while celebrities and civilians alike have entered into age-defying friendships, cultivating them isn't necessarily easy.
"It's tough," explains Jon F. Nussbaum, a professor of communication arts and sciences and human development and family studies at Penn State who specializes in generational patterns of communication. "Biological and physiological things can get in the way, and socio-cultural things can also reinforce those boundaries: what we find interesting, life pace, language itself."
Intergenerational friendships may require more effort and more understanding, but the rewards are profound. Here's why you should cultivate your own:
Maybe some of that self-confidence will rub off
They can show you the way
Older friends have already done many of the things younger adults will struggle to do. They can help you negotiate at work, think clearly about a breakup or advocate for your child in school. Meanwhile, younger people tend to be more fluent in technology and aspects of youth-driven popular culture. "There are lots of advantages when you interact with someone of a different age," said Nussbaum. " If young people are listening, they get good advice, like life or career or financial advice. For an older person, they learn about what's important to younger adults -- they really learn about a different world."
It's a good opportunity to expand your horizons and find some friends who share your interests
If you get really into ceramics or jazz or Bible study, you may find that your best friendships -- cultivated over the shared experience of college or a first job -- aren't going to cut it. As we pursue our interests over a lifetime, the people who share them become increasingly important. Interest-based groups, like clubs and teams, are good places to meet those who share your passions -- and they may not be close in age at all. After all, Kurzban said, "Close friendships form when people are looking for close friends."
It could actually help you live longer
Companionship in old age is a strong predictor of lifespan. Study after study shows that having a group of friends is linked to living a longer and healthier life. It's also associated with a happier life in old age. And while friends of any age will help, younger friends may be of particular value because they are more likely to be active and in good health themselves -- buoying the older companion.
You could lose some preconceived notions
If you have friends of different age groups, you are less likely to stereotype based on age and generation, according to Nussbaum. It's easy to dismiss Millennials as self-interested and entitled if you aren't the recipient of the kindness and friendship of someone under 30. Young people may think the lives of older people are monotonous and boring. Friendship can erase these stereotypes and false assumptions, and widen your perspective. As long as you can overcome the challenges posed by different communication styles and life stages, these friendships can be particularly valuable, he says.
You'll get an important cultural lesson
Most 20-somethings today probably have never consulted the I Ching -- the mystical Chinese text that was in vogue among young counterculture types in the 1960s and 1970s. And most Boomers lack an understanding of many current alternative practices fashionable among today's young people. When it comes to music, movies, party games and pretty much any of the fun stuff that occupies our free time, a much older or younger friend will have good recommendations and references you can't get from your own age group.
Related
Popular in the Community