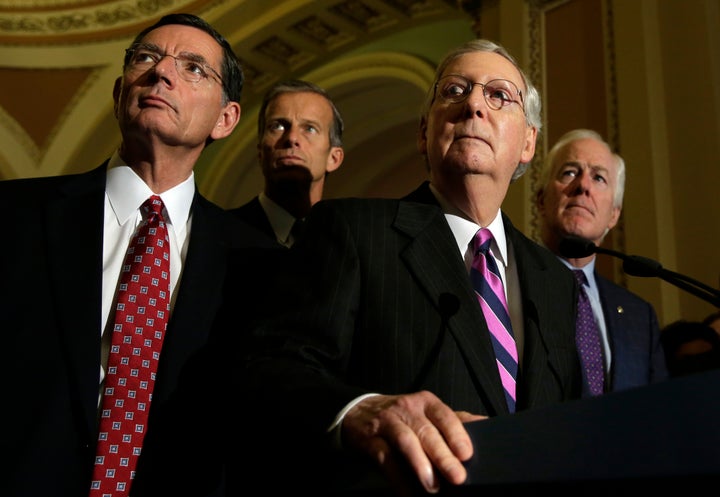 Heritage's overture to donors includes a number of common talking points among conservative court watchers, including an appeal to stop the liberal push ― presumably by a President Hillary Clinton ― "to pack the courts with activist judges" that might "create laws rather than interpret them."
"Give Senators the procedural tools to block any liberal nominee," reads one of the bullet points, which together read as a battle plan for lawmakers to follow in the event Trump loses the presidency.
Asked about this specific proposal, John Malcolm, the director of the Meese Center for Legal and Judicial Studies at Heritage, demurred on its significance.
"Give Senators the procedural tools to block any liberal nominee."
"I'm not sure what that means," he said, adding that his organization hasn't taken an official position on whether Republicans should stonewall future nominations to the Supreme Court
Heritage "may at some point take a position. I don't think it was an endorsement of a particular view that has been floated out there," Malcolm said, in reference to related suggestions by the likes of Sens. John McCain (R-Ariz.) and Ted Cruz (R-Texas).
Curiously, a Heritage spokeswoman indicated in an email that the fundraising page went live on Oct. 17. That's the same day McCain became the first Senate Republican to declare that he and his colleagues would be "united against any Supreme Court nominee" put forth by Clinton.
It's in response to these veiled threats that Clinton running mate Tim Kaine said in a recent interview with The Huffington Post that Democrats would seek to eliminate the filibuster for Supreme Court nominees if they regain control of the Senate.
The Heritage plan, as outlined in the fundraising letter, seems to account for even that scenario.
"In fact, according to a new Heritage analysis of the Constitution and Senate procedure, it doesn't require any more than a small number of principled conservatives to hold the line," reads the missive. "We can use procedural strategies to block a nominee and even prevent the use of the 'nuclear option' to force through a nominee by majority vote."
"There's a clear recognition by politicians ― and also by policy think tanks ― on how important the Supreme Court is," he said.
As for Thomas, who knows a thing or two about contentious confirmation battles, he may have offered the most sobering analysis yet of the politicization of the bench he occupies.
"At some point," he said during his conversation with Malcolm last week, "we have got to recognize that we're destroying our institutions and we're undermining our institutions. And we're going to destroy them. The day is going to come, if it's not already here, that we'll need the institutions and the integrity of the institutions."
This article has been updated with information about when the Heritage fundraising page went online.
Support HuffPost
The Stakes Have Never Been Higher
Popular in the Community