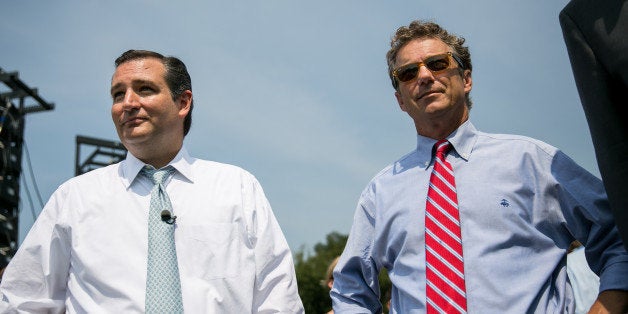 Twenty-three members of Congress are slated to speak at a major conservative policy summit called "Opportunity for All, Favoritism for None" this week, and none of them are women.
The panel discussion topics range from controlling government spending and free market energy solutions to abortion policy and gay marriage. Even the "Pro-Life Agenda" panel has only male speakers: Reps. Chris Smith (N.J.) and Mark Meadows (N.C.). None of the four women senators and 19 congresswomen from the Republican Party is participating in the summit.
The Heritage Foundation did not immediately respond to a request for comment as to whether any female lawmakers were invited.
The Republican Party has been trying to better appeal to female voters since the 2012 elections, when women overwhelmingly voted for President Barack Obama and Democrats after Republican candidates struggled to articulate their views on abortion and birth control. But the GOP has struggled to elevate women within its own ranks. Bloomberg reported on Monday that Republican leadership named a woman to chair only one House committee for the new Congress -- the House Administration Committee -- while male lawmakers chair the other 21 committees.