WASHINGTON -- The latest signs that Mitt Romney is likely to run for president in 2016 may come as welcome news to former aides and supporters, many of whom received phone calls from the former Massachusetts governor this weekend.
But the prospect of another Romney campaign failed to capture the hearts of social and fiscal conservatives gathered this week in the nation's capital to hammer out the policy agenda for the new Republican-controlled Congress.
The two-day "Opportunity for All, Favoritism for None" conference was hosted by the Heritage Foundation, an influential conservative think tank. The event brought together activists and Republican lawmakers looking to promote conservative solutions on education, defense, religious liberty and marriage -- issues that potential 2016 candidates will need to tackle ahead of what is shaping up to be a contentious primary. But when asked about Romney, an establishment Republican who failed to unseat President Barack Obama in 2012, several attendees said thanks, but no thanks.
"I'm sure he would make a great president. He knows math and he understands economics. And he's a hundred percent honest," entrepreneur Robert W. Ellis told The Huffington Post. "But the public doesn't get moved by him. He doesn't stir their hearts. We need somebody who will light the fire."
Whereas Bill Clinton had the political chops to rival a snake oil salesman, Ellis said, "Romney is a nerd. A nice nerd, a handsome nerd. But nerds don't win elections."
Should he decide to enter the ring a third time, Romney would face even tougher odds than he did during his 2012 bid. More conservative potential candidates like Sen. Ted Cruz (R-Texas) could complicate Romney's path to nomination, perhaps substantially more than conservatives like former Pennsylvania Sen. Rick Santorum managed to do the last time around. A larger, more formidable GOP field including the likes of New Jersey Gov. Chris Christie, Wisconsin Gov. Scott Walker, and former Florida Gov. Jeb Bush would also strain Romney's potential donor base.
"I think Jeb Bush already has it locked up. [Romney] won't be able to duplicate the Bush network," said Larry Cirignano of the pro-life group Choose Life America.
Romney would also need to face his own flaws as a candidate, including the many missteps that Democrats gleefully used to create the image of a heartless businessman out of step with the average American. The former governor has reportedly promised supporters a "different" campaign, with new staff and new policy priorities focused on issues like tackling poverty.
His ability to do this, however, was very much in doubt at Heritage, even among those who said they could see themselves supporting Romney.
"I think the attributes that have been attributed to him, I think some are mischaracterizations of him and his beliefs and his history," investment banker Jerry Grossman told HuffPost. "So can he kind of rebuild some of that, become recaricatured more appropriately? I think he has to overcome some of the image."
One of Romney's potential rivals -- who himself got a very positive reception at the conservative confab -- responded with disdain to the news that the former Massachusetts governor may be jumping into the fray once again.
"There are some who believe that the path to Republican victory is to run to the mushy middle, is to blur distinctions," Cruz said at the conference Monday, in response to a question about Romney. "I think that recent history has shown us that's not a path to success. It doesn't work. It's a failed electoral strategy."
Before You Go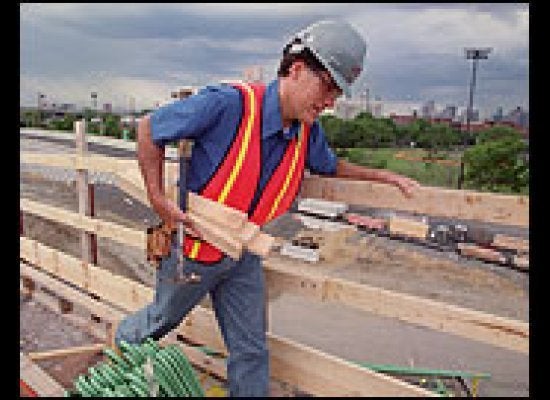 Mitt Romney Spends The Day As Multiple Blue Collar Workers
Popular in the Community