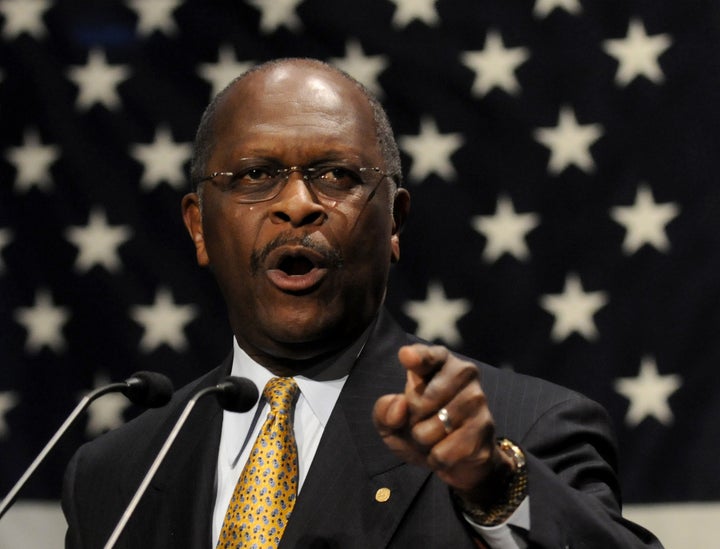 WASHINGTON -- Herman Cain gives a great speech.
But some conservatives think the longshot run for president by the black Republican former Godfather's Pizza CEO and radio host will amount to more than just talk, particularly in Iowa.
"I think Herman Cain will surprise some people," said Ben Domenech, a conservative blogger and research fellow with the Heartland Institute.
Cain has been working hard at connecting with Tea Party activists in Iowa, a state whose caucuses play a crucial role in the nomination process because they mark the first vote on the party's choice. Grassroots conservatives in Des Moines say Cain met with about 30 of them in July and has been back to the state numerous times since then.
"Herman's got a lot of support under the radar. Don't be surprised. We've got people on board who are under the radar who can draw a lot of people to these caucuses," said Charlie Gruschow, the chairman of the Des Moines Tea Party, who is a Cain supporter.
Bob Haus, a longtime GOP operative in Iowa who ran former Tennessee Sen. Fred Thompson's 2008 campaign in the state and is not affiliated with any of the current candidates, also said Cain could sneak up on the rest of the field in Iowa, where voters in the 2008 primary chose former Arkansas Gov. Mike Huckabee over more established candidates.
Haus said he takes Cain seriously "because he takes himself seriously."
However, at the same moment that Cain is picking up momentum, he is dealing with the first real blowup of his campaign -- forced to backtrack this week after telling The Huffington Post and other reporters in Iowa on Saturday that he would not feel comfortable appointing a Muslim to his Cabinet or to a judgeship.
Following a wave of outraged comments, including some from fellow conservatives, Cain's staff said he would not discriminate against anyone in his administration based on faith or race, in accordance with the Constitution.
"He's going to need to learn over time how to address controversial issues," said Colin Hanna, president of the conservative group Let Freedom Ring, who nonetheless said he is firmly backing Cain's candidacy.
Despite the controversy, Cain has also begun to pick up some support with conservatives in Washington as well as grassroots activists. He wowed a group of conservative bloggers at a lunch held at the Heritage Foundation last week, according to Rob Bluey, the director of Heritage's Center for Media and Public Policy, which organizes the regular blogger lunches.
"Herman Cain has a compelling life story. He worked his way up the corporate ladder to become a successful CEO and later a popular talk-radio host who promoted conservative principles," Bluey said in an email. "His real life experiences in the business world are very relevant given the challenges facing America."
Domenech, who attended the lunch with Cain, said that the potential candidate "speaks to the Tea Party movement not as an ambassador from the Republican establishment trying to adopt a populist approach, but as one of them."
Much of Cain's ability to get a hearing comes from his dynamic speaking ability. After giving an electric speech in Phoenix earlier this month, Cain won a straw poll at a Tea Party meeting of a few thousand activists, despite the fact that former Minnesota Gov. Tim Pawlenty, a fellow 2012 hopeful, had also spoken at the Phoenix event.
A Gallup poll released Tuesday showed Cain with one of the highest "positive intensity scores" of all the potential GOP presidential candidates. His 19-point score ranked fourth, topped only by former Arkansas Gov. Mike Huckabee's 26 points and the 20 points registered by former Massachusetts Gov. Mitt Romney and Minnesota Rep. Michele Bachmann.
Cain's name recognition is still among the lowest of the Republican contenders, at 21 percent. But Gallup said the results demonstrate that Cain and Bachmann both "have the potential to be much bigger factors in the Republican primaries and caucuses than current trial-heat polling would show."
Yet while his plainspokenness can be an asset, it is Cain's penchant for speaking his mind that landed him in some hot water this week. He was asked Saturday if he would feel comfortable appointing a Muslim to his Cabinet or to a federal judgeship.
"I will not," he said. "And here's why. There is this creeping attempt, this attempt, to gradually ease Sharia law and the Muslim faith into our government," Cain said. "It does not belong in our government. This is what happened to Europe. And little by little, to try to be politically correct, they made this little change. They made this little change. And now they've got a social problem that they don't know what to do with hardly."
Cain's staff backtracked from his comments, telling HuffPost that he did not explicitly say he would not appoint a Muslim -- which would be a violation of the Constitution's "religious test" clause in Article VI -- but that rather he was responding to a question about his feelings.
The tortured spin contradicted what Cain himself said on Fox News Monday.
"A reporter asked me would I appoint a Muslim to my administration? I did say no," Mr. Cain said.
But eventually this week Cain's staff steered him away from standing pat.
"Mr. Cain would hire any individual based on his or her qualifications or merit," Cain spokeswoman Ellen Carmichael said in an interview. "His sole requirement would be that he or she governs or interprets the law solely within the parameters of the U.S. Constitution."
"Mr. Cain has worked for more than 40 years in the corporate world and he has never had a single issue with workplace discrimination. He has worked side by side with individuals of various faiths, races and backgrounds. If Mr. Cain were president he would adhere to the same philosophy," Carmichael said.
Carmichael also said that "folks have been rallying around [Cain] because I think enough Americans understand what he said ... and agree that Sharia is a concern."
Cain is not the only GOP hopeful to speak out against the introduction of Sharia law in the United States. Former House Speaker Newt Gingrich and former Pennsylvania Sen. Rick Santorum have both said Sharia should be rejected in America, and Pawlenty moved quickly this month to say that he canceled a state-sponsored mortgage program that avoided the use of interest on loans to appeal to devout Muslims.
But Daveed Gartenstein Ross, director of the Center for the Study of Terrorist Radicalization, said fears of Sharia law "creeping" into American jurisprudence are misplaced.
"I personally am not concerned with the grandiose idea that Sharia is going to become a significant strategic threat in the United States," Gartenstein-Ross said in an interview.
Gartenstein-Ross, who in 2007 wrote a book about his past conversion to Islam and time working for a charity now designated by the U.S. government as a global terrorist entity, said Cain's views were not "helpful."
"This is taking an explosive political issue, making it more explosive and doing so in a way that will out right alienate the Muslim community," he said.
Cain took criticism from other conservatives for his comments, as well.
"This is an ugly and undiluted form of bigotry," Peter Wehner, a former White House adviser to President George W. Bush, wrote Monday for Commentary. "It assumes, against the overwhelming evidence, that every Muslim believes in the most radical interpretation of Sharia law, when in fact millions of American Muslims are fully reconciled with democracy and the protection of minority rights."
Hannah said that Cain will have to learn how to distinguish "between radical Islam, which seems to be genuinely hostile to America and American values, and peaceful Islam, which is compatible with patriotism, American values, the free market, democracy and so on."
Domenech said the bigger threat to Cain is Bachmann, because she will attract the support of hardcore conservative activists in Iowa who otherwise might have backed him. Interviews with activists in Iowa seemed to confirm such suspicions: Tea Party conservatives were excited about Cain, but hesitant to embrace him as they waited to see if Bachmann gets in the race.
"If he's onstage with Gingrich, Barbour, Romney, Pawlenty, Daniels, et cetera, he's without question the most outside person up there," Domenech said. "Bachmann blunts his appeal a great deal by offering another rouser."
Cain said in an interview that he thinks his biggest challenge will be fundraising.
"A lot of people want to contribute to someone that they think is going to win, rather than to somebody that they want to win. A lot of people want me to win but still don't believe that I can win," he said.
"But I got news for them: I have been a long shot all my life, and so being a long shot is nothing new to me."
REAL LIFE. REAL NEWS. REAL VOICES.
Help us tell more of the stories that matter from voices that too often remain unheard.