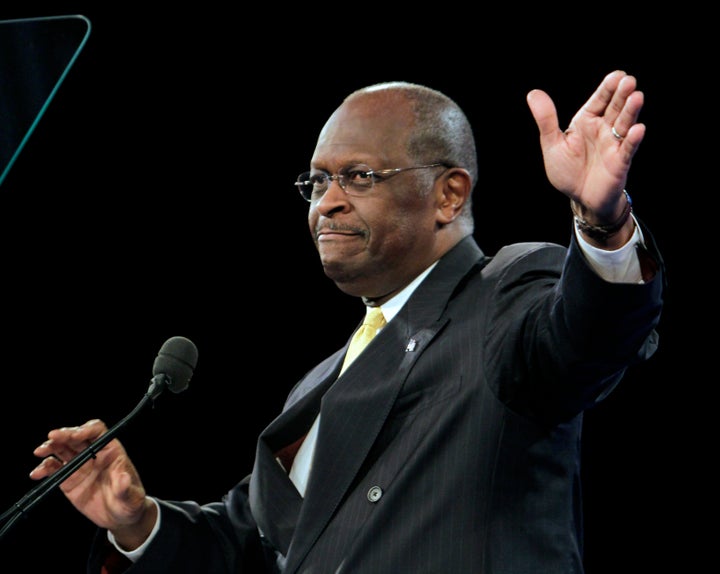 WASHINGTON -- Herman Cain's widespread appeal, which has helped him ascend the ranks of the Republican primary field, stems in part from his ability to cast himself as the reluctant candidate. Cain is known as a successful businessman first and a motivational speaker and author second. He often tries to portray his run for the White House as an answer to the call of a unique time and challenges.
"I'm not a professional politician," he says. "I'm a professional problem solver."
But if Cain is not a professional politician, it's not entirely by choice. He ran for a Senate seat in Georgia in 2004 but lost in the Republican primary to current Sen. Johnny Isakson. That period of Cain's political life has gotten scant attention even as his White House bid has transformed from a quixotic quest to something more serious. That might be because the Cain who ran for Senate is a different type of candidate than the one running for the White House.
What stands out in particular is the extent to which the former Godfather's Pizza CEO used sharply conservative cultural issues to set himself apart from his fellow Republicans. An archived search of Cain's campaign website shows that he routinely attacked Isakson for wavering on abortion rights, chastising him in an early radio ad for voting "to allow abortions in our tax-funded military hospitals overseas." (The bill had simply allowed servicemen or women serving overseas to use personal funds on abortion.)
In an early television ad he introduced himself, first and foremost, as a believer of life from conception.
In an issue paper on his website, meanwhile, he said he would oppose abortion in the case of pregnancies resulting from rape or incest, as well as the use of tax dollars that "could encourage abortion as a 'solution' to problem pregnancies."
The website also featured a "Contract with Georgia," in which he listed ten priorities he would pursue upon entering office. Third on the list was "Protect life which begins at conception."
Beyond the confines of a carefully managed campaign website, Cain was even more outspoken. He told the Washington Post that he considers "plausible" a theory that the abortion rights group, Planned Parenthood, was established to systematically lower the black population.
"One of the motivations was killing black babies," he said, "because they didn't want to deal with the problems of illiteracy and poverty."
His campaign dealt with cultural issues beyond abortion as well. When a constitutional amendment banning same-sex marriage was offered in the state of Georgia, he jumped to applaud its passage.
"We have a war on our moral fiber," he said, according to a Chattanooga Times Free Press article on February 22, 2004. "We will not allow the godless few to destroy our moral foundation."
Even substantive political debates were passed through the prism of culture and race. Arguing that Social Security needed to be disbanded and replaced with 401(k) plans and Individual Retirement Accounts, Cain made the case that the entitlement program was inherently biased against African Americans.
"If that's going to be a transfer from me to white people," Cain said of his own payments into the Social Security trust fund, "can't I at least give it to white people I like?"
The extent to which Cain the presidential candidate would back off from any of these positions is unclear. His campaign didn't return an email request for comment. He has aired his suspicions about Planned Parenthood-linked eugenics more recently than 2004, but his position on gay marriage is a bit more vague now than it was back then.
What's noteworthy is the extent to which talk of race, abortion, or same-sex marriage rarely come up, either for Cain or any other Republican presidential candidate. A run for the Republican nomination for a Senate seat in Georgia is inherently different than a Republican presidential primary contest. But more than that, it's the current political and economic climate that is responsible for social issues taking a backseat. And for Cain, that climate has facilitated what's clearly been a beneficial evolution in his campaign narrative, allowing him to emphasize his business background rather than play the role of orthodox social conservative.
Earlier on the Huffington Post:
Popular in the Community