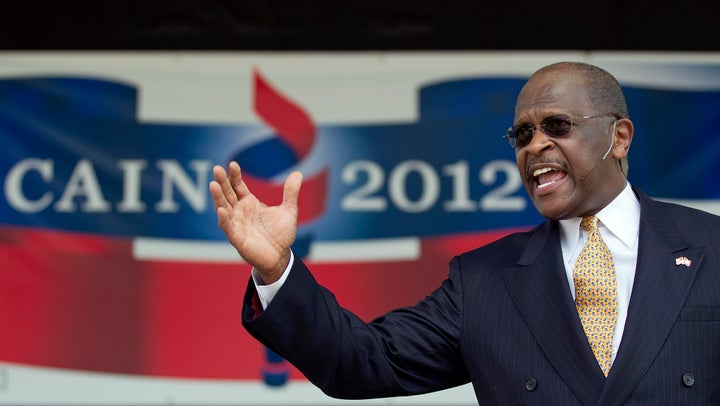 WASHINGTON -- Yet another poll suggests Republican voters are giving serious consideration to presidential hopeful Herman Cain, the still relatively mysterious pizza magnate who has electrified conservative activists.
The Democratic-leaning Public Policy Polling is set to release numbers Wednesday showing Cain in a two-way tie for second place in the GOP primary among Iowa voters. The poll -- which has former Massachusetts Governor Mitt Romney at 21 percent and former Alaska Governor Sarah Palin and Cain at 15 percent -- is not, necessarily, an outlier. In a Gallup poll released slightly more than one week ago, Cain registered the highest Positive Intensity Score among Republican voters of anyone either in or thinking of entering the GOP field.
The data points are good enough that Democrats have noticed: The Democratic National Committee began the process of conducting rapid response to his campaign last week.
"Herman Cain is for real and is making a bunch of established pols look weak to ridiculous," a top party strategist emailed the Huffington Post on Tuesday night. "[Tim Pawlenty] has banked his whole shot on Iowa and is getting beat by...Herman Cain? Romney's ahead - so what's Romney's excuse for all but bypassing Iowa altogether?"
The numbers also have given Cain some room for a bit of gloating, as he argued that his grassroots support mitigated the need to raise copious amounts of campaign funds.
"We don't have to raise the most amount of money," he said in an interview with CBS on Wednesday morning. "We just need to raise enough money to be competitive, because there's an element going on in this campaign that money can't buy. The fact that my message is resonating so well, our ground game, our grassroots development is far exceeding a lot of the other candidates."
In the end, however, it remains relatively pointless to draw any long-term conclusions from these early polls. Nor is it incredibly valuable to read into the way the Democratic Party has sobered up to Cain's candidacy.
The Godfather's Pizza CEO remains an unknown figure. He's certainly received the minimal amount of critical press coverage, let alone any pushback from within the Republican Party. And for Democrats, his ascendancy underscores a beneficial storyline: just how bizarre and unpredictable this GOP primary field remains.

Calling all HuffPost superfans!
Sign up for membership to become a founding member and help shape HuffPost's next chapter