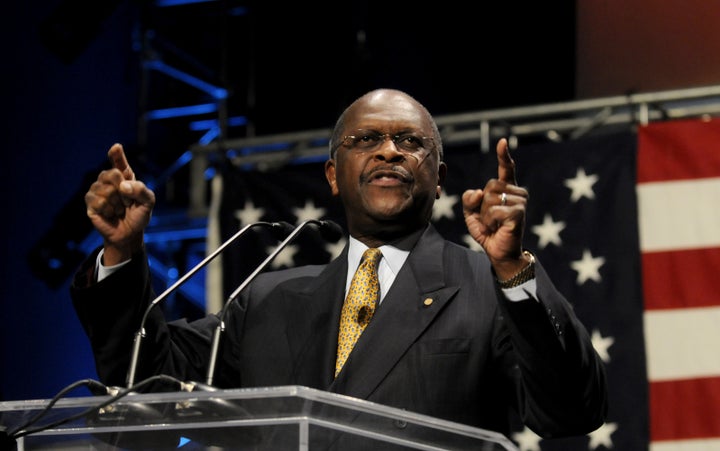 Potential presidential contender Herman Cain spoke about the role of religion in the political sphere during a stop in the Hawkeye State on Tuesday, the Ames Tribune reports.
"[The First Amendment] says the government can't establish a religion," he explained to an audience of roughly twenty people at a local restaurant, according to the Iowa-based outlet. "It doesn't say that people can't have religion in government. If you elect people who share the founding spirituality of this country, you will be able to depend on them to make the right decisions."
While Cain may still be relatively unknown compared to some other Republican names mulling presidential campaigns, the former CEO of Godfather's Pizza appears to be making headway in recent attempts to appeal to the politically conservative community. He has already officially launched an exploratory committee for the next election cycle and emerged victorious in a Tea Party straw poll taken at a national summit in Arizona last month.
The AP reported on Monday on an event attended by Cain earlier this week:
The forum hosted by The Iowa Faith and Freedom Coalition ... included [former House Speaker Newt Gingrich,] former Minnesota Gov. Tim Pawlenty, businessman Herman Cain, former Pennsylvania Sen. Rick Santorum and former Louisiana Gov. Buddy Roemer.

For the first time in the 2012 election cycle, several potential contenders for the White House shared a stage to make their case to hundreds of activists. All five argued that they can be best trusted to follow the conservative path, going out of their way to talk about religion in a state where social and religious conservatives play a heavy role in GOP politics.
"The American dream is under attack, that's the bad news," said Cain while speaking at the forum. "The good news is we are on the attack. We have got to lead this nation from an entitlement society to an empowerment society. We must defend those principles this nation was founded on."
Calling all HuffPost superfans!
Sign up for membership to become a founding member and help shape HuffPost's next chapter