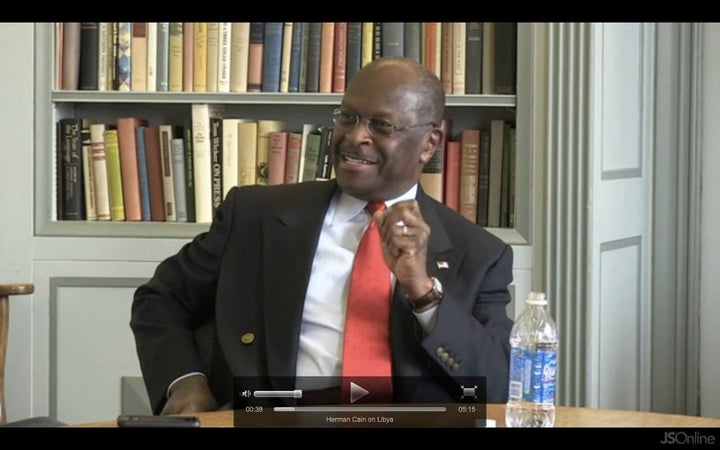 WASHINGTON -- The Milwaukee Journal Sentinel, to whom Herman Cain gave a highly damaging interview on Monday, never requested to speak with the presidential candidate. Rather, the sitdown with the paper's editorial board was requested by Cain's own campaign manager, Mark Block.
According to Martin Kaiser, editor-in-chief of the Journal Sentinel, Block contacted the paper's Washington D.C. bureau chief Craig Gilbert on Saturday, explaining that Cain was heading to Wisconsin for some fundraisers and wanted a meeting.
"He reached out to us and asked if Mr. Cain could come in and meet in with our ed board on Monday morning," Kaiser told The Huffington Post. "We confirmed everything on Sunday."
That Block would request such a meeting isn't entirely surprising -- he is a longtime Wisconsin political operative with deep ties to the state and its reporters.
And yet, from a tactical standpoint, the decision made little political sense. Wisconsin does not play a role in the early stages of the Republican presidential primary process, and editorial board meetings are notoriously tricky for political candidates to navigate. If a candidate is going to meet with one, the logic goes, it's best to do it in a key state, having negotiated in advance what can be asked and published.
According to Kaiser, however, the Cain campaign made no such requests before sitting down, save that the interview be done with relative speed. The topics of discussion were at the editors' discretion, and the decision to film the session was left up to the paper as well.
"There was no questioning of it," Kaiser said, "no debate over whether to do [the interview]."
In the aftermath of Cain's meandering response to a question about how his Libya policy would have differed from President Obama's, along with his confusing and somewhat contradictory statements about collective bargaining rights, the campaign staff's work has come under increased scrutiny. According to Kaiser, Block was present at the editorial meeting, as was J.D. Gordon, Cain's top spokesman. Only once during the interview did they notably interject: When Cain was pressed about whether his campaign received illegal contributions from Prosperity USA, the conservative group Block headed, either Block or Gordon urged the editors to change the subject.
"I'm running a presidential campaign. I'm not commenting on this any more. Please. You're wasting your time with all due respect. Can we move on?" Cain complained at one point.
After the 35-minute interview ended, the three travelled to a fundraiser before heading to the Green Bay Packers game, where Cain continued to campaign. The Journal Sentinel had a reporter trailing the candidate throughout the day. In the immediate aftermath, he saw no indication that the campaign thought Cain had stumbled during the interview at all.
"I don't think they had any idea on the bus what had happened," Kaiser said.

Popular in the Community