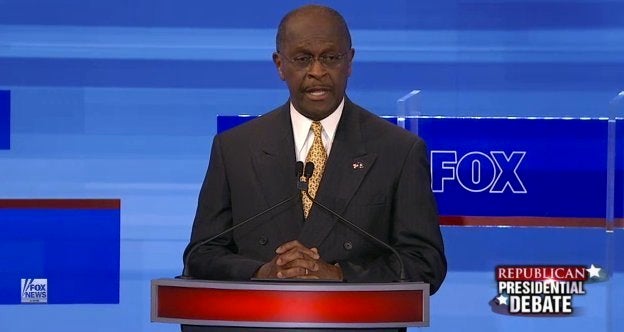 Former Godfather's Pizza CEO Herman Cain sent shockwaves across the conservative end of the political spectrum with his performance in the first GOP presidential primary debate of the election season on Thursday night.
Conservative messaging guru Frank Luntz polls crowds after big events for their instantaneous reaction. And in the case of the GOP presidential debate, the results were pretty remarkable (even though the whole thing is entirely unscientific).

The crowd of roughly 30 unanimously said that pizza magnate Herman Cain won the debate. Only one of them went into the evening supporting Cain. A clear majority -- citing his "straight talk" on the economy and his capacity to criticize the president -- said they would now support his presidential campaign.

"I have never had this kind of reaction until tonight," said Luntz. "Something very special happened this evening."
Here's a clip of the focus group conducted after the debate:
Cain launched a presidential exploratory committee earlier this year and appears to be making headway in his endeavor to connect with conservative voters. While perhaps not as well known as some other possible GOP contenders, it seems his star may be on the rise on the right side of the aisle.
The presidential aspirant emerged victorious in a straw poll conducted at a national Tea Party summit held in Arizona back in February. Just weeks earlier, he delivered a fiery speech at this year's Conservative Political Action Conference.
The AP relays additional background on Cain:
Apart from a failed 2004 run for the U.S. Senate in Georgia, Cain hasn't sought election to public office. Instead, he held a series of high-profile business positions that culminated with part ownership of the Godfather's Pizza restaurants. He left the company in 1996 and among other positions has worked as host of a radio program in Atlanta, where he espoused his views against abortion and in support of a strong national defense, a smaller government and a return to the gold standard.

To be sure, Cain is still considered by many to be a longshot contender for the GOP presidential nomination in 2012. With what currently appears to be a weak Republican field, however, it seems that the race may be anyone's game. Cain will headline a Tea Party rally in Las Vegas on Friday.
Below, a clip of remarks from Cain at the Fox News-sponsored debate on Thursday night.