WASHINGTON -- The latest Washington Post/ABC News poll yields more evidence of Rick Perry's September swoon, but the bigger story may be the sudden rise of support for businessman Herman Cain.
Mitt Romney has regained first place, winning 25 percent on the poll's match-up of the 2012 candidates, while Perry and Cain tie with 16 percent each. Perry's support has fallen by 13 percentage points and Cain's has increased by 12 percentage points since the last Post/ABC poll in early September.
But Cain does even better among those paying very close attention to the race. According to ABC News, Cain runs first among the most attentive Republicans with 36 percent, followed by Romney and Perry, with 24 and 12 percent respectively.
Can Cain continue to grow his support and make a real run for the Republican nomination? His support comes despite a lack of prior political or senior military experience. He will likely face great skepticism about his experience as the campaign moves forward, but his ascent to date is nonetheless impressive.
Several factors have fueled Cain's rise, but the most important has been his performance as a candidate. Through rally appearances, YouTube videos and the Republican debates, the Georgia businessman has endeared himself to a small cadre of very well-informed conservatives. Those performances culminated in his victory in a Florida straw poll on Sept. 24.
Polling has shown Cain winning a small but loyal following throughout the summer. As early as March, Gallup noted that although Cain's name recognition has fallen far short of the front runner candidates, those who know Cain tend to have a strongly favorable impression. As such, Cain has long ranked at or near the top of Gallup's weekly "positive intensity score" -- which measures the percentage of those with a strongly favorable opinion of a candidate minus the percentage with a strongly unfavorable opinion, among those who are familiar with the candidate.
Though Cain's name recognition has fallen short of front runner candidates, it has nonetheless grown from 21 percent on Gallup's tracking in March to 51 percent in late September. Gallup reports that his most recent "positive intensity score" of 26, which falls just below the 28 he scored twice earlier this summer, "is the highest Gallup has measured for any GOP candidate" so far this year.
The Post/ABC poll finds that Cain made a similarly positive impression on the roughly half of Republicans who say they watched the recent debates. Seventy percent say that the more they hear about Cain, the more they like him, while only 12 percent say they like him less. Cain's impression was far more positive than that made by Romney or Perry.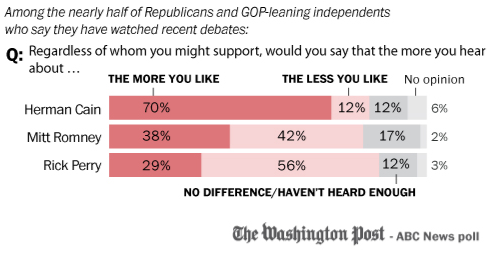 The no-compromise mood of the Republican party is another factor fueling Cain's rise. The Post/ABC poll found that nearly three quarters (73 percent) of Republicans prefer a candidate who they agree with on issues to a candidate who is most likely to win in November (20 percent).
That mood helps to explain why Mitt Romney, the candidate who leads in endorsements and is perceived as the most experienced and electable, has failed to gain more than a quarter of the vote in national polling on the Republican race. The Post/ABC poll finds Romney runs behind Perry (37 to 43 percent) as being "closer to you on issues." Romney's failure to win more than 25 percent of the vote, combined with Perry's decline, have helped create a vacuum that has allowed Cain to rise in polling.
Still, the relatively low level of support for the candidates who have taken turns as polling "front runners" provides an important reality check on Cain's upward trend. A double-digit gain in support is impressive, particularly when the leader wins only about a quarter of the vote, but 16 percent is a long way from the majority of Republican primary and caucus voters Cain would need to win the nomination.
Hans Noel, a professor of political science at Georgetown University who has studied past nomination battles, is highly skeptical of Cain's chances. "Cain has strong support among a faction in the party," Noel told The Huffington Post via email, "but I don't think he has support broadly. A straw poll isn't exactly meaningless, but it's just one blip."
Noel pointed out that, despite the straw poll victory and rising numbers in the Post/ABC poll, the traders on Intrade continue to give Cain just a 3.1 percent chance of being elected in 2012.
That skepticism is likely partly a reaction to the huge historical obstacle that Cain faces as a candidate with no prior elective or military experience. Only two presidents in American history have served without having held prior elective office or high military rank. And the two exceptions, Herbert Hoover and William Howard Taft, served as cabinet secretaries in prior administrations.
Republicans are certainly in a mood for change, and the election of Barack Obama in 2008 proved that a relatively short political resume was not a barrier to the country's highest elected office. But a Cain victory in 2012 would represent a leap to a far greater degree of political inexperience.
Popular in the Community