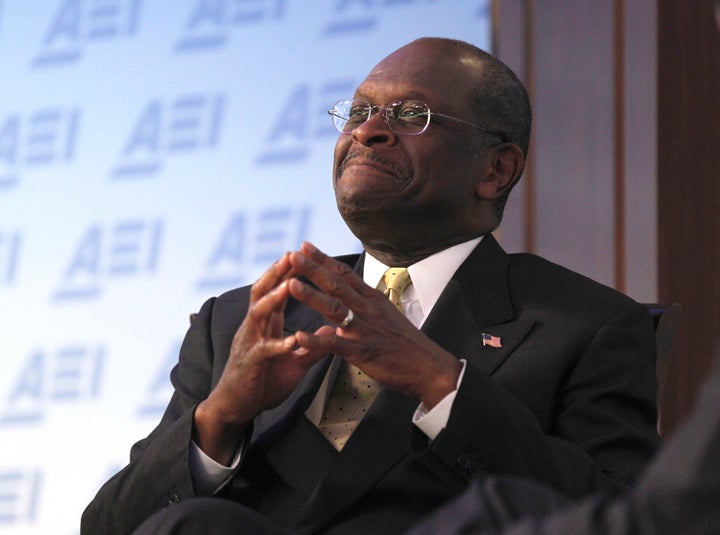 WASHINGTON -- When Herman Cain was elected president of the National Restaurant Association in 1996, the industry had a reputation for having a climate that was conducive to sexual harassment.
In various parts of the country, class action lawsuits had been brought, primarily on behalf of wait staff, insisting that abuse or harassment had taken place in restaurant settings. The issue of harassment in the work place, meanwhile, was becoming more of a legal and political hot topic, in the wake of Clarence Thomas' bitter Supreme Court confirmation battle years prior.
And so, Cain did what others in the world of corporate governance did at the time. He instituted reforms. In December 1996, the National Restaurant Association's Educational Foundation purchased 150 videos from the group Flik International, a contract foodservice management company that produced a staff training video series on foodservice sanitation for senior citizens, diversity, and sexual harassment, among other topics.
By September 1998, the NRA had created a video series of its own, educating members about sexual harassment-related issues and the laws that surrounded them. A month prior, according to a Chicago Tribune article written around that time, the association's counsel office began providing members with a "model draft for a sexual harassment policy that individual restaurateurs" were "encouraged to implement."
That spring, the Buffalo News reported that the NRA had produced studies showing that 60 percent of member restaurants included sexual harassment policies in their operational manuals.
By February 1999, the association was touting the fact that its Educational Foundation's new vice president of business development had been instrumental in developing and enhancing its sexual harassment policies.
That during this same time period, the man leading the NRA was being accused of sexual harassment, may undermine the sincerity of those educational and reform efforts. But it also says something about the man himself.
"Sometimes people believe that the rules apply to everyone but you," said Cary Donham, head of the employment practice division at Shefsky & Froelich, an Illinois firm involved in those class action lawsuits.
Revelations that two women filed formal complaints against Cain for sexual harassment while he was at the NRA, and that he in one case had a settlement paid on his behalf, have had a devastating impact on his presidential campaign. Cain has insisted that the current reports -- still vague in detail -- imply that something far more mischievous and inappropriate took place than what actually happened. With the accusers bound to a confidentiality agreement, and unwilling to speak publicly even if the agreement were lifted, the actual details may never be made clear.
But at a minimum, the ordeal has raised questions about Cain's character, suggesting that he doesn't live up to the standards he sets for others and falls short of the savvy and responsible business-leader persona he projects.
Joel Bennett, a lawyer for one of the women who accused Cain of sexual harassment, told the Huffington Post that he could not recall whether the NRA, at the time, took quick action in response to his client's allegations.
"I knew such details 12 years and no longer remember them," he said. "We settled the case. No litigation. That was it."
During that time period, however, companies within the restaurant industry were taking harassment claims increasingly seriously. In February 1999, Peter Kilgore, the senior vice president and general counsel for the NRA, acknowledged to the trade publication Nation's Restaurant News that the Thomas hearing had opened the industry's eyes to the issue. He also noted that two Supreme Court decisions from that time period -- Farragher vs. City of Boca Raton and Burlington vs. Ellerth -- had established higher standards for employer liability in harassment cases.
"Not only the restaurant industry, but all industries at that time, were coming up with policies that forbade sexual harassment," recalled Donham. "There were a lot of issues with developing clear policies about who should claims be reported to ... there was training going on within restaurants and other industries where managers would sit down and train [employees on] what constituted sexual harassment. At that time it was developing a lot in terms of what sexual harassment was and what could be done to prevent it."
To this day, efforts to stamp out sexual harassment within the restaurant industry continue. According to recent research done by MSNBC, 37 percent of sexual harassment suits reported by the federal government this year stemmed from incidents that occurred in restaurants. The National Restaurant Association, meanwhile, continues to push workplace reforms. The association's 2010 Member Value & Services Guide offers a DVD or VHS series on harassment prevention. It also instructs readers to conduct "harassment prevention training."
"Create a respectful and comfortable working environment for everyone through Harassment Prevention training," the section reads. "Find out what sexual harassment is, what it isn't, and what you can do to protect yourself, your coworkers, and your establishment. By helping employees to identify behaviors and teaching them how to handle difficult situations, you'll create a friendly, harmonious atmosphere for staff and customers."

Popular in the Community