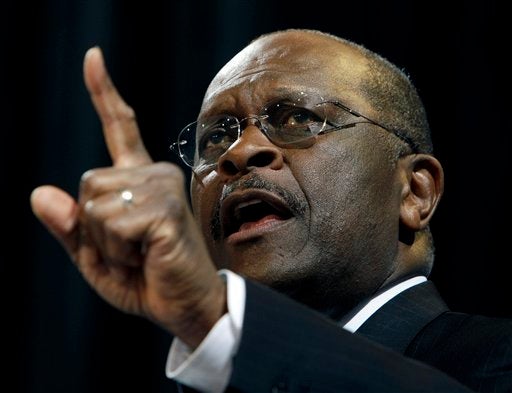 This article is part of a series in which HuffPost is taking a close look at the charitable giving of Republican presidential candidates. How much and to whom did they give? How does their giving compare with their fellow Americans? And what impact did they ultimately have?
Jean Edmonson still remembers how Herman Cain came to the rescue of her quadriplegic husband and the inner-city youth center he founded in Omaha, Neb.
It was the late 1980s and the then-CEO of Godfather's Pizza and self-made multimillionaire brokered a deal with the YMCA of Greater Omaha to merge with the struggling Edmonson Youth Outreach Center so that its founder could get health insurance. Joe Edmonson was a beloved wrestling coach in the community who, despite being a quadriplegic, inspired a generation of underprivileged black youth.
Cain had joined the board of the sports and after-school program in predominantly-black north Omaha after a young wrestler whose mother worked as a janitor at Godfather's headquarters approached him to help sponsor a team trip to a national tournament. So when the local YMCA approached Cain, one of Omaha's most prominent African American business leaders, for help to raise funds for a new neighborhood branch, he agreed. But only if the Y merged with the Edmonson Center.
The YMCA had no comment but Todd McGruder, Edmonson's current director, said Cain was motivated by more than improving the center's financial bottom line. He wanted to sign on so Joe could obtain more affordable health care coverage under the larger YMCA's insurance plan. The wrestling coach, who was later honored as a "Point of Light" by President George H.W. Bush, suffered from myriad health problems stemming from a trampoline accident that left him paralyzed as a teenager.
Through the charitable arm of Godfather's Pizza and a series of charity gospel concerts with a choir and the Omaha Symphony Orchestra, Cain helped raise more than $5 million for the new branch, which opened in 1990.
"He was very impactful," Jean Edmonson told The Huffington Post. "He was a great role model for the youngsters to see."
McGruder agrees. "Without Herman, I don't know where we would be," he said. "He was Joe's major contributor and backer" during the early 1990s.
Cain left Omaha in 2002 to move back home to Atlanta and Joe Edmonson died two years later.
In 2008, the Edmonson Center and the YMCA parted ways. These days the center barely gets by financially.
Cain's efforts to help a disabled, middle-aged man with a devastating pre-existing condition might seem a bit ironic. After all, it was only a few years later, in 1994, that he burst on to the national scene when he confronted President Bill Clinton in a town hall meeting to criticize his health care reform plan. Today, the Republican presidential candidate says he would "be dead" from cancer if he'd been covered by "ObamaCare."
Although Cain no longer donates money to the Edmonson Center, it is an example of the kind of organization the long-shot presidential hopeful is referring to when he talks about moving from a culture of entitlement to one where Americans are "empowered." At 65, his rags-to-riches story is more than a part of his stump speech. It is a world view that informs his charitable endeavors.
In recent years, Cain has written more checks to political causes and candidates than to charity. But the former businessman and conservative radio talk show host had chosen in years past to focus his philanthropy on education for inner-city youth so, he has said, they can overcome poverty and racial discrimination the way he did.
The beneficiaries of his largess include:
The University of Nebraska at Omaha. In 1999, Cain and his wife Gloria set up the Cain Leadership Program Fund to provide three scholarships each year to local high school students who demonstrate leadership and academic excellence. The fund was established with nearly $150,000 from the Cains and another Omaha fast-food magnate, Mike Simmonds, and includes an annual lecture series on leadership for high school students.
Morehouse College. Cain, an alum of the historically-black college in Atlanta, co-chaired (along with later disgraced Bank of America CEO Ken Lewis) the Campaign for a New Century that raised $118 million for the school. A fundraising report listed Cain among contributors who donated between $100,000 and $249,999.
Antioch Baptist Church. According to an interview with a foundation newsletter, Cain lists the Atlanta church "at the top of his giving priorities."
Calls to Antioch's pastor, the Rev. Cameron Alexander, were not returned. In his 2005 political manifesto, They Think You're Stupid: Why Democrats Lost Your Vote and What Republicans Must Do to Keep It, Cain cited Alexander as saying that purpose in life is found "at the intersection of talent and human need." He then quotes from Corinthians 13:13, "And now abideth faith, hope and charity, these three; but the greatest of these is charity."
Cain has not released his tax returns so it is impossible to know how much money he has contributed to charity. When contacted by HuffPost for this story, campaign spokeswoman Ellen Carmichael said she would respond later with information. But despite repeated calls and emails, she did not provide a list of Cain's giving. A spokeswoman for Godfather's Pizza told HuffPost that the company does not discuss financial information, including charitable giving.
In 2006, Cain gave two keynote benefit speeches. One was for a church breakfast in honor of Martin Luther King, Jr., at which local high school seniors were awarded college scholarships. He also spoke at a breakfast during an LPGA benefit golf tournament for a hospital in Stockbridge, Ga.
When Cain does get involved in charity, he tends to focus his energies and not spread his time or money too thin.
"One of Herman's philosophies is he would pick one [organization] and devote all of his efforts and try to make a difference in one place," said Mike Green, an Omaha investment counselor who ran in the same circles as Cain as a member of the city's small African American business community. Green went to high school with Joe Edmonson and said Cain championed the coach because he "thought he was a fine example of character and he gravitated to that."
That strategy can lead to a low-profile in the charity world. While Cain focused on the Omaha youth center, he was not a fixture on the city's charitable social circuit.
"I've been to enough cocktail parties that you hear the buzz on who is giving and who is not," said Judy Monaghan, an Omaha Democratic activist plugged into the midsized city's civic scene. "I'm pretty attuned to who was on boards and who were the big donors." And Cain, she recalled, was not among them.
Cain appeared to ratchet down his charitable activities after he left Godfather's to head up the National Restaurant Association. That's when his political giving and appearances increased.
The candidate has been a frequent speaker for the Americans for Prosperity Foundation, the Koch Brothers group that trumpets an anti-tax, anti-union and anti-healthcare reform platform.
According to the Center for Responsive Politics, since 1990 Cain and his wife have contributed $134,100 to federal candidates, parties and committees -- most of them Republicans. He has also given $35,500 to the restaurant association's political action committee.
During the 2010 election cycle, Cain's Hermanator PAC spent $222,000 -- most of it on travel to spread his gospel of self-reliance and lay the foundation for a White House run. He has said he would rely on his own resources to help fund his presidential campaign.
For McGurdy, at Omaha's cash-strapped Edmonson Center, Cain's money is sorely missed.
"We haven't heard from Herman lately but we would love to," he said. "Now we're on our own and we could use a boost."
For Part 1 on Texas Gov. Rick Perry's charitable giving, click here. For Part 2 on Mitt Romney, click here. For Part 3 on Michele Bachmann, click here.
PHOTO GALLERY
2012 Presidential Candidates: How Charitable Are They?
Calling all HuffPost superfans!
Sign up for membership to become a founding member and help shape HuffPost's next chapter