By Christina Rice, Acting Senior Librarian -- LAPL Photo Collection
When Herman J. Schultheis disappeared in the jungles of Guatemala in 1955, it seemed any sort of public legacy was destined to vanish with him. His wife, the former Ethel Wisloh, never remarried or made any public statements about her husband following his disappearance. When she died in 1990, the home she had shared with Schultheis in the Los Feliz neighborhood of Los Angeles, along with all its contents, was left to a local nursing order affiliated with the Catholic Church. It was only then, over 35 years after his untimely death that we finally got to meet Herman Schultheis. It's almost as if Ethel kept the memory of her husband locked away, and was only willing to share him after she too was gone.
What was found inside the house is now the stuff of animation legend. The Disney Studio had employed Schultheis as an engineer around the time of Fantasia, Pinocchio, Bambi, and Dumbo. A Ph.D. with a meticulous nature, Schultheis kept a detailed, illustrated notebook documenting how special effects were achieved on the landmark Disney films he worked on. These techniques had become lost over the years, and when the notebook was discovered inside a Murphy bed, it was an unexpected revelation. A 14-minute featurette about Schultheis and his notebook can be found on the Fantastic DVD, and the book itself is now on display at the Walt Disney Family Museum in San Francisco.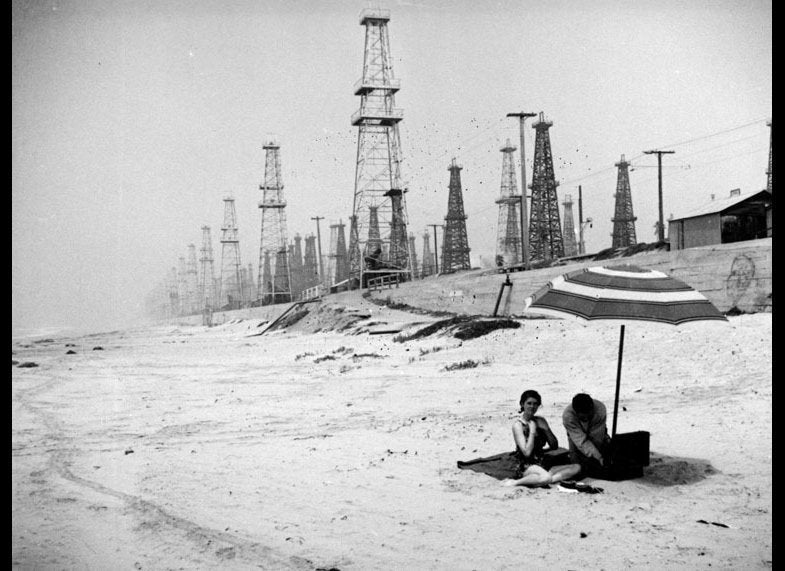 Schulty's Los Angeles
The Schultheis treasure trove also included photographs. Lots of photographs. Thousands of photographs. Schultheis, a German immigrant who arrived in New York in his mid-twenties, was kind of a Renaissance man. Besides the Ph.D. in electrical engineering, he was an accomplished pianist, an amateur archeologist, and an avid photographer who seemed to always carry a camera with him. It was while pursing these latter two interests that he met his untimely demise in the Central American jungles.
Following their marriage, Herman and Ethel left the East Coast and headed west, arriving in Los Angeles sometime in 1937. They initially settled into a home in the Hollywood Hills and explored their newly adopted city with a vengeance. With his trusty camera by his side, Schultheis captured a region in the midst of tremendous growth that was also suffering through the Great Depression with the rest of the nation.
Herman Schultheis' Los Angeles isn't always the same one seen in so many picture-perfect postcards of the era with squeaky-clean streets, pristine beaches, movie star homes, and endless fields of orange groves. His Los Angeles tends to be a working class city, beginning to show the signs of urban decay, but forging ahead with progress. A land where beachcombers picnic in the shadows of oil derricks, vaudeville theaters have become homes to burlesque shows, and minority populations are displaced for the advancement of others.
Schultheis' images also contain the beautiful but bittersweet story of two people, clearly crazy about each other, but whose time together would be cut tragically short. Ethel was often Herman's muse, be it in a field of flowers, at Union Station, the County Fair, or at home. He, in turn, was not afraid to let her turn the camera on him as they discovered their city together.
Following Ethel's death, the Los Angeles Public Library received Schultheis' photos, a donation from Howard Lowery, a collector and dealer of animation art, who had been brought in to handle some of the estate. Over 1,500 of the 4,000+ images of Southern California have been digitized and are available through the library's website. With the recent acquisition of grant funding from the John Randolph Haynes and Dora Haynes Foundation, the library aims to double that number in the next six months.
Herman J. Schultheis has been gone from almost 60 years but his legacy is now set and will only continue to grow. His photographs serve as a love letter to both his city and his wife, but also provide us with an indelible document of what once was.
Popular in the Community