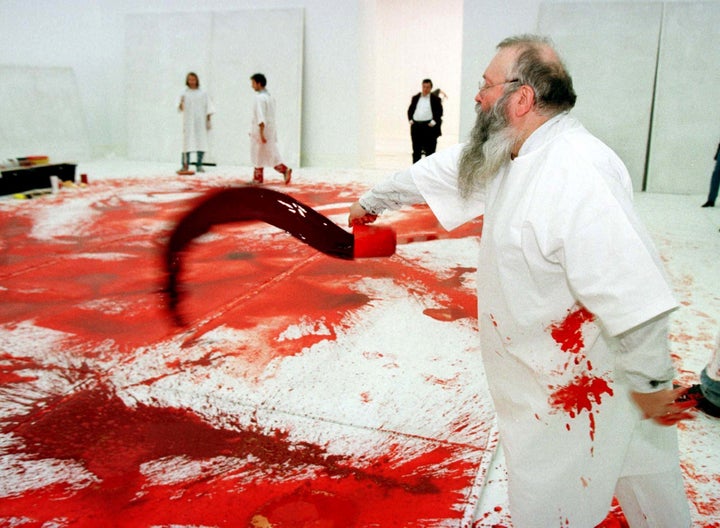 Even in the proudly freaky domain of performance art, Hermann Nitsch is an odd bird. Since the 1960s, his pagan performances have incorporated the carcasses, blood and entrails of slaughtered animals into elaborate aesthetic rituals resembling botched orgies or alien religious ceremonies. The Austrian artist, who has been arrested three times for his work, is no stranger to controversy.
Nitsch's newest performance, part of his ongoing "Orgy Mystery Theater" series, just might be his most gag-reflex-triggering yet. The three-hour piece, titled "150.Action," will feature 500 liters of bull blood as well as an actual slaughtered bull.
"Action" participants, who Nitsch calls "disciples," are invited to dress in white and engage with the bloody mess by bathing in blood, butchering dead animals, whatever floats your boat. The performance will involve a bizarre buffet of blood, semen and guts, a visceral event at once pleasurable, horrifying, pornographic, spiritual and grotesque.
The appeal reads: "We are opposed to this event, which trivializes the slaughter of animals for human usage, and condemns a sentient being to death in the pursuit of artistic endeavors." It had received over 9,000 signatures at the time of this article's publication.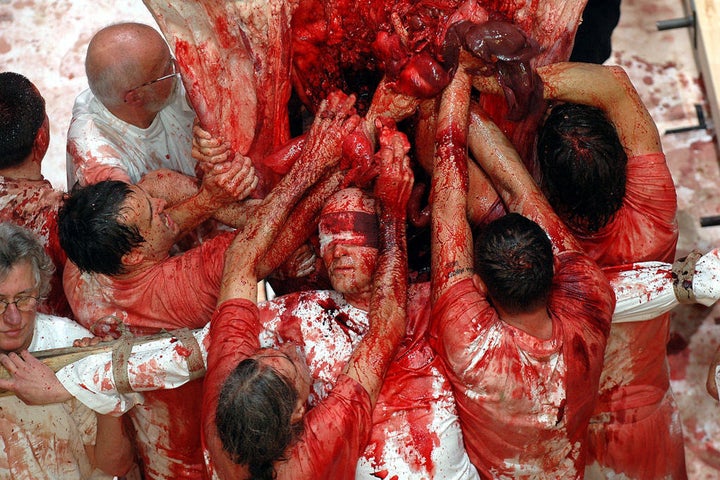 Though an actual bull will need to be killed for this debauched sensory overload, Dark Mofo creative director Leigh Carmichael told ABC Radio Hobart that reports of a "live slaughter" are incorrect. Instead, the animal will be "slaughtered humanely" at a local butchery before the performance, he explained, adding that the blood used in the performance would also be locally sourced.
Despite this clarification, Peter West, the general manager of animal welfare group RSPCA Tasmania, is still concerned with what will happen to the carcass after it's slaughtered.
"I think the difficulty we have is the respect shown to the animal with this action, that's the challenge that we have with this particular artwork," West told Guardian Australia. "It's clearly not respectful to the beast and even though it has been humanely and respectfully dispatched, what happens after that is anything but respectful."
Surely no bull wants its life to end with a crowd of young art enthusiasts bathing in its blood, but for Nitsch, such an action evokes intensified sensations that are often muted in everyday life, feelings that get to the core of what it means to be a human being.
"I want my work stir up the audience, the participants of my performances," the artist told Hyperallergic in 2014. "I want to arouse them by the means of sensual intensity and to bring them an understanding of their existence. Intensity is an awakening into being."
As of now, Dark Mofo remains unsurprised by the controversy Nitsch's performance has provoked and has no plans to cancel the performance. As Carmichael explained, the festival will "not shy away from presenting work that challenges us to consider the ethical implications of our actions both today, and in the past... Some artists use paint, he uses blood and meat."
Barring cancelation, Nitsch's "150.Action" will run in Hobart as part of Dark Mofo from June 8 to June 21. "Action" attendees ― all of whom must be 18 years or older ― may even be able to feast on the freshly butchered meat itself, if the museum can sort out the details with Australian health and safety regulations.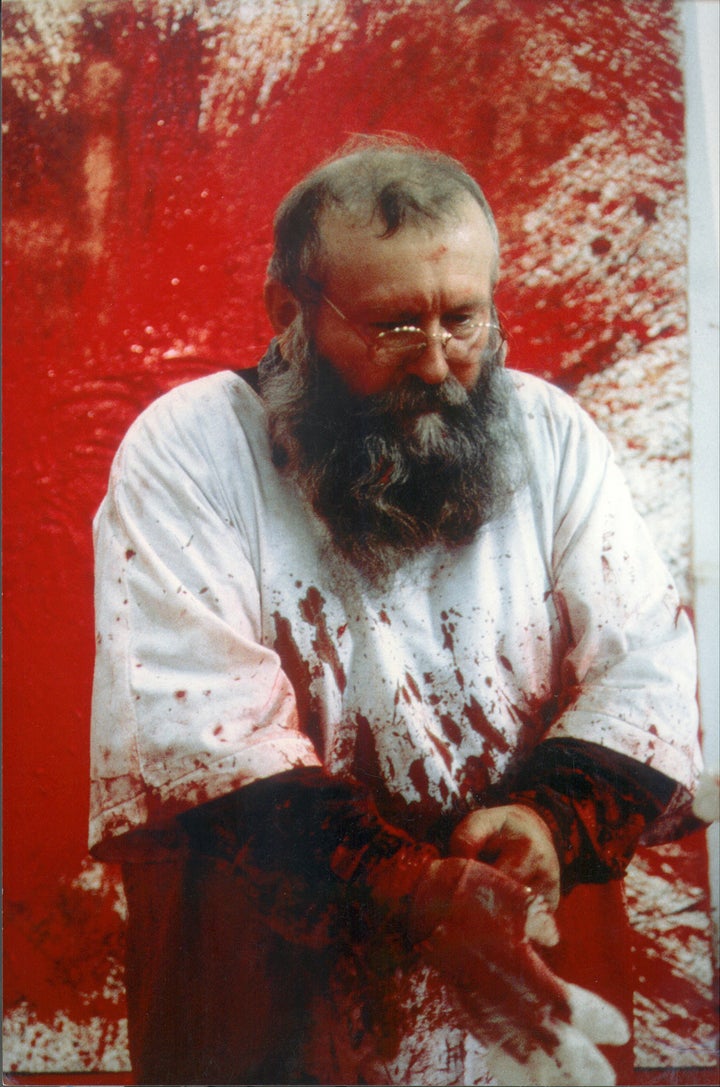 Popular in the Community