Hermanus is a small seaside town along the southern coast of South Africa and approximately one and a half hours away from Cape Town, the second biggest city in South Africa.
It is without a doubt one of the most beautiful and picturesque places in South Africa with a pristine coastline and some scenic hiking and walking trails. Life moves at a slower pace here. Peaceful, restful and tranquil.
But what Hermanus is most famous for is its giant guests who stop by once a year to frolic in the waters of Walker Bay. Thousands of tourists flock to Hermanus during whale season (2012 saw around 100,000 visitors). These big mammals of the ocean arrive on cue every year to mate and calve and spend about six months (June to December) along the southern coast of Africa.
It is only fitting that the arrival of these graceful visitors is met with some pomp and celebration and hence the annual Whale Festival takes place during September and brings the sleepy little town of Hermanus alive with music, concerts, shows, sports events and arts and crafts. Suddenly for one week a quiet little town is transformed into a festive and vibey zone that not only provides loads of fun and entertainment for tourists, but also boosts the local economy.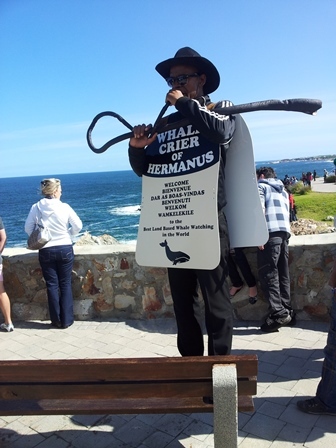 Adding some quirkiness to the festival is the colourful character who calls himself the Hermanus Whale Crier, who strolls up and down the coastline of Walker Bay and alerts visitors to where the whales are by blowing on his kelp horn -- a horn fashioned from some kelp/hard seaweed. The Whale Crier has become somewhat of a famous persona in Hermanus and a top tourist attraction.
Hermanus is internationally known as one of the best places for land-based whale-watching. These gentle giants come up so close to shore that land-based watchers have a good chance of getting a glimpse of them even without binoculars! Boat-based watching is also available and allows visitors a more up close and personal view, plus has the benefit of seeing other marine life such as Cape Fur Seals and African Penguins.
If you can cope with the large crowds and shortage of parking as people from all over the world descend on this little town, a visit to Hermanus during whale season will not disappoint as the Southern Right Whales put on a spectacular display of breaching, fluking and lobtailing that will leave you oohing and ahhing as they leap out of the water, spray water out their blowhole or coyly just stick a tail out to tease.
Southern Right Whales measure around 16 meters and are easily distinguished by the callosities on its head and broad back without a dorsal fin. Other species also frequent the waters of Hermanus like the Bryde's Whales and Humpback Whales, but it is the Southern Right Whale that steals the show.
As these sea creatures slowly migrate towards antartica where they will spend the other half of the year, life for the people and other creatures in this part of the world carry on. The departure of these gigantic performers does not mean there is nothing else to do or see.
Hiking and walking trails offer some more outdoor activity with the Cliff Path being popular. This is an easy meander all along the beautiful coastline and the trail is a good 10-12km long.
Fernkloof Nature Reserve offers approximately 50-60km of various trails from easy walking to more strenuous hikes around the surrounding mountains and hills. Most of your time will be spent amongst the protected Fynbos -- a species of vegetation indigenous to South Africa and the Western Cape area in particular. You will also be delighted by some of the local animal species such as dassies (rodent-like critters also referred to as "rock rats" that are often found in mountainous areas), klipspringer (roughly translated into English means "rock hopper/jumper" -- a type of antelope) and perhaps even some mongoose.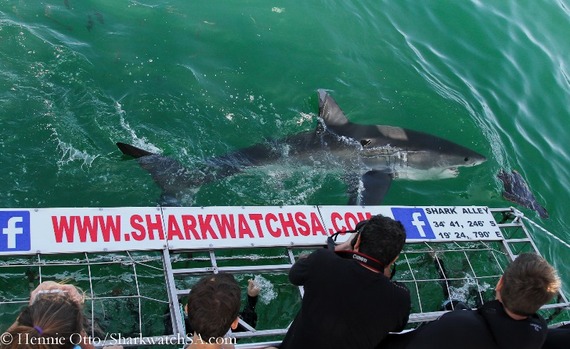 For the more adventurous, take a short drive out to the tiny fishing town of Gansbaai (an Afrikaans word meaning Bay of Geese) and do some shark-cage diving! Shark-cage diving has been bringing in tourists (and their money!) into this nondescript little town for a number of years now. The thrill of coming almost nose-to-nose with a Great White Shark is something to be experienced! Not to worry, though -- it's completely safe as you are encased in a metal cage and sharks seem disinterested in silly gawking humans as they glide slowly by. If you really lucky though, one may just swim right up to your cage, open its wide jaw and show you its razor-sharp ragged teeth! You have to admit, nothing's quite as exhilarating as JAWS rattling your cage!
So if you ever find yourself in sunny South Africa, consider a quick stop in Hermanus -- where the whales come to play!
Related