This just in: Hermès has no sense of humor. According to SheFinds, the luxury brand is suing little ol' label Thursday Friday for selling canvas bags with images of Birkins printed on them. From the lawsuit:
Hermes created, manufactures and sells the iconic "Birkin" handbag. Through enormous sales, publicity and media attention, the appearance of the Birkin Bag has become immediately recognizable to millions of women. Defendant is selling cotton tote bags which bear on each of their surfaces, a color photograph of the corresponding surfaces of what appears to be a Birkin Bag, Defendant is simply riding on the reputation and recognition of the Birkin Bag to sell its otherwise generic tote bags. In so doing, Defendant is creating confusion among the public and is putting Plaintiff's reputation at risk.
We don't really feel confused about a thousand-dollar leather purse vs. a $35 tote (that we've been eyeing for months). The real irony? The Thursday Friday bags have been selling like hotcakes and are out of stock until at least March.
The Thursday Friday tote: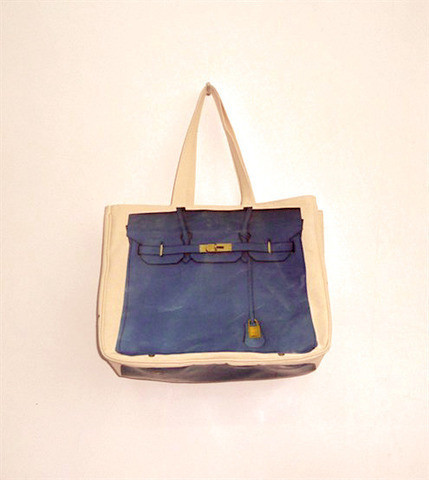 Not to be confused with a real Birkin: