Thanks to the generosity of animal welfare groups and individual well-wishers, a hero dog from the Philippines whose face was destroyed in a horrific accident earlier this year will soon be flown to the United States for reconstructive surgery.
This past February, the dog -- named Kabang ("spotty" in Visayan) -- was hailed a hero after she threw herself in the path of a speeding motorcycle, saving the life of two young girls.
WARNING: GRAPHIC PHOTOGRAPH BELOW
According to the News Inquirer, the motorcycle had been speeding on a motorway in Zamboanga City, Philippines, when cousins Dina Bunggal, 11, and Princess Diansing, 3, stepped into its path.
At that moment, Kabang 'emerged from nowhere' and jumped in front of the motorcycle, stopping it in its tracks. The young girls stumbled and sustained bruises, but were otherwise unhurt. The driver of the motorcycle was similarly unharmed.
Unfortunately, the brave dog wasn't quite so lucky. Kabang's head landed on the motorcycle's front wheel and as it rolled forward, her upper snout got stuck in it and was ripped off.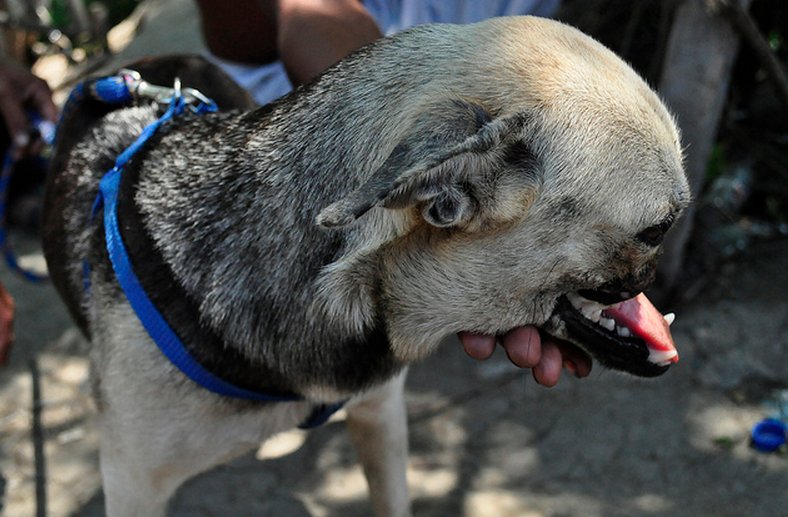 Witnesses said the girls had not been aware of the oncoming vehicle and would have sustained serious injury had Kabang not intervened.
Kabang's owner and Dina's father, Rudy Bunggal, who was working at a nearby shop when the incident occurred, said he was filled with awe -- and then horror -- when he saw the family dog saving the life of his daughter and niece.
"The bones holding her upper snout were crushed, and we could not do anything to save it. We just pulled her off the wheel," Bunggal told News Inquirer.
According to Dog Heirs, a local vet asked Bunggal and his wife if they would be willing to euthanize the dog, but the couple refused.
"It does not matter if she's ugly now. What is important to us is she saved our children and we cannot thank her enough for that," Bunggal said.
Though her injuries were severe, the plucky dog was back on her feet before long and within months, became pregnant. However, veterinarians say that she's not out of the woods just yet.
"The more time that goes by, the more Kabang is at risk of infection. Fungal infections can be especially difficult to eradicate and any infection in the bone can be a lengthy process to treat at best. Her chances are better the sooner she can get those wounds closed," Karen Kenngott, the US coordinator for Animal Welfare Coalition, told Dog Heirs.
Due to the complexity of her wounds, Kabang's best chance for recovery is surgery in the United States. But with a daily income of about $3.50, Bunggal and his wife have been unable to afford the high cost for the dog's treatment.
"[Kabang] has become a superstar. People come here to have their photos taken with the dog. Some came with medicines and vitamins," Bunggal told News Inquirer, adding that some people have also donated money and clothes to the family.
"We are so thankful. We did not ask for those things, but still we are thankful."
For more photos of Kabang, go to blogger Alvin Sabay's post on his meeting with the heroic pup on his blog The World Behind My Wall.
Related
Popular in the Community