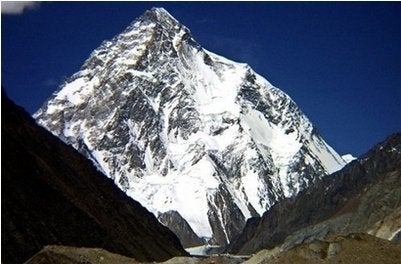 "On the mountain there were no heroes," K2 survivor Cas van de Gevel was recently quoted as saying in Outside Magazine, " just an unspoken agreement that you help as much as you can."
Outside and Men's Journal recently published feature length pieces on the K2 disaster. Both stories lead with the tale of three European men, Wilco van Rooijen, Gerard McDonnell, and Marco Confortola, who bivouaced at nearly 28,000 feet after the catastrophic serac avalanche stripped the Bottleneck Couloir of its fixed ropes on the evening of August 1st. The next day, they were forced to down climb the Bottleneck un-roped. Along the way they passed a party of distressed Korean climbers; the three abandoned them to continue their own descents to safety. Two of them made it, but McDonnell was swept to his death in an avalanche.
While Confortola and van Rooijen can hardly be faulted for not doing more, it does seem like their teammate Cas van de Gevel is right -- the tragedy was a grim game of Russian roulette. It was every man for himself.
Yet some extraordinary acts of bravery and selflessness did occur on K2 -- you just might have to read the fine print to hear about it.
On a recent trip to Nepal, I tracked down two Sherpas, Chhiring Dorje and Pemba Gyalje, who were among those who summited on that fateful day. I had corresponded with them both via email for my own article in Rock and Ice, and I felt drawn to meet them in the flesh.

Pemba and Chhiring reached the summit at approximately 6.35 and 6.37 PM on August 1st, making history by becoming the first two Sherpas to summit K2 without oxygen. But that's not what makes them exceptional.
On the descent, at least seven climbers chose to bivouac rather than continue down in the darkness. Chhiring, the owner of Kathmandu-based Rolwaling Excursions guide service, continued. When he reached the Bottleneck, he discovered the ropes were missing. Small pieces of ice continually poured down the narrow gully from the serac above. He knew it could release another catastrophic avalanche at anytime. It was imperative to get out of harm's way as quickly as possible. But another Sherpa guide had dropped his ice axe, effectively stranding him, so Chhiring tied him to his harness, and down climbed the couloir with his friend hanging off him. This was at 27,000 feet, in the middle of the night, after he had just summited K2 without oxygen.
Pemba Gyalje also downclimbed the Bottleneck that night. The next morning, he went out searching for his teammates van Rooijen and McDonnell. After returning to camp IV unsuccessfully, he went out again, and eventually found Confortola passed out in the snow. As he revived him with oxygen, they were hit by another serac avalanche. Pemba held on to the helpless Confortola, saving him from being swept away with the slide. Then he walked him back to camp IV, and, rather than rest, descended by headlamp to Camp III, where he rescued his partner van Rooijen the next morning.
Pemba will be making a visit to Washington DC this month to be honored by the National Geographic Society. After speaking to them, it was clear that both men are far too humble to consider what they did that extraordinary. Even so, the cynic in me couldn't help but think that if these guys were from Europe or the States, they'd probably have big money endorsement opportunities, get invited on Oprah and have their faces on the cover of People Magazine.
As things turned out, you have to read the fine-print to hear about them.
So, here is a good look at what two heros look like: