Reason and emotion are the two drivers of decision-making, so it is not surprising that advocates for and against medical marijuana try to appeal to both the head and the heart.
While observing the players on both sides of the debate, I have found people whose position comes from their heart, some from their head, some from both, and some from "none of the above."
There are those whose positions are based on heartfelt feelings and/or dedicated research. Others speak from agendas that have been bought and paid for by organizations that have financial interests at stake and not the public interest.
I respect parties on both sides of issues who believe in their point of view. For some, this passion drives them to find out the facts, but the intellectually lazy folks go for the talking points and sound bites. They cannot substantiate their argument. So-called experts who use catchphrases debase themselves in doing so.
The people seeking facts and solutions are "heroes"; the others are "zeros."
Then there are the "shills." That's someone who advocates for a hidden agenda for a third party.
Here are some examples of advocates in the medical marijuana debate in Florida. I'll leave the labeling to the readers.
Recently, a public radio station in Tampa aired a show about the issue. One of the guests was Theresa Miller of ReThinkPot.org. She opposes the legal sale of medical marijuana. The first reference at the top of her information page speaks volumes.

It was an article from the Daily Mail in the UK entitled, "Smoking cannabis CAN kill you". The article attributes the deaths of two men in Germany to marijuana use. Ms. Miller states on her site, "The reason they came to this conclusion was that both had smoked the drug within a few hours of their death and neither had any history of heart problems."
Wow. Out of the millions of people who have used marijuana, they are coming to this conclusion based on the deaths of only two individuals who had no recorded history of heart disease and smoked marijuana within hours of their demise. Not only is there no examination of the cannabis to check for adulteration, but there was also no indication of what other substances they may have ingested. Cocaine and alcohol would be a good possibility.
The other radio guest was lawyer Ted Corless, who runs a site called Newsmunchies.com. Corless and his website are concise and factual. He cites studies that are backed by science.
Ms. Miller sounded uncertain whenever she was asked to elucidate. All she could do was pull out another talking point. I felt bad for her. She was passionate about the topic, but she was not prepared to debate it.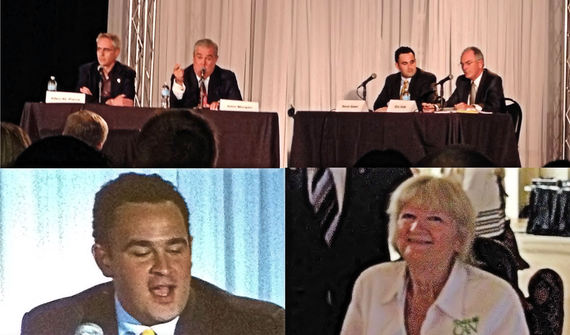 Montage of University of Tampa debate - top: the four debaters: Allen St. Pierre John Morgan, Dr. Kevin Sabet, Dr. Eric Voth. bottom: Dr. Kevin Sabet, Cathy Jordan. Photos by Gary Stein
Kevin Sabet, director of Smart Approaches to Marijuana, is a more skilled opponent of marijuana. He's a professor in the college of medicine at the University of Florida. He has no medical background, but he has a Ph.D. and M.S. in social policy at Oxford University and B.A. in political science from the University of California, Berkeley. He once worked in the office of the "drug czar" in Washington.
In a recent debate at the University of Tampa, he squared off against lawyer John Morgan, a supporter of medical marijuana, and Allen St. Pierre, executive director of NORML. Sabet was much more elegant than Ms. Miller, but many of the points were the same.
One other point that Sabet reiterated was that we should be concerned for the suffering of those who could benefit from cannabis-extracted drugs. However, his approach pushed the approach of studying the various strains of medical marijuana, extracting out all of the various compounds (there are more than 400) and recombining them into dose-regulated prescription-based meds, which could be synthesized. Then they would be tested for sale by pharmaceutical companies.
Considering that approach could take as much as 10 years, garner millions of dollars in research grants for UF, and provide products that would be sold by major pharmaceutical companies, who would benefit from that? It makes you wonder whose agenda Sabet is promoting.
Morgan, on the other hand, laid out his motives in detail. He watched his father dying of cancer and wanted to ease his suffering (something that even state Senate President Don Gaetz did for a dying friend in 1983). Also, Morgan's brother became a quadriplegic after a swimming accident years ago, and cannabis meds help him cope with painful seizures and spasms.
When asked if he started this campaign to help his law partner Charlie Crist in his campaign for governor, Morgan stated that he was working on this cause long before Crist even knew if he was running.
This is going to be an interesting debate. You need to make sure you listen to the right people for the facts.
Note: Another set of players needs to be applauded here.
On March 5, the members of the House Criminal Justice Subcommittee approved by a vote of 11-1 HB843. The bill, filed by subcommittee chair Matt Gaetz, R-Shalimar, and Rep. Katie Edwards, D-Plantation, turned the tide of this debate by achieving what seemed impossible, especially after the last three sessions when similar bills were filed and forgotten.
Rep. Charles Van Zandt, who Gaetz told me was "arguably the most conservative member of the House," added an amendment increasing the amount of THC allowed, opening doors to more strains of medical marijuana for use.
Congrats to the members of the subcommittee, whose emotional intelligence and factual understanding made this giant step possible, along with the bipartisan co-sponsorship of Reps. Ahern, Antone, Caldwell, Clelland, Combee, Cruz, Danish, Fitzenhagen, Fresen, Hood, Hooper, Hutson, Jones, Kerner, Moskowitz, Nelson, Pilon, Raschein, Richardson, Rooney, Smith, Stewart, Van Zant and Wood. Heroes all.
Originally posted in Context Florida, a political news and commentary e-magazine.
Related
Popular in the Community