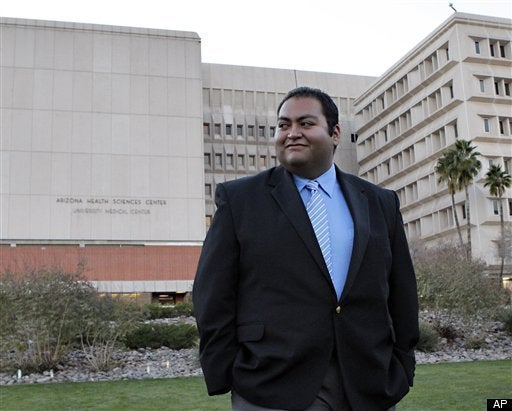 WASHINGTON -- When a gunman attacked Rep. Gabrielle Giffords (D-Ariz.) and others on Saturday, 20-year-old intern Daniel Hernandez ran toward the shots to try to save those who were injured. He stopped to check pulses on several victims before finding Giffords, who had been shot in the head. Hernandez applied pressure to the wound, holding his boss of five days until his clothes were soaked with her blood. Hernandez, trained as a nursing assistant, lifted her head so that she wouldn't choke on her own blood. When an ambulance came, he climbed inside with her and held her hand.
"I think it's a little strange to be calling me a hero, because the things that I did was a one-off," Hernandez said on CBS's "The Early Show" on Monday. "However, the real heroes are people like Congresswoman Giffords, who have dedicated their lives to public service and helping others."
Hernandez may have saved the congresswoman's life. But under Arizona's controversial anti-immigration law, SB 1070, those with Hispanic names -- like the Mexican-American Hernandez, who is a naturalized citizen -- could be asked for papers if a police officer reasonably suspects the person is in the country illegally, a determination the law largely leaves to the officer's discretion. Any legitimate reason for police contact with an individual they suspect of being in the country illegally could prompt a request for identification, and witnessing a shooting would be one such reason.
"If you are a witness for a crime, the officer would have a lawful reason to approach you, and if they had any reason to suspect you might be an alien, they could ask," Aarti Kohli, director of immigration policy at Berkeley Law School's Warren Institute, told HuffPost. "The big question is what is reasonable suspicion."
The effect on the Latino community's willingness to interact with police was a primary argument against SB 1070.
For now, the law's provisions regarding immigration status checks have been blocked by a federal judge. But the law could still go into effect if the 9th Circuit Court of Appeals rules in favor of an appeal by the state of Arizona. The court has yet to make a ruling after hearing the case in November.
Latinos make up about 30 percent of the state's population, according to the 2008 Census. For those who are undocumented, there are already some deterrents to reporting crime or intervening, including programs that automatically send all fingerprints taken by police to immigration officials. (In some cases, including instances of domestic violence, police routinely take both sets of fingerprints, then only charge one party after they determine which is the attacker.)
Although the drafters of SB 1070 said they aimed to drive out illegal immigrants, in part, to reduce crime, there is little evidence that rates of violent crime are higher when more undocumented immigrants are present. A California study in 2008 said that crime rates actually fell as the undocumented population increased. In Arizona, violent crime has been falling since 2002.
If it went into effect, critics say SB 1070 could deter minorities from reporting crimes to avoid giving up their papers. At the same time, people who would not be reasonably suspected to be illegal immigrants, such as alleged shooter Jared Lee Loughner, would not be asked for papers.
Popular in the Community