Would it be bragging to say that I am famous among my circle of friends for this amazing chicken?
Would it be over the top to say that at least two vegetarians (ladies, you know who you are!) have ignored the tofu I had diligently fixed them when they saw this chicken presented to the rest of the guests? Vows were broken; chicken was devoured.
I could go on, but I won't.
This marinated, butterflied chicken is so addictive that a friend affectionately referred to it as "Heroin Chicken," and the name stuck.
Everyone needs a signature go-to dish, one that you can prepare for family and friends and know you're going to have a home run, and Heroin Chicken is that dish. This is the dish I bring to the new mother for her much-deserved dinner, or to a weekend collaborative dinner party...and it's always a hit. It's the little black dress of my cooking repertoire. I originally saw this in a Nigella Lawson book-love her!-and although the recipe has evolved into the addictive variation that it is, never would I have imagined how often I would make this, so: major credits to Nigella!
Enjoy this dish with a Sauvignon Blanc, a lovely arugula salad, and a your favorite potato dish. (Watch for mine, coming soon!)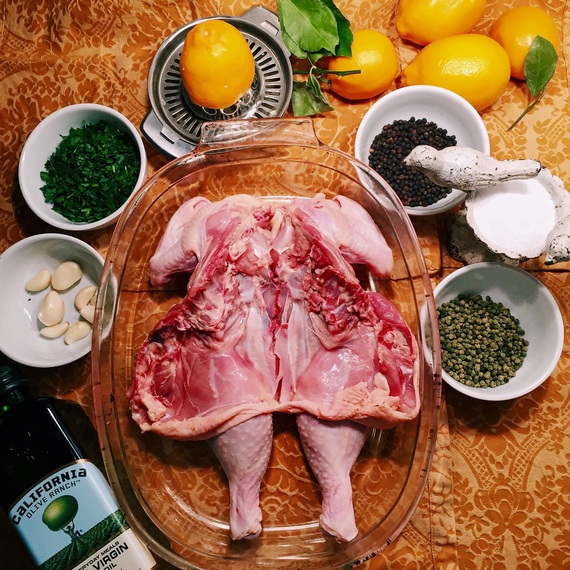 Heroin Chicken
• One large roasting butterflied chicken (you can cut it yourself, but why, when the butcher is so happy to help?)
• 2 to 3 tablespoons black peppercorns, partially crushed
• 7 tablespoons of olive oil
• 2 to 4 cloves of garlic peeled and smashed
• A couple handfuls of fresh flat-leaf parsley, chopped
• Fresh juice from one lemon
• Salt: Maldon, kosher or whatever you prefer
• Optional: 2 tablespoons of sumac
Tip: Let this chicken marinate for 48 hours! It is a glorious thing to stick a chicken in this marinade on Friday night with plans to cook it on Sunday, and if the weekend hijacks your schedule and it doesn't get prepared on Sunday, it's going to be hella delicious cooked on Monday (and by the way, the leftovers from this particular dish are just as scrumptious).
Tip: When buying a chicken, you always have an option of a roaster or a fryer. I always get a large organic roasting chicken because they are more succulent and juicy.
Tip: To partially crush the peppercorns you can use a mortar and pestle. I have invested in a coffee grinder which I use exclusively for dried herbs, and it's practically my best friend. There is no need to ever wash it, just empty it when you're finished. You really don't want water in there-it's all about powdered spices.
After the chicken's been butterflied, wash it thoroughly so that it is super clean and ready to roast. Pat it dry with paper towel. Sprinkle liberally with salt, all over and inside the bird.
Make the marinade by combining the crushed peppercorn, lemon juice, garlic and olive oil. Place the bird skin-side down in a container that's snug, so it will be will be thoroughly covered by the marinade. Pour in half the marinade and half the parsley.
I distribute the marinade with bare hands so that every single place is drenched, and then flip the chicken so it's skin-side up and repeat. Cover with plastic wrap and put in the fridge. I like to flip it the over about once a day till I roast it.
Note: all ovens are different. 375 in my oven and 375 in your oven, may actually be two different temperatures; furthermore, the center of your oven is a very different place than the center of my oven. So watch your bird carefully the first time you make this dish. You will develop an instinct for the perfect amount of time, the perfect temperature, and the perfect color brown.
Roast the chicken skin-side up in a roasting pan at 375 to start. After 20 or so minutes, when it starts to brown, turn it down to 350. You can do nothing but stick it in the oven, but I like to watch it a bit. If you have a convection oven, I would suggest you use it for 15 or 20 minutes when you turn the oven down to 350 and then at the end for 5 minutes.
You want it nicely browned and you need to develop a sense for yourself in what that looks like, so you are learning to cook from instinct, smell and sounds rather than reading a recipe. Recipes are wonderful guides but if you are going to be a cook, you will have to learn to listen to your own voice.
The chicken takes about an hour but you will know when it's done because the legs wiggle and it's really brown and crispy. If you don't have a convection oven and it's not very brown at the end, you can turn up the heat to 375 or so for the last 5 minutes or until you can see it's the perfect color.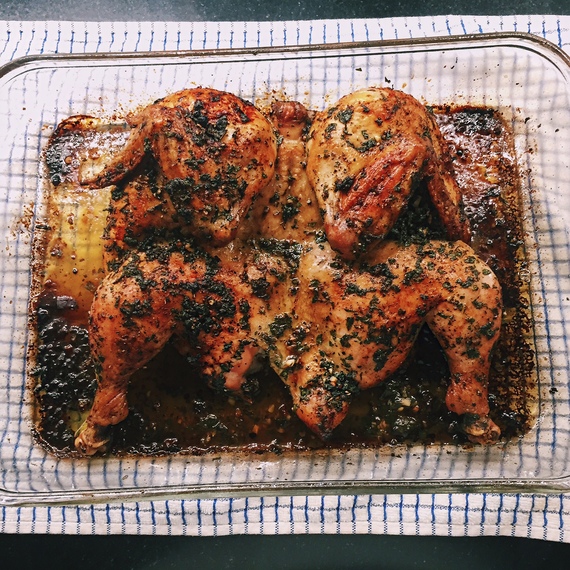 Popular in the Community