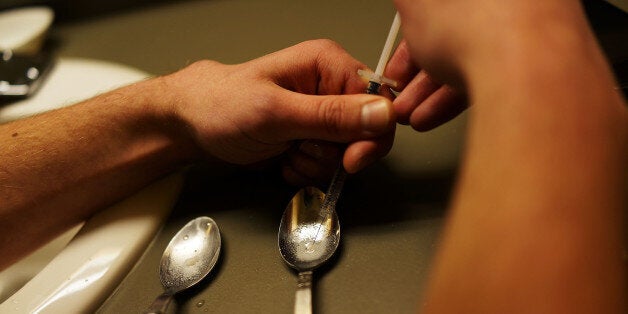 Overdose deaths linked to heroin jumped 39 percent in 2013 from the year before, according to data released Monday by the Centers for Disease Control and Prevention.
The CDC said 8,257 people died of heroin-related deaths in 2013, compared with 5,925 deaths in 2012. The number of overdose deaths overall increased to 43,982 from 41,340.
Many more Americans die from prescription opioids. But the rise in fatal heroin overdoses came as users of prescription painkillers switched to the cheaper, illicit street drug. The heroin deaths contributed to an overall 6 percent jump in drug overdose deaths in 2013 from 2012.
"These troubling statistics illustrate a grim reality: that drug, and particularly opioid abuse, represents a growing public health crisis," Attorney General Eric Holder said in a statement.
As states cracked down on the illicit use of prescription painkillers in the 2000s, many users shifted to heroin, which sells for a fraction of the cost. The February 2014 death of actor Philip Seymour Hoffman from a mix of heroin, cocaine, and other drugs dramatized the shift. Deaths from heroin are often also associated with other drugs.
Despite Hoffman's death and the broad political reaction it sparked, data on heroin abuse has been hard to find. The National Survey on Drug Use and Health found that the number of people who had used heroin in the past year rose from 2012 to 2013, but the number who had used heroin in the past month dropped.
Michael Botticelli, the acting White House drug czar, said the rising overdose deaths underscored the need for a "comprehensive solution" to the nation's drug problem that includes prevention, education and law enforcement. Both Botticelli and Holder have increasingly emphasized the need for local police to carry naloxone, a drug that can reverse opioid overdoses.
Meghan Ralston, the harm-reduction manager for the Drug Policy Alliance, a nonprofit group that aims to end the war on drugs, applauded the increased distribution of naloxone to police. She said she hopes community nonprofits are not left behind.
"Community-based naloxone distribution programs continue to struggle mightily to be able to afford to do this lifesaving work, while police departments have access to a much larger pot of money," Ralston said.
States like New York and Maine have increased the number of law enforcement agents tasked with drug enforcement while they have expanded naloxone access. Ralston criticized the increased enforcement.
"These tactics are really just the same old, same old," said Ralston, who had not been able to examine the CDC data in depth. "Any increase in the number of heroin-involved deaths argues loudly in favor of reforms that help save lives and reduce mortality."
Popular in the Community