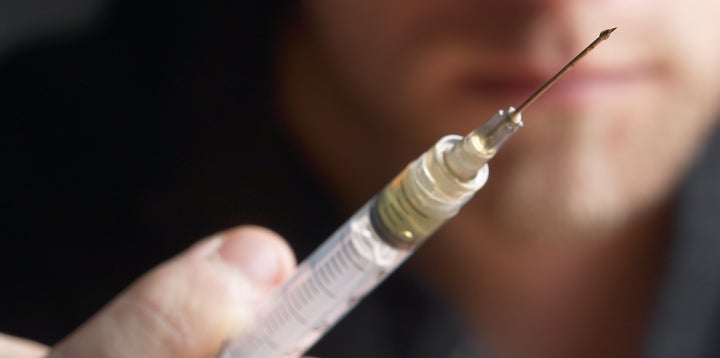 MANCHESTER, N.H. -- Of all the tasks Kriss Blevens confronted after her stepdaughter died of a heroin overdose, writing an obituary proved one of the most daunting. Amber had been found near a back alley in Manchester, New Hampshire, on April 23, 2014. As Blevens tried to summarize her 22 years of life a few days later, the words escaped her.
"As parents, you know, what do you do when your kid dies of an overdose?" Blevens said. "How do you write an obituary for that? What do you do?"
Blevens and her husband, Mark, had been as emotionally prepared for this moment as any parents could be. Amber had had bipolar disorder. At the age of 15, she started getting high on Benadryl. Her behavior grew bizarre. She'd disappear for long stretches of time, going down south for what she claimed were dog rescue missions. She turned to alcohol, then pot, then pills.
Her first arrest for heroin possession came at age 20. She spent two months in jail and when she got out, she promised to stay clean. Months later, she got arrested for possession again. Then she was arrested twice for prostitution.
One day, Amber called from a random phone number and asked to join the family for Easter. When the time came, they picked her up at a seedy apartment and drove to Mark's brother house. Amber began acting erratically once they arrived and kept folding and refolding blankets. After 45 minutes, they had to leave. On the ride back, she begged to be dropped off at the apartment where they'd found her. They acquiesced. Three days later, she was dead.
"You're so mad at the drug, and you wish there was more you can do," Blevens said over a cup of coffee on Tuesday night. "I can't even tell you all the things that you have to face as a parent, let alone the grief."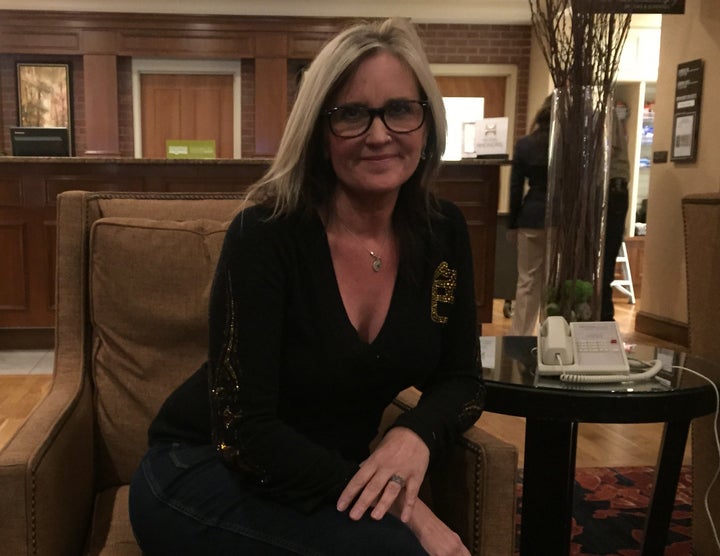 This crusty New England city, with a population of 109,000, has been crippled by the drug crisis. As of Wednesday, 79 people had died of heroin or opioid overdoses in 2015, according to the city's fire department. There have been 653 overdose-related emergency calls this year. That number was just over 300 in 2014, according to Chris Hickey, an EMS training officer for the department.
"I've talked to a lot of patients we have revived, trying to get a different perspective," Hickey said. "About 60 percent of the patients we treat started with pain pills. The other 40 percent started with peer pressure."
But unlike other cities and towns grappling with heroin abuse, Manchester has an ace up its sleeve. It is the central hub of the first-in-the-nation primary state, meaning that every four years, politicians vying to be the next president of the United States descend on it.
And Blevens has access. For decades, she has been makeup artist to the political stars, powdering, styling and coiffing candidates for president and the media personalities who cover them. She traveled with Pat Buchanan in 1991, occasionally helping him write lines for his speeches. She spent time with Bill Clinton and Al Gore, was behind the scenes with Barack Obama and John McCain, touched up Donald Trump, and made Hillary Clinton look so good "everybody thought she had a face lift."
When Amber died, Blevens didn't retreat into solitude. She began talking to the people whose faces she painted about the painfully few rehab centers in the city. She told them about how her family had to lie and say Amber was a suicide risk just to get her admitted to a hospital in Portsmouth, New Hampshire, for detox. She spoke to the state's governor, Maggie Hassan, and its U.S. senators, Jeanne Shaheen and Kelly Ayotte, about the need for holistic recovery options. She spoke with Trump, Clinton, and Chris Christie as well.
On Wednesday, she repeated her well-worn pitch to former RNC Chairman Michael Steele as she applied powder before a taping of MSNBC's "Morning Joe" at Saint Anselm College.
"I talk to everyone, and everyone wanted to talk to me and be a part of my process and my healing," she said. "I let grief take its way with me. Because of that -- because I felt, because I talked -- I healed."
The stark truth about Manchester is that it is impossible to avoid stories like Blevens' here. From the moment you set foot in the airport terminal to the moment you leave, virtually everyone you interact with has been affected, to some degree, by the heroin crisis.
Take Adam Plante, who works at the Enterprise counter at the Manchester airport. When I asked him if he knew anyone affected by the epidemic, he paused, surprised I wasn't looking for an upgrade on my Ford Fusion.
"Yes," he eventually responded. "My husband."
Plante met Jon Lundgren in 2010 when they worked together at a restaurant. Jon had abused painkillers since high school and started snorting heroin in college. His family had money, and he would steal his parents' debit cards to feed his habit, to the tune of $250,000. When he got cut off, he robbed the convenience store where he once was employed. It worked the first time. The second time, an undercover cop was along for the ride. Lundgren went to jail.
Twenty-eight days in rehab turned into nine months, until officials at the center basically said he had to leave to make room for others.
Plante estimates that Lundgren has relapsed five times since they were married in 2012. Once, when his mother was hospitalized before her death, he helped himself to her pills.
"It put a strain on the marriage," he said. Lundgren's been clean since February. He and Plante spend most nights at home to avoid the city's temptations and its pitfalls.
"I know a lot of people here, and I know the signs of what to look for and who to look for," Lundgren told me by phone. "There are those phone numbers I have in my head that I will never forget."
Ten miles from the airport, at the Hilton Garden Inn, staff members say the heroin epidemic has not only touched their family members, but affected business as well.
"Ten years ago, I would not have thought twice about telling people to walk to a restaurant down the street," one employee said. "Now, I'm saying, 'Please take the hotel van.'"
A Gulf station near the hotel recently had to put up bulletproof glass and began processing all transactions through a rotating window.
"When I come here for work, walking around downtown, I feel more unsafe than in New York City," said Kevin Cahill, a content management consultant up in Manchester on business.
At Saint Anselm the next morning, the crisis was a topic of conversation, in part because Blevens -- who is chipper even at 5:15 in the morning -- was deeply engaged with guests backstage. All the local officials know her on a first name basis. And they all have heard Amber's story. But they have their own stories too.
Shaheen said the son of a judge whom she had appointed when she was governor had died of an overdose. Jen Horn, the chairwoman of the state's Republican Party, said her son's co-worker at a pizza place died of an overdose over the summer. He was 19.
"It's not a world that he lives in," she said of her son, a tinge of motherly worry rising in her voice. "It is not just about the numbers. We are such a small state that it all becomes so personal."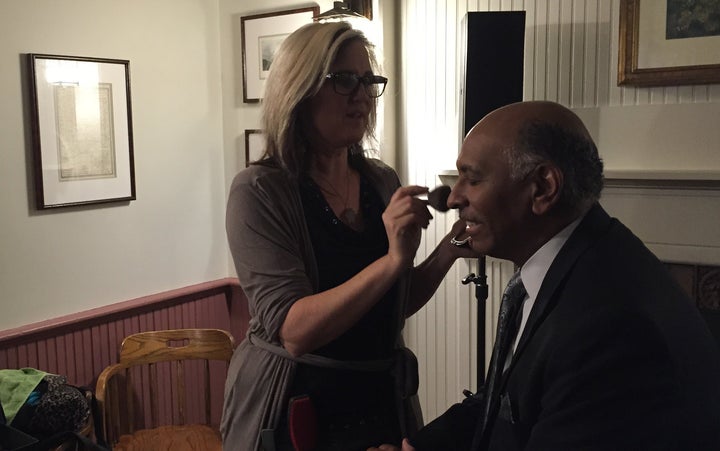 After the show was over, Blevens drove me to HOPE for New Hampshire Recovery, a community recovery center in downtown Manchester whose board she recently joined. She has also joined the board of directors at the Farnum Center rehab facility in Manchester, appeared at fundraisers for detox centers and become an outspoken advocate in the press.
HOPE for New Hampshire is outmatched in the city's fight against heroin. In the last three months, the center saw more than 1,600 people, many of whom could no longer afford recovery housing or medical treatments.
"I've had parents come in here sobbing," said Holly Cekala, the center's executive director. "They've emptied their 401ks and cashed in college funds."
The center had to move this fall from a 900-square-foot room to its current 6,900-square-foot space, a one-story building that was once a homeless service center.
The light blue building has small rectangular windows that let in little sunlight. A mural of roosters, horses and scenery along the parking lot wall creates an odd juxtaposition with the neighborhood's sullen feel. The only entrance is in the back, and if you're not careful, you could easily miss it. A small sign on a blue fence lets you know that you have arrived at the only community recovery center in the entire state of New Hampshire.
Inside, the space is lit by fluorescent light. Brochures line the wall, listing treatment options, housing leads, events and support groups. The day's schedule is written out in black and red marker on a nearby whiteboard. Next to it stands a table with coffee and powdered donuts.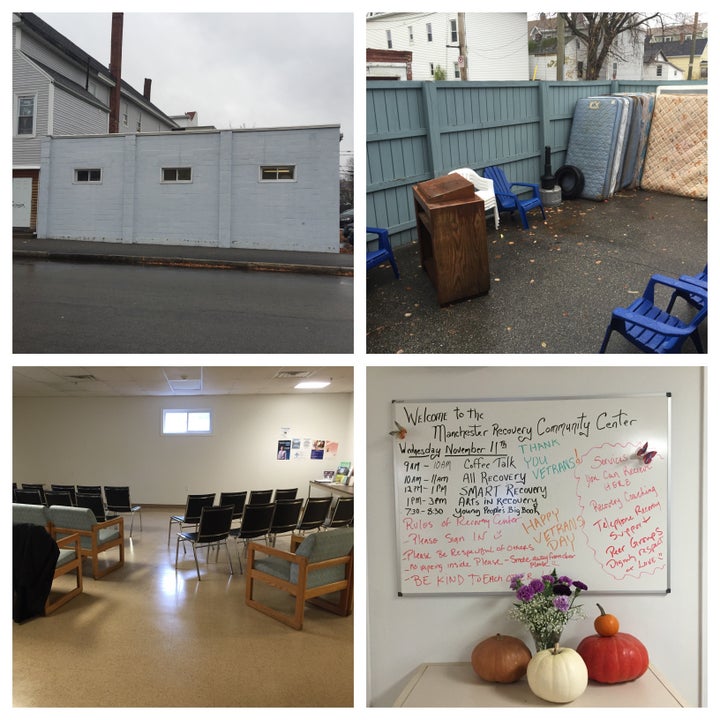 Cekala has plans for the space, which is funded through philanthropy. She's going to build a computer lab and mount a television, so that people can relax while working on housing forms or resumes. As we talk, a Comcast technician meddles with wiring in the ceiling.
She wants to host sober karaoke and yoga sessions. She's invited inspirational speakers and community mentors, doctors and social workers. Befitting campaign season, several candidates have swung by too: Christie, Jeb Bush and Bernie Sanders. Carly Fiorina is coming soon. Eventually, Cekala says, everything will be moved into a 37,000-square-foot facility.
In the back is a room undergoing heavy remodeling. Flooring was just put in and dry walls will come soon. It will be a 16-cot shelter -- eight for men, eight for women -- with a kitchen and a shower. This is Blevens' project, a stabilization center where people in desperate need might be able to rest their heads.
On the windowsill is an angel figurine and a framed picture of Amber, her head propped against her hand, a hint of a smile on her face. The room will be named after her when it is ultimately finished.
"I am the voice to speak on behalf of those that can no longer speak for themselves, whether they are under the spell or they're on the other side, because I've lived it through personal experience," Blevens said.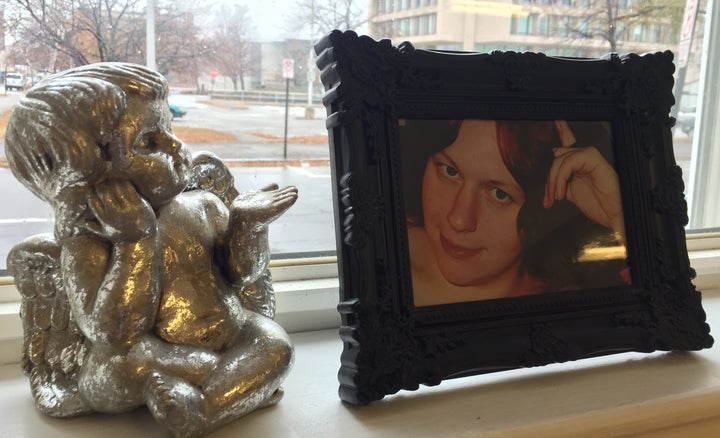 CORRECTION: Due to an editing error, a quote about from Lundgren about the temptations of Manchester was misattributed to Plante.
Popular in the Community