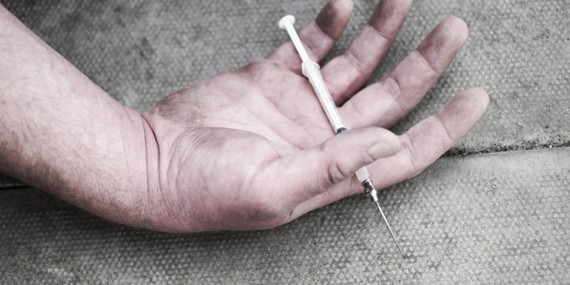 By Reboot Illinois' Kevin Hoffman

Like many states across the country, Illinois is experiencing an unsettling surge in drug overdose deaths, in large part because of the growing heroin and opioid epidemic.
Between 2013 and 2014, the number of Illinoisans who died of an overdose increased 8.3 percent from 1,579 to 1,705, according to an analysis by the Centers for Disease Control and Prevention. Illinois was one of 14 states that had a statistically significant increase in the rate of drug overdose deaths.
During that same time period, the age-adjusted rate rose from 12.1 to 13.1 overdose deaths per 100,000 people in Illinois.
In 2014, about 42 percent (711) of the total drug overdose deaths in Illinois were heroin-related, compared to 37 percent (583) in 2013, according to the Illinois Department of Public Health.
As of Feb. 2, 2016, the date for which most recent data is available, there were 692 overdose deaths involving heroin in 2015, though this number is provisional and likely underrepresented as some death investigations are ongoing and causes of death have yet to be determined.
Previously released provisional data on Jan. 5 had the death toll at 618, meaning an additional 74 fatal heroin overdoses were reported to the state's public health department in less than a month.
While prescription opioid pain relievers continue to be the leading cause of overdose deaths, the explosion in heroin use has led to an unprecedented increase in fatal overdoses.
According to the CDC, more people died from drug overdoses in the U.S. in 2014 than during any previous year on record, and deaths involving heroin have more than tripled over the past four years. "The increased availability of heroin, combined with its relatively low price and high purity appear to be major drivers of the upward trend in heroin use and overdose."
The majority of overdose deaths involving heroin in 2014 occurred in Cook County, according to the public health department. But over the past several years, heroin has gained a foothold in the state's rural communities. The map below shows the counties in which the most heroin-related overdose deaths occurred in 2014. More detailed statistics for the hardest-hit counties follow, including provisional data for 2015 (as of Feb. 2, 2016).
Counties with the most overdose deaths involving heroin
Also, read up on the latest efforts in Illinois to combat the spiraling epidemic.
Calling all HuffPost superfans!
Sign up for membership to become a founding member and help shape HuffPost's next chapter