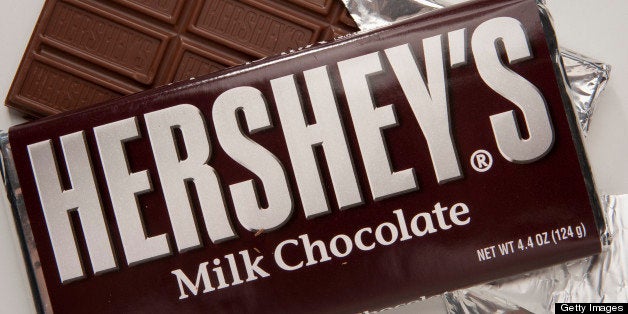 In October 2012, when Hershey's announced it would "certify" all its cocoa by 2020, the corporate candy giant received lukewarm applause for finally publically acknowledging its sourcing of cocoa from plantations that exploit child labor. Social justice advocates, like those organizations coordinating the Raise the Bar campaign, have long challenged Hershey's to clean up its supply chain. While the company's commitment to allow independent audits to investigate their support of egregious child labor abuses is a step in the right direction, consumers and labor organizations remain frustrated by the chocolate titan's vague promises and protracted timeline for resolving the issue.
A 12-year-old working on a Hershey's supplier's cocoa plantation in October 2012 will be 20 years old in 2020. The tangible fruition of any improved anti-child labor policy at Hershey's will come far too late for today's child workers. In the meantime, Hershey's has announced it will work with Rainforest Alliance, Fair Trade USA, and UTZ, along with "other well-established certifications" to raise the ethical standards of its sourcing contracts. All three are labels that claim assurances of eliminating the worst forms of abuse but all fall short of adequately addressing all fair trade principles.
But what of the vague reference to other certifiers? Will those be true fair trade certifications -- which would ensure not only the elimination of labor abuses, but also fair payments for workers and farmers, a premium that may be used for community development, and a commitment to long-term relationships that will sustain farmers, workers, and the land in the long term? Or will it be certification like Social Accountability International that deemed the Ali Enterprises factory in Karachi, Pakistan, safe for workers just weeks before a fire swept through leaving nearly 300 workers dead in September of 2012?
Advocates of Fair Trade undertake the immense task of pushing businesses toward social and economic responsibility, with the objective of yielding real improvements in quality of life for marginalized producer communities around the world. It is often smaller businesses that embrace Fair Trade -- business that lack the resources and market share wielded by Hershey's, but which have committed to creating positive change through their business models and company ethos. Fair Trade chocolate upstarts such as Divine Chocolate work with a cooperative of farmers in West Africa who are not only guaranteed fair prices and fair trade relationships, but who actually own almost half the company. Alter Eco, another example of a Fair Trade chocolate company, buys Fair Trade cocoa from Ecuador and Peru, and brands offering other contentiously sourced commodities such as coffee have also looked to establish Fair Trade relationships. Equal Exchange, for example, sources its cocoa from small farmers in Ecuador, Paraguay and the Dominican Republic and coffee from small farmers in coffee-growing regions around the world. As certified Fair Trade brands, all ensure the farmers and producing communities that cultivate raw materials are not exploited by multinational corporation's contemporary paradigms of indentured servitude. That's why millions of concerned and informed consumers make a point to buy Fair Trade goods, and to celebrate awareness of Fair Trade on World Fair Trade Day on May 11, 2013.
But it's not just chocolate and coffee products that improve farmers' lives by being Fair Trade; quinoa, rice, sugar, bananas, teas, nuts, and even things like cotton for apparel by Maggie's Organics and popular organic body care products such as those made by Dr. Bronner's Magic Soaps and Alaffia all contribute to a better world through Fair Trade. While these brands are pioneers in the Fair Trade, other companies like the farmer Direct Co-op in Canada has brought the concept of domestic Fair Trade to the discussion by encouraging grain and legume growers in Canada to harvest and process their crops without entering the exploitive commodity market.
Bolstered by consumer demand for such transparency these companies build new business models, embracing the philosophy that working within a fair and just economy is paramount to lust for profit. Retailers also recognize the importance of Fair Trade. Over 800 independent and cooperative natural grocery stores around the country, as well as Whole Foods Market locations, will sample and promote Fair Trade products in celebration of World Fair Trade Day in May.
It is these Fair Trade companies that have set a new standard in the chocolate market; they've 'raised the bar' to establish new expectations for consumers that chocolates and other imported commodities be sourced via social and economically just channels. Hershey's has offered naught but vague, paltry lip-service on improving its cocoa supply chains -- leaving informed consumers skeptical, to say the least. A $6 billion company with control of nearly half of all U.S. chocolate sales, they have the power to radically change the dynamic of cocoa product worldwide, or they can continue their comfortable path along the status quo. Meanwhile, companies that combine good business practices with Fair Trade relationships will thrive, and World Fair Trade Day and other efforts to raise awareness of Fair Trade will shape a culture of commerce that values justice, fairness and progressive practices. Hershey ought to watch out -- if it doesn't raise the bar, the market will.
Calling all HuffPost superfans!
Sign up for membership to become a founding member and help shape HuffPost's next chapter