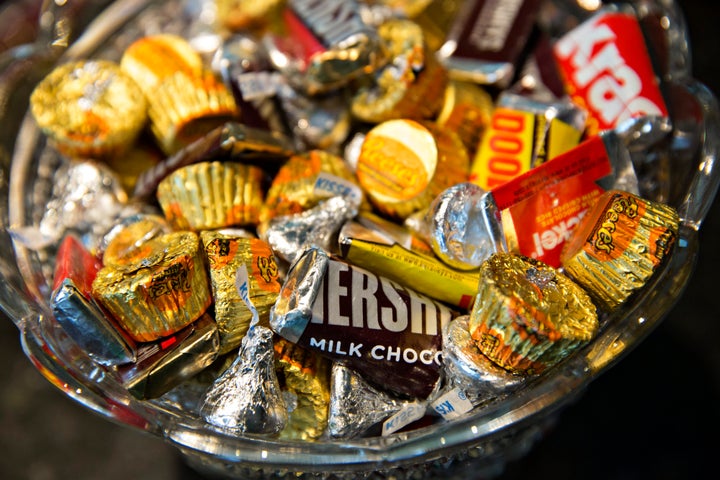 Chocolate maker Hershey Co , long a staple of middle-class U.S. households, is getting squeezed as consumers either pay up for fancier sweets or seek more savings.
The maker of Hershey kisses and Reese's peanut butter cups reported lower-than-expected U.S. sales on Wednesday and cut its profit forecast for the year, sending shares down 6.5 percent. It has cut such forecasts for five quarters in a row.
Hershey executives said the company is grappling with a growing gap between low and high-income households in the United States, which has changed buying patterns for many consumer goods. On the high-end, consumers are more willing to pay up for premium brands like Green & Black's organic chocolate bars. On the low end, families hunt for greater discounts for products.
Across the board, consumers are making fewer trips to stores, a trend that reduces impulse buying of chocolate bars and other items. Retailers such as Wal-Mart Stores Inc are devoting less space to promote products from Hershey and other manufacturers as they respond to the new trends.
"We think the consumer bifurcation has been an important driver," Hershey Chief Executive John P. Bilbrey said on an investor call, referring to the growing wage gap. Bilbrey said the company has secured more merchandising space for its products in the holiday season and expected trends to improve in the fourth quarter.
Companies ranging from Campbell Soup Co to Mondelez International Inc have spoken of similar pressures in the United States. Some have tried to introduce more products to appeal to low-income consumers at convenience stores and dollar stores.
"We are seeing a widening disparity between upper-income and lower-income" consumers, said Mondelez CEO Irene Rosenfeld in an interview. The maker of Cadbury chocolates and Oreo cookies has responded by increasing the variety of sizes, and prices, of its products on sale.
Hershey has tried to keep up by diversifying its portfolio and changing existing products to satisfy consumer preferences for natural ingredients and protein. Earlier this year, the company bought jerky-maker Krave Pure Foods Inc, and said it would use simpler ingredients in its namesake chocolate bars and kisses.
"The question now is whether Hershey's chocolate could see a new era of somewhat slower growth based on health and wellness concerns among consumers and the premiumization of the chocolate category in the U.S.," said Sanford Bernstein analyst Alexia Howard in a note.
(Reporting by Anjali Athavaley; Editing by David Gregorio)
Related
Popular in the Community