Hershey's has recently debuted a new riff on its chocolate bars and kisses: aerated chocolate. "Your taste buds have never experienced chocolate bubbles like these," claims Hershey's.
While spokesperson Anna Lingeris explains that Air Delight's "light and airy texture causes the chocolate to melt with ease over your tongue, making it the ultimate chocolate indulgence," blogger Foodette sees otherwise. "It's a phenomenal way, much like whipped cream cheese and whipped candy bars, to stuff less product into the container and sell the very air you're whipping into it in the first place and overcharge the customer," she argues (see her full no holds barred review here). Cybele May of Candy Blog notices some sour notes, as well as a bit of saltiness and milkiness, though she deems the treat "worth it" and rates it a seven out of 10.
Aerated chocolate accounts for $500 million of global confection sales [pdf]. Who knew?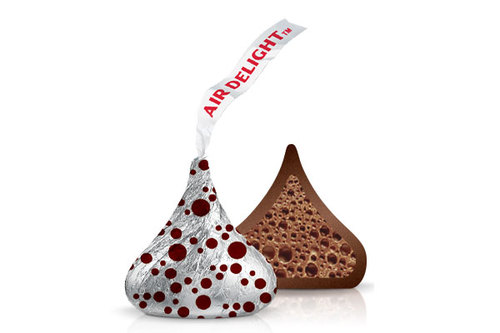 REAL LIFE. REAL NEWS. REAL VOICES.
Help us tell more of the stories that matter from voices that too often remain unheard.