Halloween is here and many a trick-or-treat bag will have a Hershey bar inside. Whether it's Reese's, Hershey Kisses or their chocolate bars, Hershey is a huge part of this tradition.
Right about now you are probably getting hungry for a candy bar! Before you go, know that Hershey is doing something special this Halloween, and it has nothing to do with their awesome candy.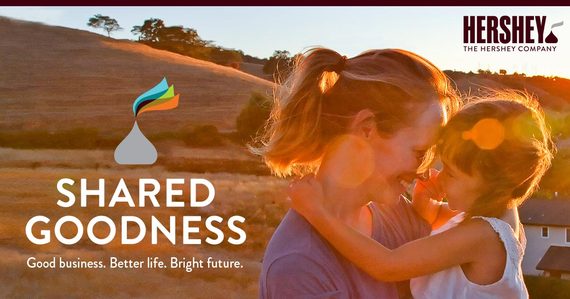 Working with Feeding America, Hershey grants are providing children with nutritious backpacks of food to take home on the weekend.
Why the weekend? Impoverished children usually have access to free school breakfast and lunch programs during the week. But when school is out for the weekend, or long holidays, they may go home to find little food on the shelf. This is the silent tragedy of child hunger.
These take home rations have become very important in fighting child hunger in the U.S. It allows hungry children to eat nutritious food over the weekend, stay healthy and be strong when they return to school. It's like a trick-or-treat bag filled each Friday with nutritious food.
The Hershey grants go to food banks that provide backpacks to children. To start off, six food banks are receiving Hershey support including Central Pennsylvania Food Bank, Northwest Arkansas Food Bank, Cincinnati's Freestore Food Bank, North Texas Food Bank, Second Harvest Heartland of Minneapolis, and the Greater Chicago Food Depository.
In Cincinnati, they call these Power Packs! Child hunger and poverty is a severe problem in Cincinnati. Sarah Cook of the Cincinnati Freestore Foodbank says that nearly 100,000 children are at risk of hunger in their twenty-county area.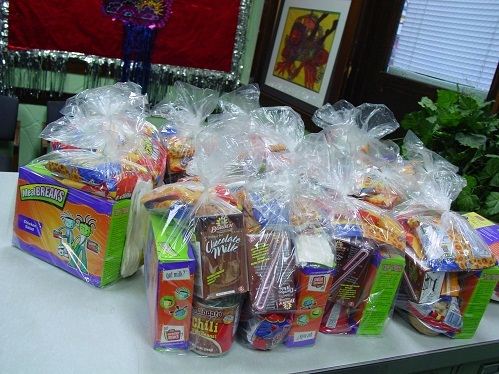 Power packs of food help feed hungry children on weekends in Cincinnati, Ohio. (Freestore Foodbank photo)
Cook says they have expanded the Power Pack program this year to feed 5,800 children at more than 95 schools. This increase is possible because of the Hershey donation. Cook adds, "We serve as many children and schools as we are able with the generous support of individuals and corporations."
These programs need to be expanded as more schools would like to participate. Only through corporations, individuals and Congress stepping up can this be achieved. Each day Feeding America's food banks try to tackle this problem of 15 plus million children living in hunger. The backpack, or power pack, makes a big difference.

Nancy Curby of Feeding America says, "Children should not have to worry about where they will find their next meal. With Hershey's support, we are able to provide more meals to children in need, which is critical to their growth and development."
Hunger is a crisis overseas too with 795 million people struggling to get one meal a day, with many of those being children. Hershey is working with the Ghana school feeding programme and Project Peanut Butter to provide meals.
Imagine a super, vitamin-rich peanut butter cup. That is what Hershey is giving school children in Ghana with a special food called Vivi. It's full of vitamins and minerals and around 50,000 school children in Ghana will be receiving this by 2016.
Nutritious food at school is vital for ending world hunger. Providing meals at school fights off hunger but it also gets children to class so they can learn.
Working with groups like Partners in Food Solutions, Hershey wants to make sure Vivi is developed entirely by farmers in Ghana. This is the key to any nation's development, being able to grow and produce their own food.
Hershey has a great opportunity to take the fight to world hunger. This is crucial with how desperate the hunger situation has become around the globe.
There is famine threatening Ethiopia, South Sudan and the war devastated nations of the Middle East. They desperately need foods like Plumpy'Nut, another special peanut paste that saves small children from deadly malnutrition.
There is much to be done to address hunger emergencies around the globe. Hershey and other companies need to step forward with innovation. At the same time, they can exercise political power to encourage Congress to make the right decision when it comes to food aid.
After World War II, Hershey donated to the famous Friendship Train that traveled the U.S. collecting food for the hungry in Europe. The Train was such a big part of the Spirit of the Marshall Plan that won the peace after WWII.
We need that kind of spirit today with the world once again facing war and hunger at such a high level. This Halloween remember the hungry and take note of the Hershey Nourishing Minds initiative. Let's get many more like this. Happy Halloween!
REAL LIFE. REAL NEWS. REAL VOICES.
Help us tell more of the stories that matter from voices that too often remain unheard.