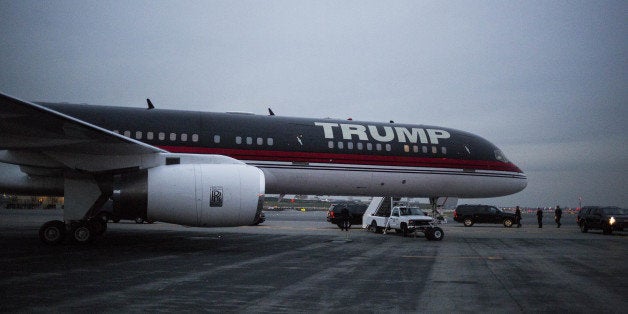 'Tis certainly the season to stay off the "naughty" list, but the environmental community knows very well which list we're on when it comes to Donald Trump and his friends. And every time we think it just can't get worse, we get another surprise. Last week, we learned that Trump asked the Department of Energy to name names--to give him a list of civil servants who worked on issues related to President Obama's efforts to reduce carbon emissions and protect the planet from climate change. We also heard about oil baron Rex Tillerson, likely Secretary of State, who ran a company that knew about climate change for decades, lied about it to the public and their shareholders, and spent millions to convince those in power to let them conduct their dirty business in peace. But let's be clear, #ExxonKnew.
Trump's bullying tactics are not isolated, but instead part of a pattern that this government by, of and for the oil industry is pursuing. Indeed, on November 9th, the day after the election, Exxon launched a new stage of their campaign of intimidation against those investigating and seeking to expose their climate denial and fraud. On that day, perhaps emboldened by the even bigger bully winning the White House, the company and its lawyers issued a series of subpoenas against environmentalists, activists, attorneys and others who simply wanted to expose the truth.
It appears that our fears during the campaign were well-founded. With the incoming administration and its friends, Speaking Truth to Power is going to carry increased risk.
Of course, such tactics are not new, and companies like Exxon and Chevron have been increasingly pursuing retaliatory litigation and legal actions against environmentalists for the past few years. And those of us who continue our work to speak out on issues such as climate change or clean air and water, have been dealing with this new reality for a while. But just as the world will have to adapt, mitigate risk, and plan for resilience, so will the environmental community living in a Trump-Exxon nation. We must still rely on facts; still rely on science; still speak truth to power. And we will also have to be ready to be subpoenaed, sued, or otherwise harassed for what we've always done.
In the coming years, environmentalists are going to need some really good lawyers.
Thankfully, the Department of Energy chose to "respect the professional and scientific integrity and independence of [their] employees" and refused to name names. Those named in the Exxon subpoenas are mounting a vigorous defense, and I'm proud that the lawyers at EarthRights International are doing our part. In the end, nobody likes a bully, and sometimes between naughty and nice, the nice guy wins.
So, getting back to "list": here's my Christmas list for the PEOTUS:
Respect for professional and scientific integrity and independence
Respect for the First Amendment rights of environmental advocates and NGOs
And please, no more SLAPP suits... we've had enough of those already, thank you very much.
Calling all HuffPost superfans!
Sign up for membership to become a founding member and help shape HuffPost's next chapter