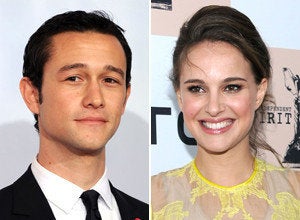 There's an awkward tension in the air between Joseph Gordon-Levitt's titular nihilist Hesher and Natalie Portman's downtrodden store clerk Nicole, but off the set of their upcoming indie dramedy "Hesher," it's all kind words and good feelings between the two.
Set to release this weekend, Gordon-Levitt and Portman star in the story of an anarchist and checkout clerk who become the best friends of a 13-year old boy mourning for his mother. Portman, in her new pursuit of behind the scenes work, helped to produce the film, one of many reasons why Gordon-Levitt sings her praises in this new interview with PopSugar.
"Natalie is someone I've just admired ever since I saw 'The Professional,'" he admitted. "She's such a great actor, and yeah, she's produced 'Hesher,' it's the first movie her production company has produced, and what a cool thing to do that with. If you're Natalie Portman, you can produce some huge Hollywood money maker, but she chose to do this little movie because she believed in the story and she believed in the filmmaker. It's the kind of movie that wouldn't necessarily get made without a little help from someone like her."
Gordon-Levitt, who will soon begin shooting "The Dark Knight Rises," was just cast as Robert Todd Lincoln, eldest son of the 16th President, in Spielberg's upcoming epic biopic "Lincoln."
Popular in the Community