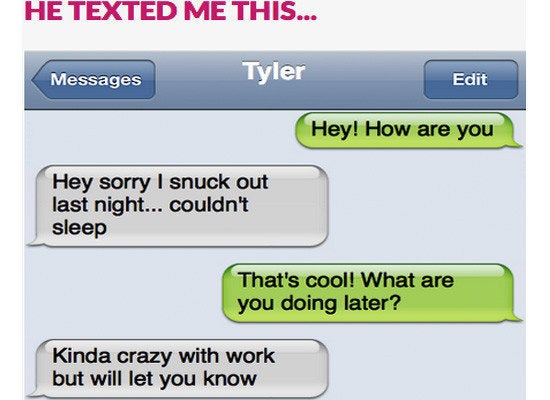 So you went on a date with an awesome guy last Friday. But then a week later, all you get from that awesome guy is a text message that says, "Hey, had fun!"
Thankfully, there's a website, which received a redesign and several new features Monday, that answers this question. HeTexted aims to help users clear up the confusions that arise from intimate communications by letting strangers examine text messages and online chats.
"Basically, it was just an observation," Lisa Winning, founder of HeTexted, said in an interview with the Huffington Post. "My girlfriends were constantly talking about it -– they'd come back from dates and be almost obsessive about analyzing what the text messages meant and what their next move should be."
"I graduated college three years ago and I have really smart, strong girlfriends," said Carrie Henderson McDermott, HeTexted's other co-founder. "Yet every Saturday morning, we'd wake up and be like 'Did he text you?' 'Are you going to text him?' I know it sounds so archaic and it's sending back the movement 50 years, but really? That's how girls act sometimes."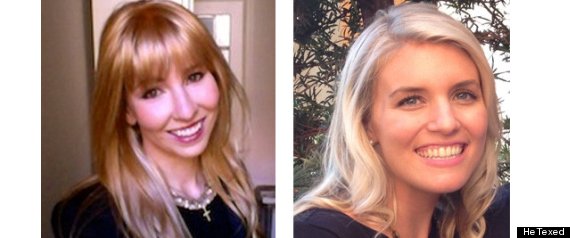 Co-founders Lisa Winning (left) and Carrie Henderson McDermott (right)
McDermott recently quit her job at Glamour magazine in order to join Winning at HeTexted, which went online in August. Both are currently involved with New York's General Assembly, a network of entrepreneurs and "like-minded people" working on startups.
The site's new layout is purposefully clean and simple. Similar to websites like Texts From Last Night, HeTexted is comprised of one main column of user-uploaded messages. Viewers can sign up for free and then vote on each entry: Is the dude you're texting into you? Or not?
In addition to the redesign, the site added a host of new features on Monday that make the experience even more addicting. Now people can upload screenshots of their hilarious and cringe-worthy messages instead of typing them out. The entries are also organized into categories, such as "OMG," for the most outrageous texts, or "Most Commented."
And for girls who don't want their conversations broadcast all over the Internet, HeTexted has an "Ask a Bro" feature. "We very much want the site to feel like you're talking to your friends. So these are guys that have a certain kind of dating history," McDermott said. "Eventually we would really love to grow the 'Ask A Bro' a section and make it more of a guest edit celebrity spotlight."
"We find that people are on the site for a full hour – or even longer," Winning states. "They want to know what people are saying about their own little dilemma, and I think that just speaks to human nature."
With many Tumblrs and other websites dedicated to collecting awkward text messages, why has HeTexted, still in beta, piqued people's interest? Digital community is what Winning and McDermott believe make HeTexted stand out.
"[HeTexted] speaks to how universal women are," Winning said. "Everyone's the same. They want to discuss this stuff at length and it's one of the most important things for them, no matter where they're from."
The women also agree that while they originally thought the webpage would mainly be read by teenagers and girls in their twenties, they've happily found people of all ages interested in HeTexted.
So what's next for the company? After perfecting their site, the women are interested in growing the HeTexted brand. An iPhone app is expected out soon, and the Android version will hopefully be available by the end of the year. While possible book deals have been suggested, McDermott notes they want to make sure they're "doing everything right" instead of all at once.
PHOTO GALLERY
The Best Of HeTexted
Calling all HuffPost superfans!
Sign up for membership to become a founding member and help shape HuffPost's next chapter
BEFORE YOU GO