It's a beautifully humid day in September, and I know you're worried about those morning showers ruining such an important event; don't worry, the sun will shine eventually. Today, you're getting married. Right on time for your perfectly planned-out life: married by 23, baby by 25 (because you didn't want to be an "old mom").
I know you'll be self-conscious as you get ready with your bridesmaids, who are so much skinnier than you. But do you know what? That dress is breathtaking, and so are you. When you see your husband for the first time, he'll start crying. That will be the only time you ever see him cry. You, on the other hand, will cry many, many times over the next six years.
I remember the nerves you felt, as the bridal suite emptied out for the procession, and you were finally left to your thoughts, sitting there by that beautiful stained glass window. Your gut was right -- you should have been feeling calm. I know you couldn't figure out why things felt... off. You weren't even married yet, and you had already gone through some shit. Maybe that's why it all felt surreal.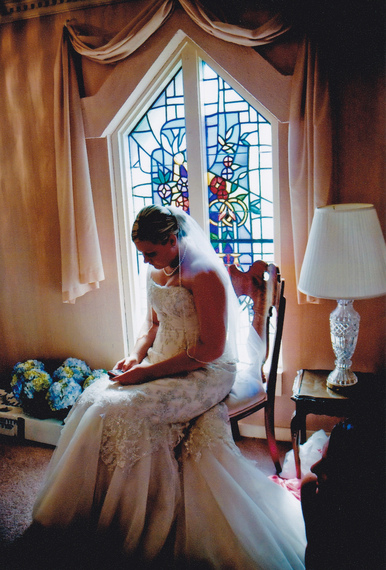 Credit: Shannon Prentice
When it's your turn, your dad will walk in the bridal suite, and ask, "Are you ready, baby?" You'll hold back the tears and grab his hand, and a sense of stillness will sweep over you. There is always safety in his hand.
Outside, the misty rain still came down. Everyone kept telling you it was good luck to have rain on your wedding day. But I know you were worried about how the photos would look. Don't worry -- they turned out fine.
Your reception will be one of the most fun nights ever. You'll be surrounded by so much love, friendship, and encouragement. Take it all in... you'll need that.
Even six years later, your friends and family still talk about how much fun they had at your wedding reception. I guess they've never seen another tipsy grandfather wearing the bridal veil and carrying the bridal bouquet before? And call me crazy, but it doesn't seem like a party unless a dozen guests pass around (and try on) a bridesmaid's clip-in pony tail.
Shannon, you will spend the next few years moving away from everything you've ever known, trying so damn hard to find a place to belong -- being a military spouse is tough. Arguments with your husband will come more frequently, and you'll finally figure out you can't fix them on your own. You'll cry yourself to sleep, journal it out, go to counseling... and you won't tell a soul.
Reach out for help, beautiful. You deserve support. You'll break without it.
You'll worry yourself sick with whether to stay or go, to try or quit. I know you've never liked letting people down, and you know it'll come to that if you go. But it's time to think about you first.
Then one day, before you realize it, that'll be the end of your marriage.
The heartbreak is real. The tears will seem to never stop, and it will seem gut-wrenching to think about life without someone you loved so much. That part really hurts. You'll wonder how you can trust yourself again. And you'll pray the stifling shame lets up so you can catch your breath. The first night alone in your new house will bring so much emotion, you'll question why you did this to yourself. Eventually, the tears stop, and the sad moments become less and less. Then something amazing happens...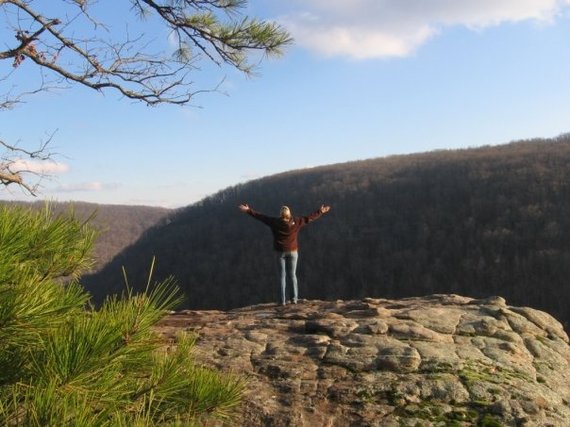 Credit: Shannon Prentice
You find your power. Even in the midst of the worst time in your life, you will know this is right. You'll have some great girl friends to support you, amazing coworkers who show you grace, and two of the most unbelievably accepting and unconditionally loving parents that you've taken for granted for far too long. (Stop that... now.)
I know you're not thinking about any of this today, though. Because it's the day you've been planning for months. The dress fits, the cake is delicious, and yes, there are leftovers. Don't think about the trials and tribulations that will follow the vows; you'll walk through those storms and come out stronger on the other side. You are capable of anything you want, but you won't know how strong you are for at least six more years.
Enjoy and treasure this day -- even though it's raining, it's only temporary. And just like the dark storms you'll inevitably face, they'll give way and the sun will shine brightly at just the right moment in your life. Walk through the storms, Shannon. Life isn't perfectly planned, and you're right on time.
We're in this together,
30-year-old Shannon