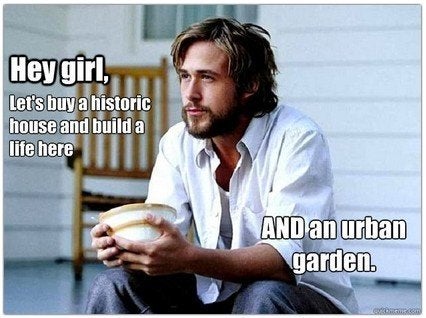 Imagine a Hollywood heartthrob who wants to picnic with you on Belle Isle, start an urban garden and -- best of all -- doesn't care whether you're "Detroit skinny."
"Hey Girl, Detroit" joins the illustrious list of Ryan Gosling memes that have been created to celebrate the tender heart and sizzling wordplay attributed to this Hollywood heartthrob. Meet Paul Ryan Gosling, a sensitive take on Mitt Romney's 2012 vice-presidential candidate, and Silicon Valley Ryan Gosling, who will never put that billion-dollar startup IPO before your feelings. Hunger Games Ryan Gosling, Lit Agent Ryan Gosling and Hey Christian Girl are all alternative destinations located in the alternate reality surrounding this 32-year-old actor.
There's even anouther Ryan Gosling Detroit tumblr, though the creator behind predecessor Hey Girl 313 seemed to have recovered from Gosling fever after their first and only post five months ago.
The star is in on the joke, too. In an interview with MTV included below, Gosling even read some of the original lines from the "F*** Yeah! Ryan Gosling" blog out loud.
Click over to Hey Girl, Detroit to find out more of what Gosling has to offer women of the Motor City.
Popular in the Community