The sun is bright in the sky, providing a scenic backdrop to the stark marble fortress of the Supreme Court. Flags at half-staff, in honor of the late Justice Antonin Scalia, ripple on either side. A dense crowd of people packs onto the sidewalk below the steps, clapping and yelling when the master of ceremonies shouts encouraging words. It's mostly women here, of all generations, many wearing identical purple hats, an apparent symbol of solidarity.
Signs are everywhere, some asserting familiar messages: "Protect Abortion Access", "Keep Clinics Open", "I stand with Whole Woman's Health." Some are more political: "I'm a feminist, I have a vagina and it votes," "Republicans Want a Government Just small Enough to Fit Inside Your Vagina," and "Mind Your Own Uterus," this one accompanied by a little drawing of what's meant to be a uterus, but which could be mistaken for the crude outline of an animal head. And one of the more clever: "Don't Mess with Access," superimposed on the state of Texas. In lieu of a sign, one woman holds up a knitted pink uterus the size of a guinea pig; a paperclip twisted in the shape of a tiny hanger attaches to its side. Groups from Planned Parenthood, NARAL, the Center for Reproductive Rights, the ACLU, and the National Abortion Federation huddle together in common cause.
We have traveled from all over the country to show our support for a woman's right to choose. Inside the building, lawyers for The Center for Reproductive Rights engage in high-stakes legal arguments that challenge recent Texas restrictions on abortion. Outside the court, just down the steps from the imposing façade, a no-less charged-up crowd of pro-choice advocates adopt a more primitive tone: We bellow and roar to remind the nation's power brokers -- the presidential candidates, the House Select Committee, the Supreme Court Justices -- that the law must ensure women's sovereignty over their own bodies. We're paying attention -- and we vote.
Various luminaries appear on the podium to address the crowd and make clear what's at stake with this Supreme Court decision. If the 2013 Texas law -- known as HB 2 -- is allowed to stand, the severe limits it imposes on abortion clinics will likely be adopted by other states, denying more women access to abortion, especially the poor and disenfranchised. Democratic Senator Patty Murray from Washington state, Senator Mazie Hirono from Hawaii, and Candy Straight from Republican Majority for Choice, take turns addressing the demonstrators. A phalanx of sober cops stands directly behind them, eyeballing the crowd, ready to lunge. There's a little commotion up front, and we can see that a loud-mouthed anti-abortionist who had made his way towards the podium is quickly surrounded and escorted away -- a security risk, no doubt, and certainly a nuisance. The cops move him to the fringe of the demonstration.
The anti-abortionist crowd grows in size and volume. A man with a mic is calling out to his fans, trying to muffle the pro-reproductive rights supporters. Everyone turns and looks to find the culprit, to scowl at him. He leads a chant, "pray to end abortions." Then, "abortion is murder." No barricade separates the hostile tribes, and the tension is palpable. Groups of young men carry signs with pictures of hacked-up babies, while a woman at the podium encourages demonstrators to "hug your abortion provider!" A couple of protest newbies engage in a heated argument, mistakenly believing they'll be smart enough and persuasive enough to change the other's mind -- or maybe just itching to fight. Meanwhile the larger crowd defending abortion rights calls out intermittently, "no more Roe!" and then "stop the sham!"
The crowd shivers while other speakers rally the crowd: An employee at the Women's Reproductive Health Center yells out that the Texas law is medically unnecessary, a regulation crafted to trap abortion providers. "These laws end safe abortion!" she yells. Reesa Roberts, a former physician's assistant at Planned Parenthood, now at the National Abortion Federation, tells the crowd that she "spent every day making sure women are safe." Ohio Reprehensive Teresa Fedor echoes these themes. My friend and travel partner reminds me that in Ohio, Republican Governor John Kasich, the sole grown-up among the Republican presidential candidates, defunded Planned Parenthood in that state. So long to him, too.
Standing for hours on frigid concrete seeps into our bones, and we bow out for 20 minutes to warm up at the closest Starbucks. The spot turns out to be a satellite demonstration, full of thawing protesters still wrapped up in purple, still holding signs. Everyone is exceedingly polite, holding doors and smiling conspiratorially. There's a sisterhood among the pro-uterus crowd.
Once we return, the crowd has thinned some; relentless cold has weeded out the less resolute. Now the master of ceremonies calls out, "stop the sham!" and demonstrators chime in. Another rallying cry: "Hey hey, ho ho, HB 2 has got to go." Then, out of nowhere, a roar erupts and the crowd claps and points at the figures descending the long steps of the Court. There, a woman in purple -- a brilliant contrast to the white marble all around -- waves to all of us. It's Amy Hagstrom Miller, the President and CEO of Whole Woman's Health, the clinic in Texas that's challenging the law. Leaders from the nation's top pro-choice organizations trickle out behind her. Forty-five organizations, I later learn, submitted amicus briefs -- "friend of the court" filings -- to support the Center for Reproductive Rights, the advocacy group that brought the case before the court.
Nancy Northrup, President of the Center for Reproductive Rights, addresses us first. We made the case to the justices, she said, so that our daughters and granddaughters will have the same dignity as we have. "Forty years after Roe, we are here to affirm the right of women to make decisions for herself -- for her health, her family, and her future," she says. Stephanie Toti, the senior counsel there, steps up behind her: "Women shouldn't have to go to court to get their essential health care, and to have their Constitutional rights protected." Louise Melling from the ACLU, also fresh out of the court, is next: "This court is going to see that this law is a sham. This law cannot stand." NARAL head Ilyse Hogue asserts that the Texas law is not grounded in medicine, but rather politics: "This is a clash of world views," she says. On one side, there are women who want to control their own destiny. The other side wants to impose its narrow ideology on women.
Planned Parenthood President Cecile Richards, sleek and fearless at the podium, rallies everyone: "We will not let Texas women go back in this country!" she says. Women there and in Louisiana are suffering because legislators are finding clever ways to limit reproductive rights. This will not stand, she says. "There is not a single woman in this country who wants her daughter and granddaughter to have fewer rights than she has." The crowd roars, stifling the peeps from the anti-abortion crowd. "Don't give up the fight!" she hollers.
Finally, Amy Hagstrom Miller, our purple heroine, takes over. The crowd thumps and roars. "It is a real honor to speak with you today," she tells us, before inviting the staff from the Whole Woman's Health Center to stand with her. An assortment of women in those same purple hats gather around her, all smiles. "We stand united for abortion access," she adds. She warns us that the law in Texas, if unchecked, will be adopted by other states, imperiling abortion access for thousands of women around the nation. "We stand in the light," she tells us. Then the demonstration ends, and we head home, a little bit warmer at last.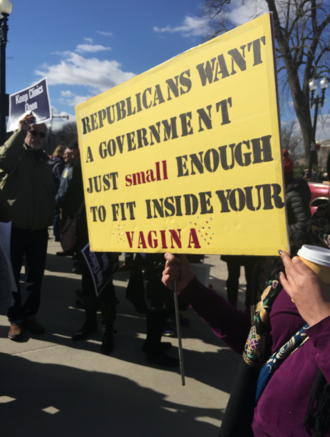 Popular in the Community