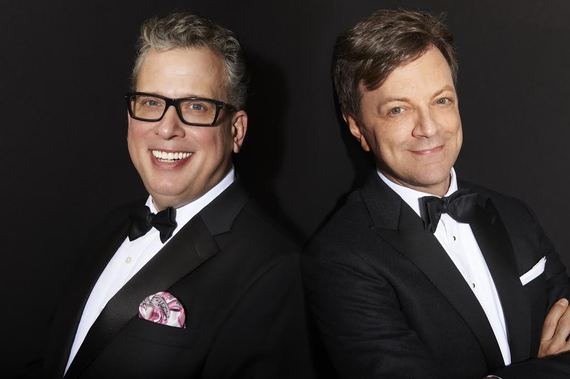 When you think of Beverly Hills after dark, quiet and serene, you don't picture Broadway belters, noisy crowds and cabaret ingénues packing a club for one of America's most exciting -- and unpredictable -- nights on the town.
That's all about to change.
This Wednesday, the newly-opened Spaghettini restaurant on North Canon Drive will become the west coast home for "Cast Party," an iconic open mic night in Manhattan's musical theatre world. And Los Angeles will be getting a rocket shot of adrenaline -- a blast of razamataz from the heart of the Great White Way.
Based in New York's legendary Birdland nightclub, Cast Party is a Monday night soiree that serves up a dizzying blend of A-list talent and wannabees who sing everything from Broadway tunes and standards to jazz, cabaret and other genres, in front of a savvy, appreciative audience. All are welcome, and everyone gets an equal chance to shine or fall on their face. You never know who's going to appear: Liza Minnelli or Tony Bennett might come in off the street to perform a classic number, followed by a truck driver singing about air pollution.
"We're like the Ellis Island of show business," says Jim Caruso, Cast Party's suave and wickedly funny emcee. "Sooner or later, everyone comes through our doors, and we've seen some amazing talent launched after just a few nights with us."
As he explains before every show: "Cast Party is an open mic for the Broadway, Cabaret, Jazz, Folk, Blues, Didgeridoo, Country-Western, Cajun, Zydeco, Tap and Polka, Ventriloquial, Rock, Roll and other communities. On this stage you'll see some of the finest talent in the world. Also other people."
Now barreling into its 10th year, the show has featured unforgettable and thrillingly unscheduled appearances by Chita Rivera, Joel Grey, Carol Channing, Natalie Cole, Alan Cumming, Michael Feinstein, Martin Short and Paul Shaffer, among many celebs. It's become a New York must-see, but the show has also been looking for an LA beachhead -- and now it's found one in Spaghettini's comfortable confines.
Caruso, who runs the show with his best friend and musical collaborator, renowned pianist Billy Stritch, is thrilled about the arrangement. So is Dave Koz, the Grammy-nominated, platinum-selling jazz saxophonist. He's a partner in the restaurant, and is launching the "Dave Koz Lounge" as its musical venue.
"With Cast Party we're bringing one of New York City's greatest treasures to Southern California," says Koz. "It's going to strike a chord with so many of the talented people out here who never get a chance to show what they can do on a live stage. We're filling a real need, and people will love it."
So how did a Big Apple landmark get transplanted to a restaurant on Canon Drive? It's like any great recipe: When you combine the right ingredients, magic can result.
Laurie Sisneros and Cary Hardwick, the owners of Spaghettini, have run their popular, Northern Italian restaurant in Seal Beach for 26 years. Along with philanthropists Glen and Debbie Bickerstaff they decided to add a Los Angeles-area branch and, as part of the plan, asked Koz to open a nightclub at the site.
He, in turn, began talking to Caruso and Stritch about a new home for Cast Party, where he has performed numerous times. The hosts, who earlier presented the show in two other Los Angeles locations, have been steadily expanding the franchise with nights in Las Vegas, Dallas, Austin, Cleveland, Chicago, Del Rey Beach and The Hamptons -- and negotiations are underway to bring it to London.
"This is a great arrangement, everything we could ask for, and I think LA will be happy we're coming to town," said Stritch, an award-winning composer, arranger, vocalist, and jazz pianist. "It will be just like what we've got going in New York, because the secret of Cast Party is that you never know what to expect."
After the December 17 show, Cast Party will kick off a regular schedule with shows on the last Thursday of each month. And while Beverly Hills may seem light years from Birdland, the same rules apply: People who want to sing should come on the night of the show and seek out Caruso - the dapper man at the door with a clipboard who asks: "What would you like to sing for the people tonight?"
After that, it's come what mayhem.
During memorable nights at Cast Party, stars deliver stunning performances, with Stritch at the piano. They share the stage with tap-dancing trombonists, jugglers, yodelers, college acapella groups and little-known singers who come out of nowhere to bring down the house. There are cringe-worthy moments, to be sure, with crooners whom Caruso gently -- and mercifully -- eases offstage when they're done.
"What's great is that you as a singer get a chance to stand in the spotlight, no matter who you are," he adds. "For three or four minutes, it's all about you."
That will be a huge selling point in Los Angeles, where so many performers struggle to be noticed. At Cast Party you never know who's in the audience -- agents, casting directors and VIPs -- and it's a golden opportunity to strut your stuff. There are guidelines, however. Herewith some excerpts from the helpful hints Caruso has posted on the Cast Party website:
The Vibe: "Remember, it's a party! An evening of weepy ballads is no fun for anyone except Edith Piaf -- and she rarely attends. Try to pick material that is fun, upbeat, swingy, zesty and bursting with verve and pluck. The audience and host will thank you with hearty applause and perhaps even a warm handshake."
Speechless: "Seventeen-minute personal journeys or in-depth biographical information on 'Mister Cole Porter' is strictly prohibited and should be inflicted only on your psychologist or the audience at your cabaret act."
The idea for Cast Party was born in 1995, when Caruso was transitioning out of TV work and back into a singing career. He and Stritch had met Minnelli earlier during gigs at New York nightclubs and she became a friend and mentor (both performed in her subsequent show, "Liza's at the Palace").
Caruso was smitten with the legendary parties she threw in her home, with friends gathered around a piano late into the night, and he launched a public version in several New York City nightclubs. The show found a permanent home at Birdland in 2003, and its emergence in Los Angeles now raises an obvious question:
Given the explosion of reality shows, isn't the time ripe for a TV version of Cast Party's weekly bash? American viewers, numbed by formulaic singing contests, might find Caruso, Stritch and Company a delightful breath of fresh air.
Earth to Hollywood: What are you waiting for?
Cast Party will begin at 10 p.m. on December 17 in the Dave Koz Lounge at Spaghettini: 184 N. Canon Drive. (310) 424-4600.
Related
Popular in the Community