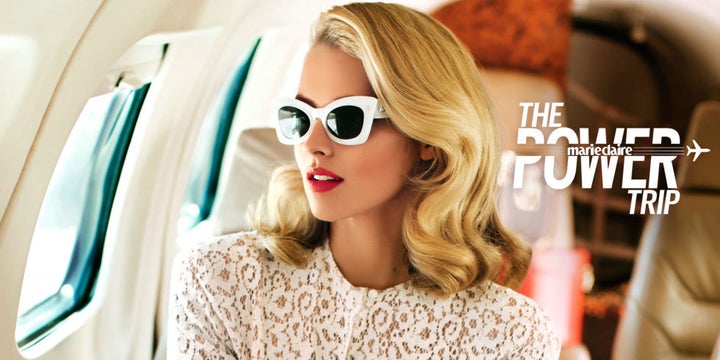 This past March, Marie Claire launched what they are calling a "Pop-Up Summit for Badass Girl Bosses." In partnership with JetBlue, they are bringing together 100 female business leaders, and traveling from New York City to San Francisco for a pop-up conference. They are calling the whole program, "The Power Trip." The concept of the pop-up summit is beautiful and meaningful — gathering a group of the most powerful women in "tech, media, fashion, and policy" to discuss how to be an effective "feminist" and "disruptor" is an empowering idea.
As a teen girl continuing to discover and amplify my own voice as an advocate, when I heard about this summit, I was intrigued. The definition of power is the "capacity or ability to direct or influence the behavior of others." What is it that gives women power? What does it mean to be a powerful woman?
When I saw the ad for The Power Trip, I was both discouraged and offended. To represent the brand of the program, one that is supposed to promote the empowerment of women in influential industries in our diversifying global community, Marie Claire chose this photo. To encapsulate a "powerful woman" to speak for the pop-up summit of "Badass Girl Bosses," they chose a perfectly airbrushed white, blond, skinny model, seemingly in a private plane, with perfect makeup and slanted shoulder pose that screams gentle femininity.
When thinking of creating an ad for a program, you choose a subject that speaks for the mission and vision of the project. With this ad, Marie Claire essentially defines gentility, superficial appearances, a perfect lipstick job, and wealth as the factors that give a woman power. I am not doubting that the woman depicted has power, rather I am expressing how this ad makes me feel angered and discouraged as a female leader because of the lack of diversity, strength, resilience, creativity, service, and compassion in the image. It is 2016 — having power as a woman means taking action regardless of adversity, breaking boundaries for others to feel more empowered, and amplifying the potential in your voice. I feel that this ad portrays none of that, and it should as a program that is supposed to promote and empower female voices from diverse backgrounds.
REAL LIFE. REAL NEWS. REAL VOICES.
Help us tell more of the stories that matter from voices that too often remain unheard.