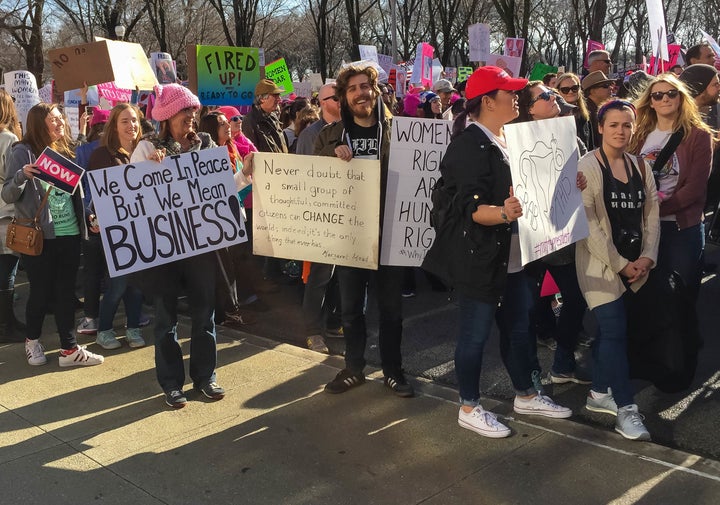 We all know the process has been rocky. Paying billions of dollars to millions of protesters would have been hard in the best circumstances. Add the need for secrecy, and it's hardly surprising that botched protester pay became the biggest logistical mess of the Trump era. Millions of tax forms were lost. In hindsight, it was predictable that the major banking websites would crash when millions of protesters tried to deposit billions of dollars within fifteen minutes right after the Women's March ended.
I'm relieved that almost every deposit has finally been credited. Now the real long-term challenge must be confronted. Almost five million financially-inexperienced protesters just received big paychecks to oppose President Trump. As a personal finance writer, I'm now flooded with calls and emails from worried liberals wondering how to prudently invest their pay. They're struggling with practical questions. Many have never received a $6,000 or $10,000 paycheck before.
The computer hacking alone caused one hell of a mess. Here liberals should learn from the Tea Partiers of seven years ago. Grassroots conservatives may not Facebook-share CBO analyses of AHCA. But they do keep track of boring stuff such as "where and when do I vote in off-year elections?" And "How do I safeguard my email and financial records." Petrified by Facebook-trending stories on ACA death panels and Obama administration IRS stings, many Tea Partiers protected their Gmail, Facebook, and key financial accounts using two-step verification. Liberals aren't into that boring paranoid stuff…Yeah.
Everyone's situation is different. I can't answer every protester's question in one column. Below is some useful general advice.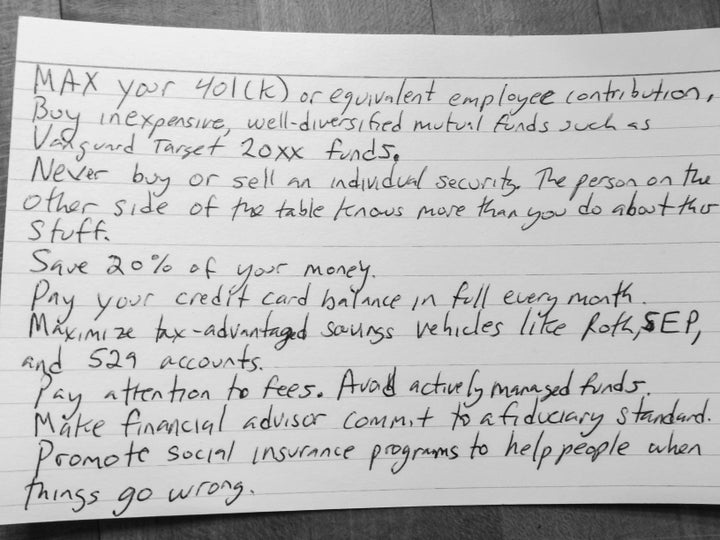 Pay down (or, ideally, completely pay off) your credit card. Nobody likes to admit it, but many of us carry big VISA balances that started with a $300 fair-trade bandana mask or that Che Guevara NO WTO! poster you bought back in Seattle eighteen years ago. Every dollar you spend paying down your credit card debt brings a risk-free, tax-free return of about 15% annually. Unless your name is Warren Buffett, no other investment will bring you anything close to that. So pay off your credit card bill, in full, every month.
Make your savings automatic. Try to save 10-20% of your pre-tax income. The easiest way to do this is to make it automatic. So much chaos might have been avoided had the Soros folk simply auto-enrolled protesters into sensible direct-deposit investments.
Use tax-advantaged retirement accounts. If your day-job offers a 401(k) plan, contribute as much as you can, up to the legal limit. This is particularly true if you are eligible for an employer match.
If you don't have a 401(k), or if protest becomes your lucrative side-gig, you still have good options. If you carried a sign in a few marches, you still have several thousand dollars available for a Roth IRA. If you reject bourgeois marriage institutions and have a modified adjusted gross income below $117,000, you can contribute up to $5,500. Folks with those faded 1979 "No-Nukes" Jackson Brown tee-shirts can probably make another $1,000 catch-up contribution for those over fifty. Roth IRAs are especially nice if you worry about saving for an emergency or having some extra for your kid's college. You can withdraw your principal any time without penalty. Your investment gains will be tax-free, which is a huge benefit in your retirement.
If you're a regular town hall protester, you've probably blown through the Roth IRA income limit. So you need a more powerful tax shelter. You might consider a Simplified Employee Pension (SEP) IRA at Vanguard or any similar financial firm. You can defer taxes by contributing up to 25% of your self-employment or side-gig pay. Unfortunately, the maximum annual contribution is only $53,000. You can still contribute until tax time for tax year 2016. So make sure to handle this right.
Hold your financial professional to a fiduciary standard.
(This very serious documentary I made with Frey Hoffman and professional actors gives more details.)
February's meltdown of the Hollywood Vegan Social Choice Fund was just the most notorious episode where protesters proved easy marks for fraudulent or simply overpriced products such as actively-managed mutual funds. Hollywood Vegan was closed after news of its secret Oscar Mayer investment. Really, though, its high fees and incentive payments to brokers who recruited unsophisticated clients were just as questionable. The fund argued in court that such investments satisfied the legal "suitability" standard governing most financial products sold to ordinary investors. The fact that they prevailed indicates how porous these standards really are.
Steering retirement investors into overpriced funds would actually be illegal under the Obama administration's proposed "fiduciary rule," which would require finance professionals offering retirement products to disclose conflicts of interest and to maximize their customers' financial interests rather than their own.
Not everyone lands a lucrative political protester gig. So not everyone can take full advantage of the above advice. Still, the rest of us can manage our financial lives more effectively and attentively. If you methodically save and invest for the long haul, you can improve your life. That's no joke in a difficult time.
Related
Popular in the Community