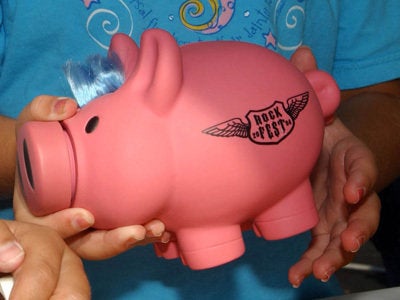 Experienced, Independent Journalist Seeks Audacious Opportunity to Earn Living Wage.
In 2008 more than 15,500 journalists were laid off or bought out (or, considering the corporate greed driving much of the cuts, laid out and forcibly bought off), a 700 percent increase over the second half of 2007, according to a running tally on Paper Cuts, a website created by a journalist from the St. Louis Post Dispatch.
Considering the state of the state of the American economy, this is merely a drop in the recessionary bucket, but speaking out of admitted self-interest, I'd call it a crucial, wave-making drop.
Before I go any further, let me say that though I've watched with dismay as many of my colleagues and friends have in recent months been kicked out of the corporate nest to join me in the rough, rude world of freelancing, I'm not speaking for anyone but myself. No one told me to say this, no one told me it's a good idea. Lots of people will probably think it's a terrible idea. For the record, it's all mine.
Yes, we're coming to you, Mr. President, hat in hand like everyone else. But before you throw us to the back of the line, hear us out.
Our aspirational society, in order to create a more perfect union, needs journalism. Not gossip, not snark, not uninformed blather that passes for opinion, but good, solid reporting. Investigations, deep features, reporting-driven storytelling. These are the stories that show us who we are, that shape the narrative of our lives and the life of our nation. But it's getting harder to sustain the journalism needed to tell those stories.
I teach journalism at a major university, contribute regularly to a major metropolitan daily, am working on a book for a major publishing house and blog to my heart's content for a highly regarded city blog, as well as for this esteemed outlet. The hours are long and the work is demanding, but it is all exactly what I want to be doing.
There's just one glaring problem: money. The lack of it.
The late, great David Halberstam once described the life of a journalist as a donation to society, and I can abide that, to a point. I never expected to rake in the bucks, only to make enough to contribute my share to the family coffers. It seems a reasonable expectation.
I have a master's degree in journalism. I've been awarded several journalism fellowships -- one to cover the aftermath of Hurricane Katrina -- and won a few prizes, one for writing about AIDS and another for covering the death penalty. I even landed a (tiny) share of a staff Pulitzer at the LA Times for coverage of the 1994 Northridge earthquake.
Unfortunately, prizes don't pay the rent. As a freelancer, I get no health benefits, no 401K, no pension, no paid vacation. Only multiple, disembodied bosses whose demands are communicated via email, minus the sympathy and camaraderie that working in a newsroom brings. I can handle all that. I've gotten fairly used to it.
But in recent years, with the advent of blogging, the pay rate for freelance work--always low -- has plummeted. For my work on the Huffington Post, for example, my only pay is the honor of having my material appear on the site. No small matter, mind, you. But still. My journalism take-home pay in 2008 was about the same as that of a Wal-Mart clerk.
As I write this, lots of smart journalism types are working hard to figure out just what, exactly, economically sustainable journalism should and can be. At some point things will settle down and the path will become clear.
For now, we are in desperate need of some major help. As in government cash. Non-profits like ProPublica and the Poynter Institute can't do all the heavy lifting.
There are a few foundations that fund independent journalism projects, but their limited resources enable them to fund only a handful of projects each year, and the need far exceeds the supply. One of the funders, Alicia Patterson, received a record number of applications for its 2009 fellowships. With advertising revenues and subscriptions plummeting and newsprint costs soaring, someone needs to help maintain the infrastructure of American journalism.
Government subsidies for the fourth estate are a touchy subject and will certainly raise concerns (as they should) about censorship and press freedom. But there are models to emulate (NEA, PBS). And serious journalism has managed by and large (with some notable exceptions) to maintain its integrity in the face of significant pressure from advertisers.
How would such funding be structured? It could start out as a pilot program, kicking in immediately after the inauguration. The process could be competitive and project-driven, and the program could be run by an independent entity which would hand out relatively small grants -- $50,000, say -- made to individuals, not institutions. Because if one thing is clear, it is that the future of journalism is tending toward independence, more along the lines of documentary film production than the traditional newsroom model.
Those among us who are dedicated to the work, who have the experience and the desire and the hunger to continue, want a chance to do what we love and keep the stories coming. We don't promise that the stories will be flattering, but we do promise that they will be honest, fair and well-reported.
We can't hang on much longer.

Related
Popular in the Community