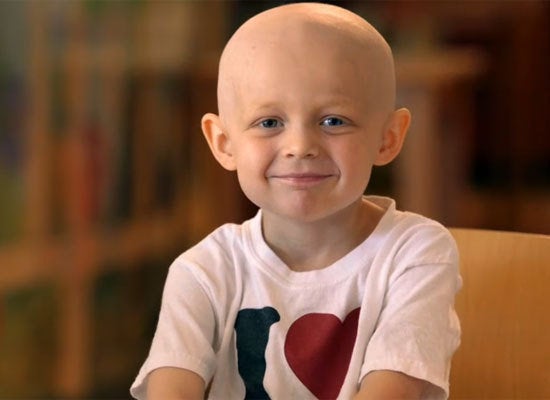 Last month, my brother Tony was playing in a golf tournament in Park City, Utah, when he suddenly spotted Michael Jordan approaching the tee. Dropping his club, Tony walked up to Michael, chatted with him for a moment and, before you could say, "Fore!" Michael took off his golf shirt, put on a St. Jude t-shirt, looked into Tony's cell phone cam -- and began singing the "Nah-nah" chorus from the classic rock anthem, "Hey Jude."
That's my brother for you: Like a Canadian Mountie, he always gets his man.
Earlier this summer, Tony -- a tireless champion of St. Jude Children's Research Hospital (which was founded by our dad) -- heard "Hey Jude" on the radio and suddenly had an epiphany: Why not lend the eternal spirit and infectious melody of that memorable song to that other Jude we care so much about?
"I'd actually been thinking about it for years," Tony told me. "And I figured, with this being the hospital's 50th Anniversary, Dad's 100th birthday, and the year Dad appeared on a U.S. postage stamp, why not go for the gold and add a beloved song to our celebration? If we were ever going to do it, now was the time."
So Tony got down to business. Securing the rights to the song, he then began working the phones and enlisting celebrities to join his "Hey Jude"/St. Jude chorus.
Like everything Tony did when we were growing up, once he got the idea in his head, he became unstoppable. First he signed up pals -- like Jon Hamm, who appears on the video with his girlfriend, Jennifer Westfeldt; and Betty White, who Tony first met when he produced The Golden Girls back in the '80s.
Then he called the St. Jude troops to go after longtime friends of the hospital, like Keith Urban, who's been a driving force behind St. Jude's "Country Cares" campaign; and Robin Williams, who is an invaluable part of our annual Thanks and Giving holiday campaign, and whose contribution to this video is classically -- wildly -- Robin!
Even when he wasn't working on the video, Tony was still thinking about it. That's how he wound up nabbing Michael Jordan on the golf green. And though that clip runs for just a few seconds on the video, it stands a testament to both Tony's perseverance and Michael's boundless generosity.
But of all the clips in the video, what I love best is the participation of the St. Jude children themselves. Bald, proud, and with smiles that could ignite a bonfire, these amazing and courageous kids not only capture the joy of the original song, but the hope and invincibility of all St. Jude patients. Every time I watch this video, the children make me smile...and cry.
As for Tony, his talent and dedication makes me cry, too. Hey, Jude -- that's my bro!
"The final video looks just the way it did in my head," Tony told me on the phone this morning. "But even more important, we achieved what we set out to do: Now, whenever anybody hums 'Hey, Jude,' they'll be thinking about St. Jude, too. It doesn't get much better than that!"
Related
Popular in the Community