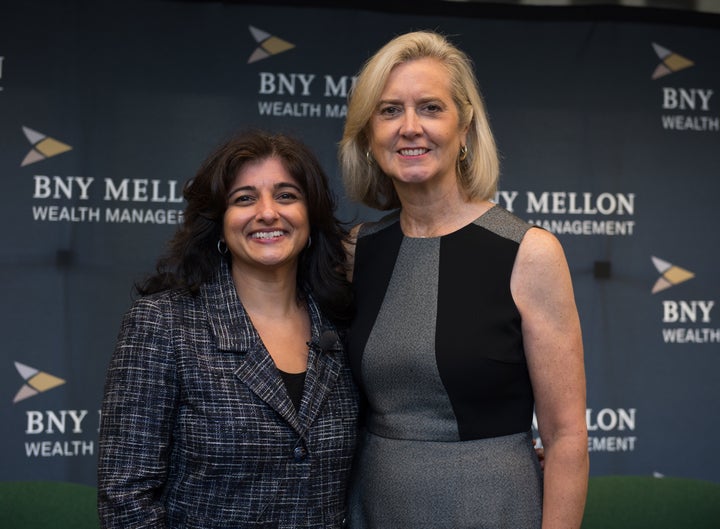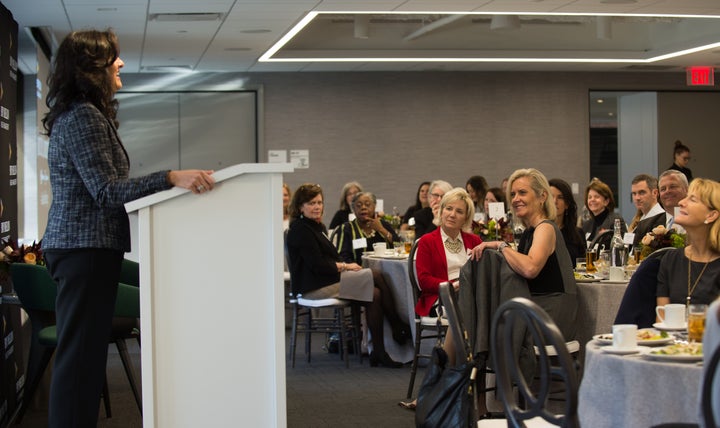 :00 pm ET Updated 0 minutes ago
Seema Hingorani was running a $160 billion pension fund for the City of New York when she noticed that practically all of the bankers she met were men, and so were all the people on their org charts.
When she asked why there were so few women, she kept hearing the same response: "We just can't find them. We don't get resumes from women."
Hingorani went on a quest to add women – lots of women – to the highest reaches of Wall Street, and she succeeded faster than she ever imagined.
Hingorani told a packed crowd at a BNY Mellon Wealth Management's Game Changers event in Boston Thursday, "I knew there were few women that looked like me in my neck of the woods in equities and hedge funds, but everywhere in finance? Real estate, private equity, infrastructure, fixed income? No women? That made no sense."
So she started a nonprofit educational program called Girls Who Invest, which provides a 10-week, all-expenses-paid boot camp for college-age women who might not otherwise have considered careers in finance.
"All of the research tells us," Hingorami told her audience, "that more gender diversity gets better outcomes. So why wouldn't you want to have the most diverse perspectives around the table when you're trying to make these really hard investment decisions?"
Hingorani, a legendary figure on Wall Street who had managed billions of dollars in assets before taking the New York City position as a public service, spoke constantly about the issue.
"Every keynote I ever made," she told the Game Changers audience, "any panel I was ever on, and there were hundreds of managers in the audience, I would say 'Okay, you guys. There's a huge problem in our industry. You tell me you can't find women, so I will make you a deal. I will go find them, and then you hire them.'
"They looked at me and said 'What?' And I said, 'Yes. That's the deal. We'll go find them and then you hire them."
An op-ed Hingorani published on Bloomberg.com in September, 2014 set forth the basic idea of Girls Who Invest.
"We'll start young," Hingorani recalled. "We'll go to high schools, we'll go to colleges, and we'll build this massive pipeline of talented, amazing young women. We'll prepare them, we'll train them, we'll stay with them throughout their careers, and then they'll become more senior, and then they'll change all the cultures. And that's exactly how things are turning out."
Hingorani thought others would take up the challenge, but everybody turned to her and said, "We think you should create this program!"
So instead of returning to the private sector after her New York City stint, she started the program herself.
Already, 90 young women have gone through the flagship 10-week program, which takes place on the campus of the University of Pennsylvania.
Subscribe to The Morning Email.Wake up to the day's most important news.
"They told their friends about it," Hingorani says, "because we had 450 applications for the following year. Other cities want to host the program, and we're expanding to Notre Dame's campus next year.
"We're getting calls from cities all over the world who want to host the 10-week Girls Who Invest program. I tell them, 'Let me get the United States figured out, and then we can work it out for the rest of the world.'"
The women who attend are often Liberal Arts majors, reflecting Hingorani's own background.
"I was a psychology and philosophy major undergrad. I never took a science or accounting class. I thought I wanted to be a lawyer. No offense to lawyers, but thank God I didn't do that!
"I got my first job on Wall Street and I thought, you know, I love the market. I don't want to be a lawyer, I want to be an investor, and it changed my life forever and I couldn't be happier.
"We want to capture these young woman at a point where they have no idea about our industry as a career path, but they're super smart and they're rock stars."
Attendees receive paid summer internships with some of the best asset management firms in the world, Hingorani told the audience.
Those firms include Blackstone, Carlyle, Oaktree, Taconic, Perry Capital, Carlson Capital, Wellington Management, Baring Capital, T. Rowe Price, and KKR.
"This is much more about than just training them in the classroom, and then say 'Okay, bye. Good luck." Instead, it's, 'We're going to get you jobs, because that's what this thing is about. We're going to bang down doors and provide access to a world that you guys have not been given access to for reasons, I can't understand."
The program is expanding nationally and also online.
"We added online programs," Hingorani said, "because we didn't want to discourage all these women who applied to the program. We partnered with the CFA Institute, and so all the freshmen that are on our wait list, for free, paid by us, get to take 80 to 100 hours of online classes.
"It's an intro to asset management class online. You go through an exam, and then you get credentials from the CFA Institute, and you put that on your resume. It's a big deal, and then you have a leg up to get into our program next year."
Thomas Dicker, President of U.S. Markets for BNY Mellon Wealth Management , said, "Our clients are incredibly excited to meet a woman like Seema, who is opening doors and literally transforming our entire industry.
"She's right when she says that diversity leads to better decision-making. We're thrilled to support her and help get the message out about Girls Who Invest."
Related
Popular in the Community