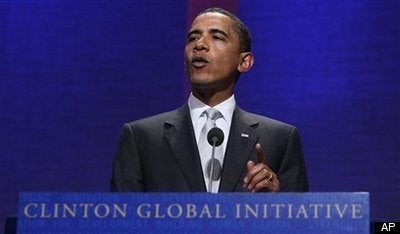 The current deadlock in climate change negotiations is alarming for those of us who think "Copenhagen" - also known as this December's United Nations Conference of Parties - will be the Olympics of climate change. Copenhagen is where humanity should rise to the occasion and leaders should sign a fair, ambitious, binding climate deal. And here's why it's important now: The UN Climate Change Conference in Copenhagen will be the kind of event, not unlike those awe-inspiring, world-uniting Olympic Games, that only comes around rarely. And during the off years, though there may be other games, they are lesser, less conclusive, less important.
That's the best analogy I can come up with for why the world should care about Copenhagen, and it's also why I just traveled the world filming people - climate change 'stakeholders' - for a campaign called See You in Copenhagen: we won't have another chance soon to set a world record for cooperation, nor a better moment to step up our climate game and usher in the clean energy future to replace our exhausted, unsustainable present state. Many people I know would also say this: this is our last chance to save the world from catastrophic climate change.
So mark your calendars, set your alarms, this December, in Copenhagen, we need to be there, cheering on, as world leaders step up to the plate, run the race, go the distance, etc.
That thinking is the reason the Secretary General of the UN, Ban ki-Moon, called leaders together last week at the United Nations for a Climate Summit. At the Summit, he laid down a challenge: Come to Copenhagen. A simple invitation. Me, you, all the other hot-shot leaders of Planet Earth in Copenhagen, this December. It'll be cold, but who cares? We'll toast when we seal the climate deal.
And you know what's great? World leaders got on the Copenhagen page. Gordon Brown jumped on board. England, leading on climate change, who knew? And then this week, I hear Obama, yeah Obama! Obama's going to Copenhagen. And Lula, the Brazilian President, knowing how much is at stake: you know, only the world's biggest rainforest?! Only the fate of the lungs of the Earth, in Brazil's hands (climate change threatens to dry out huge swaths of rainforest, even as humans continue to slash and burn the rest of it). Well, Brazil's Lula is going to Copenhagen, too!
The news about Copenhagen, which is shaping up to be a true Olympics of Climate Change, just keeps pouring in: all the greatest leaders will be there. But WAIT!!! There's just one really unbelievably ironic catch: the world leaders are going to Copenhagen now, this week, not in December (except, at this point, for lonely Gordon Brown). And they're not going to settle the fate of the world's environment, or to save us from the devastating effects of climate change, instead they're going to campaign like schoolchildren for their country's right to host the Olympics in 2016.
It's like Ban ki-Moon started a bad game of "telephone" and the world leaders got a garbled message: "Go to Copenhagen now." Instead of "Go to Copenhagen in December." Guys, major message drift. Ball-dropping on an epic scale. C'mon! You can do it! National politics are petty, change is a nice slogan not easy to accomplish in reality, I know, but the world is waiting.
Well, let this at least show that leaders can easily hop on a jet to Copenhagen. Obama's going for less than 24 hours. Test the waters, come back in December, I say.
The Olympics of Climate Change will go down this December in Copenhagen, with or without world leaders showing up. That much is sure. Anyone who cares about the environment should pressure them to be there and those of us without jets should all go in spirit: believe in global warming or not, the point is the world needs a clean, sustainable energy future that doesn't give the ranch away to oil companies and oil rich countries with bad governments, while flooding our coastlines and super-heating our backyards. So let's all go. See You in Copenhagen...
FULL DISCLOSURE: SEE YOU IN COPENHAGEN is the name of the climate change campaign Found Object Films launched last week, in cooperation with the UN Foundation and tcktcktck.org. Enjoy the films...

REAL LIFE. REAL NEWS. REAL VOICES.
Help us tell more of the stories that matter from voices that too often remain unheard.