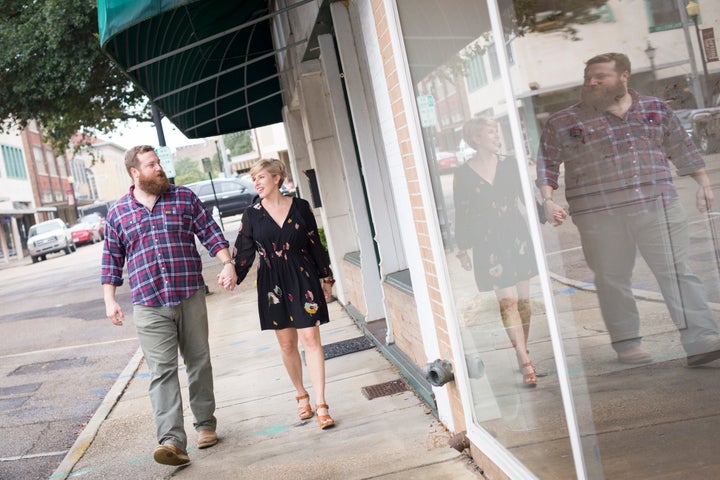 Erin and Ben Napier, stars of the HGTV show "Home Town," announced last month that they are expecting their first child together. In light of the news, Erin has shared Instagram posts about her excitement as well as an important message about why no one should ever have to face the question, "When are you going to have kids?"
On October 30, Erin wrote on Instagram that her and her husband's journey to decide to have kids was difficult and that the many inquiries about when she was going to start a family didn't help.
"Stop asking couples when they are going to have a baby," she wrote. "It's always asked with the best intentions, but the raw, awful feeling of explaining never got easier."
Erin described pregnancy as an "insurmountable" fear for her and something that "felt impossible."
"I would turn out the light at the end of every single day and the weight of hopelessness made me feel pathetic: 'Another day has passed and I'm still not brave enough,'" she wrote.
She also mentioned the painful experience other couples go through of not being able to conceive and consequently coming up with various lies when they feel pressured to explain why they're not expecting yet.
"For so many couples I've known, there have been years of trying for a baby that never comes," she wrote. "It's heartbreaking for those couples and the question forces lies much of the time: 'One day we'll get around to it!' or 'We're just enjoying being the two of us!' Let's help by not asking that one question."
Blogger Adele Barbaro, known as The Real Mumma online, inspired Erin's post. In October, she described on Instagram what it was like to be under scrutiny from friends, family and acquaintances during her difficult journey to become pregnant.
"They would tell me that I'm not going to be young forever or that my maternal clock was ticking," Barbaro wrote. "And believe me, I knew it. I just didn't need to hear it from everyone else."
Erin is about seven months along now. She and Ben are expecting a girl they plan on naming Helen after Erin's grandmother.
In an earlier Instagram post, the HGTV star wrote that she's been reading all of the messages she's received since announcing her pregnancy and offered hope to other couples who might be facing similar struggles that she and Ben have experienced.
"It's been so good to hear how many of you found my fear relatable and I've been praying that our story will be a comfort to someone in my same shoes," she wrote.