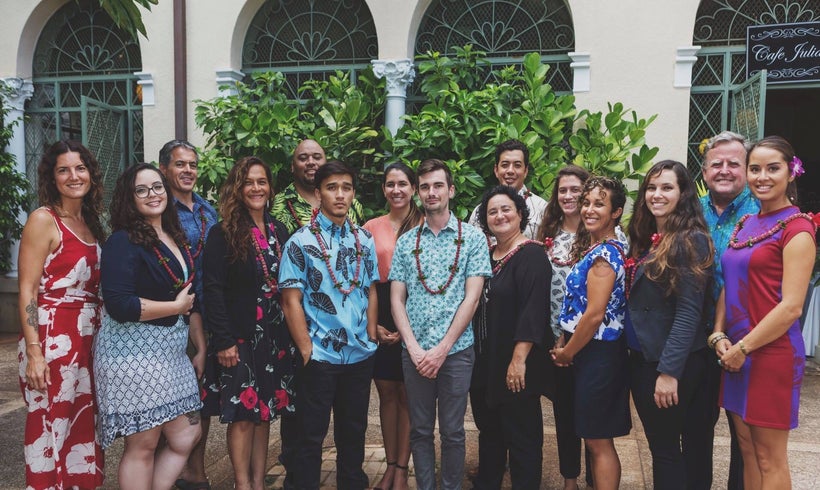 On Saturday, Oct. 28 at a private evening event hosted by the Hawaii Alliance for Progressive Action (HAPA) Lieutenant Governor candidates, Senator (Dr.) Josh Green (3rd Senatorial District, Kona, Ka`u), and Senator Will Espero (19th Senatorial District—Ewa) will engage in an hour-long forum moderated by the host of Hawaii Public Radio's "The Conversation," Chris Vandercook. They will take questions posed by the Kuleana Academy participants as well as by the moderator.
As a member of the current class of Kuleana Academy participants, Zahava Zaidoff (front row, fourth from the right) put it, "Being able to ask questions of people running for the second highest office in our state, in an intimate setting, will allow me to to get more detailed information on what is important to me and to my community. We have very real challenges, and I am tired of listening to talking points without real answers. At the LG forum, I will be able to ask follow-up questions, mingle afterwards and let the candidates know that I will hold them accountable for following through on their promises."
Zaidoff has been very visible in the press recently, having had a number of OpEds published dealing with her own struggles with addiction, homelessness and attempted suicide. She is actively engaged in helping to improve her own community on Hawai`i island, working as a Certified Substance Abuse Counselor and Prevention Specialist.
Developing and equipping people like Zaidoff for greater leadership roles in the community is very much a part of H.A.P.A.'s mission: "to catalyze community empowerment and systemic change towards valuing `āina (environment) and people ahead of corporate profit."
"To that end, we established Kuleana Academy to train a new generation of leaders who want to be part of the effort to bring about systemic change that puts the good of the community at the center of policy-making," says HAPA founder and president Gary Hooser. So far 60 people from across the islands have gone through the program. Applicants go through a vigorous vetting process by a selection committee. Fourteen Kuleana Academy participants have already begun the effort to run for a variety of offices, from Neighborhood Board to state legislature. More are planning to throw their hat into the ring in the 2018 election cycle.
In the words of veteran journalist and observer of local politics, Dave Shapiro: "Kuleana Academy appears to be a constructive effort to increase involvement and elevate the dialogue."
That dialogue continues at the Lieutenant Governor candidates' forum hosted by HAPA on Saturday, Oct 28 at 5:30 p.m. in Waikiki.
REAL LIFE. REAL NEWS. REAL VOICES.
Help us tell more of the stories that matter from voices that too often remain unheard.
This post was published on the now-closed HuffPost Contributor platform. Contributors control their own work and posted freely to our site. If you need to flag this entry as abusive,
send us an email
.