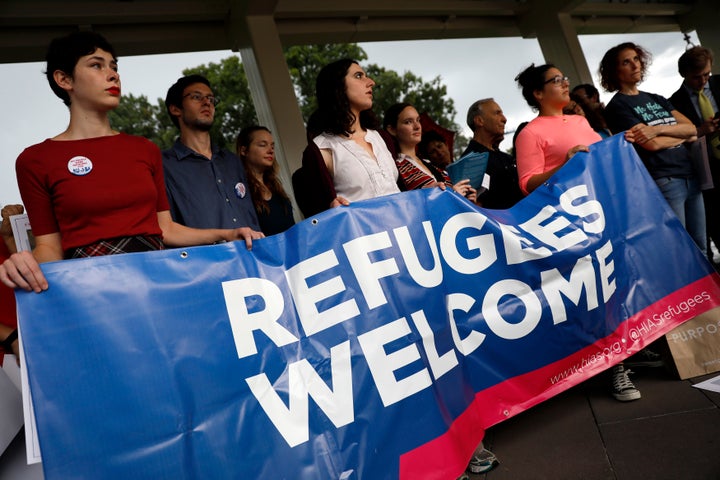 Robert Bowers, the man accused of a mass shooting at Pittsburgh's Tree of Life synagogue on Saturday, has a long history of spewing anti-Semitic hate online. But there was one Jewish organization in particular that appears to have caught his attention ― the historic Hebrew Immigrant Aid Society, a refugee resettlement agency now known as HIAS. 
Mere hours before Saturday's deadly attack, Bowers referred to HIAS in a post on Gab.com, a social media platform popular with far-right extremists. 
"HIAS likes to bring invaders in that kill our people. I can't sit by and watch my people get slaughtered. Screw your optics, I'm going in," Bowers wrote, according to The Associated Press.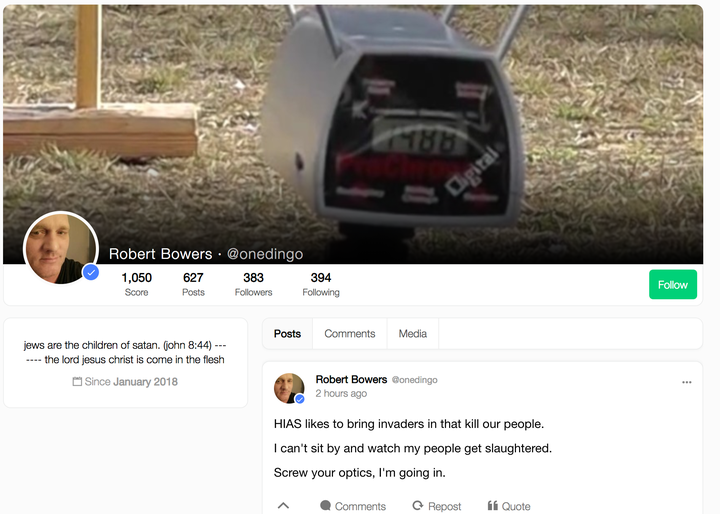 HIAS is one of nine volunteer agencies that contract with the U.S. government to provide assistance to refugees who have been accepted into the country. Like the other resettlement agencies, HIAS has become increasingly vocal over the past two years in light of the steps taken by President Donald Trump to drastically cut refugee admissions.
When the Trump administration announced that it was slashing the annual refugee resettlement ceiling to 30,000 for fiscal year 2019 ― the lowest number ever set for the program ― HIAS declared that "as a nation we should be ashamed."
And as Jewish communities around the country mourned the deaths of at least 11 people at the Tree of Life synagogue, HIAS issued its own statement of grief over the "senseless act of violence."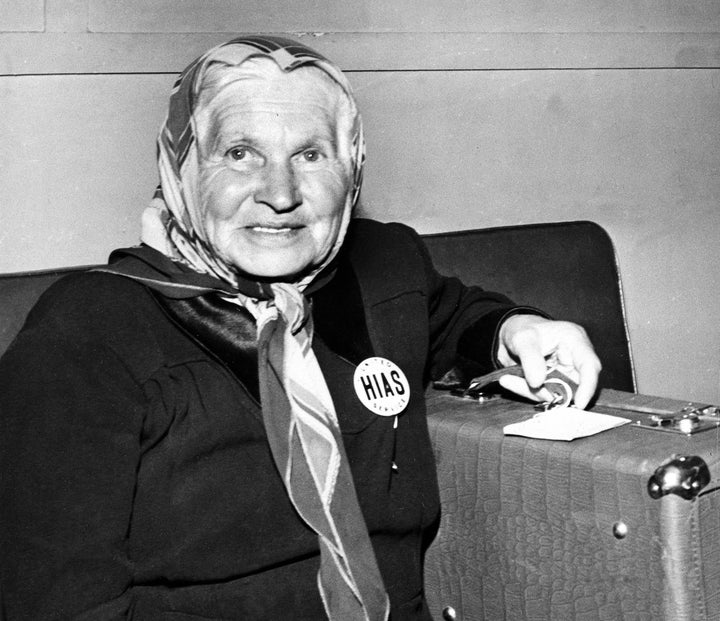 "There are no words to express how devastated we are by the events in Pittsburgh this morning. This loss is our loss," the organization said. "As we try to process this horrifying tragedy, we pray that the American Jewish community and the country can find healing."
Miriam Feffer, vice president of development at HIAS, told HuffPost that the organization has been heartened by the outpouring of support it has received since the Pittsburgh shooting.
"We very much appreciate the heartening display of solidarity," Feffer said in an interview Monday morning. "[It] really demonstrated the best of humanity."
HIAS has a long history of advocating for refugees. The organization was founded in 1881 by American Jews living on Manhattan's Lower East Side who wanted to help Jews in Russia and Eastern Europe fleeing pograms and anti-Semitic riots. It provided shelter, meals, transportation and jobs to the new arrivals. The organization also helped Jewish newcomers navigate through immigration screening at Ellis Island.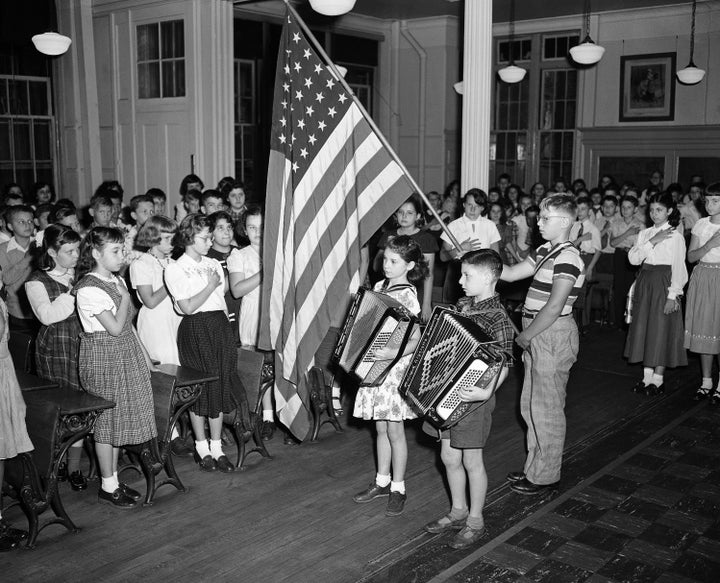 Back then, the newcomers were simply considered immigrants to the U.S. It would be decades before the modern-day concept of a refugee would be recognized by international law.
Since the 1970s, HIAS has been expanding its operations to help non-Jewish refugees, resettling people fleeing conflict in Vietnam, Cambodia, Afghanistan, Iran and other countries.
Today, HIAS prefers to be referred by its acronym, which it says better reflects its mission of protecting and assisting refugees of all faiths and ethnicities.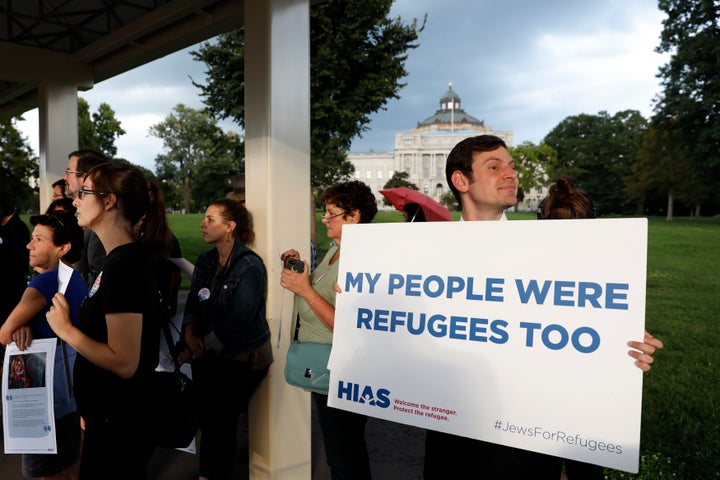 On Oct. 20, the organization helped organize a National Refugee Shabbat to raise awareness about the global refugee crisis. At about 300 gatherings in 33 states and Canada, Jewish communities came together to learn more about the crisis and what they could do.
That initiative was apparently one of the things that angered the man accused of opening fire at the Pittsburgh synagogue. According to The New York Times, Bowers linked to information about the National Refugee Shabbat in a social media post before the attack. "You like to bring in hostile invaders to dwell among us?" he wrote. "We appreciate the list of friends you have provided."
And on Friday, the day before the mass shooting, HIAS issued a statement roundly condemning reports that Trump plans to use an executive order to deny entry to Central American asylum-seekers, including the thousands currently traveling to the U.S.-Mexico border as part of a migrant caravan.
Feffer told HuffPost that the Bible commands the Jewish people to "welcome and protect" strangers at least 36 times.
"In our early days HIAS helped refugees because they are Jewish and now we help refugees because we are Jewish," Feffer said. "An attack on refugees anywhere because they're different or because they're strange is an attack on Jewish values."
Hayley Miller contributed to this report.
Calling all HuffPost superfans!
Sign up for membership to become a founding member and help shape HuffPost's next chapter
BEFORE YOU GO
PHOTO GALLERY
Jewish Social Justice Organizations