 Marijuana for recreational use is now legal in Colorado.
Today, Governor John Hickenlooper signed an Executive Order making an "official declaration of the vote" related to Amendment 64. The declaration formalizes A64 as part of Colorado's state constitution and makes legal the personal use, possession and limited home-growing of marijuana under Colorado law for adults aged 21 and older.
"Voters were loud and clear on Election Day," Hickenlooper said in a statement. "We will begin working immediately with the General Assembly and state agencies to implement Amendment 64."
Hickenlooper also created a marijuana task force that will aid in the implementation of Amendment 64 in Colorado. At the end of November when the creation of the task force was just announced, the governor's spokesman, Eric Brown, described that that the task force will work "to identify the policy, legal and procedural issues that need to be resolved related to Amendment 64," The Denver Post reported.
The task force is co-chared by Jack Finlaw, Hickenlooper's chief legal counsel and Barbra Brohl, the executive director of the Colorado Department of Revenue. Click here for a full list of all 24 members.
Amendment 64 was approved 55-45 in November's election and its passage was due in large part to the efforts of Campaign To Regulate Marijuana Like Alcohol's co-director Mason Tvert who responded to Hickenlooper's signing in a statement. "This is a truly historic day," Tvert said. "From this day forward, adults in Colorado will no longer be punished for the simple use and possession of marijuana. We applaud Gov. Hickenlooper for issuing this declaration in a timely fashion, so that adult possession arrests end across the state immediately."
Tvert added: "We look forward to working with the governor's office and many other stakeholders on the implementation of Amendment 64. We are certain that this will be a successful endeavor and Colorado will become a model for other states to follow."
Via statement, Hickenlooper's office outlines the goals and mission of the task force:
Issues that will be addressed include: the need to amend current state and local laws regarding the possession, sale, distribution or transfer of marijuana and marijuana products to conform them to Amendment 64's decriminalization provisions; the need for new regulations for such things as security requirements for marijuana establishments and for labeling requirements; education regarding long-term health effects of marijuana use and harmful effects of marijuana use by those under the age of 18; and the impact of Amendment 64 on employers and employees and the Colorado economy.

The Task Force will also work to reconcile Colorado and federal laws such that the new laws and regulations do not subject Colorado state and local governments and state and local government employees to prosecution by the federal government.

All meetings of the Task Force and any working groups will be open to the public. The Task Force will also endeavor to solicit public comment as part of its consideration of the policy, legal and procedural issues that need to be resolved to implement Amendment 64.

"Task Force members are charged with finding practical and pragmatic solutions to the challenges of implementing Amendment 64 while at all times respecting the diverse perspectives that each member will bring to the work of the task force," the Executive Order says. "The Task Force shall respect the will of the voters of Colorado and shall not engage in a debate of the merits of marijuana legalization or Amendment 64."
The Task Force will hold its first meeting at noon Dec. 17 in the Department of Revenue Gaming Conference Room, 17301 W. Colfax Ave., Suite 135, in Golden.
"As we move forward now with implementation of Amendment 64, we will try to maintain as much flexibility as possible to accommodate the federal government's position on the amendment," Hickenlooper said in a statement.
It has already been more than a month since the passage of historic measures in Colorado and Washington which legalized the recreational use of marijuana. On Dec. 6, Washington's Initiative 502 -- which legalized marijuana for recreational use for adults 21 and over in that state -- became law.
A64 allows adults 21 and older to purchase up to one ounce of marijuana from specialty marijuana dispensaries and grow up to six marijuana plants in their homes. Possession is limited to up to an ounce for personal use, but selling marijuana without a license, purchasing marijuana from a party who is not licensed as well as public use of marijuana will remain illegal.
Before A64 officially became law, some local prosecutors already reacted to the voters' passage of the amendment by dropping marijuana possession cases. Denver District Attorney Mitch Morrissey as well as Boulder County DA Stan Garnett announced that their offices would drop possession prosecutions for adults for less than an ounce of marijuana as well as for possession of marijuana paraphernalia.
The federal government's enforcement intent on marijuana law remains unclear. Attorney General Eric Holder, who was a vocal opponent of California's legalization initiative in 2010 saying he would "vigorously enforce" federal marijuana prohibition, remained silent on the issue during the election cycle and has continued to remain silent now that the measures have passed in Colorado and Washington.
Hickenlooper, who has been a vocal opponent of Amendment 64 but has said that he intends to respect the wishes of the voters, did have a phone call with Holder to discuss Colorado's legalizing of marijuana and how the feds might respond, but the results of that call did not offer any insight into the Department of Justice's stance on the marijuana measures in Colorado and Washington, according to The Associated Press.
Don't expect miracles. There is very little the president can do by himself. And pot-smokers shouldn't expect the president to come out in favor of legalizing marijuana. But from his days as a state senator in Illinois, Obama has considered the Drug War to be a failure, a conflict that has exacerbated the problem of drug abuse, devastated entire communities, changed policing practices for the worse, and has led to a generation of young children, disproportionately black and minority, to grow up in dislocated homes, or in none at all.
Optimism about a second-term Obama administration that turns its stance around on marijuana might be difficult for some pot business owners who have seen the DOJ aggressively crack down on medical marijuana dispensaries in states like California and Colorado where hundreds of pot shops have been shuttered just since the beginning of 2012.
The passage of these measures in Colorado and Washington -- as well as similar legalization measures that are expected to be announced in Rhode Island and Maine -- may not signal a full-blown end to the decades-long drug war, but perhaps a truce is near. Neil Franklin, on a recent teleconference before the Thanksgiving holiday that was aimed at pressuring Obama and Holder to respect states' rights on pot said he was cautiously optimistic about Obama's reaction to states legalizing marijuana. "During his first term, President Obama really disappointed those of us who hoped he might follow through on his campaign pledges to respect state medical marijuana laws," said Franklin, in a statement about the letter delivered to Holder on Tuesday. "Still, I'm hopeful that in his second term he'll realize the political opportunity that exists to do the right thing."
CORRECTION: An earlier version of this story incorrectly stated that Amendment 64 passed in Colorado "55-54," but it passed 55-45.
Support HuffPost
The Stakes Have Never Been Higher
Related
Before You Go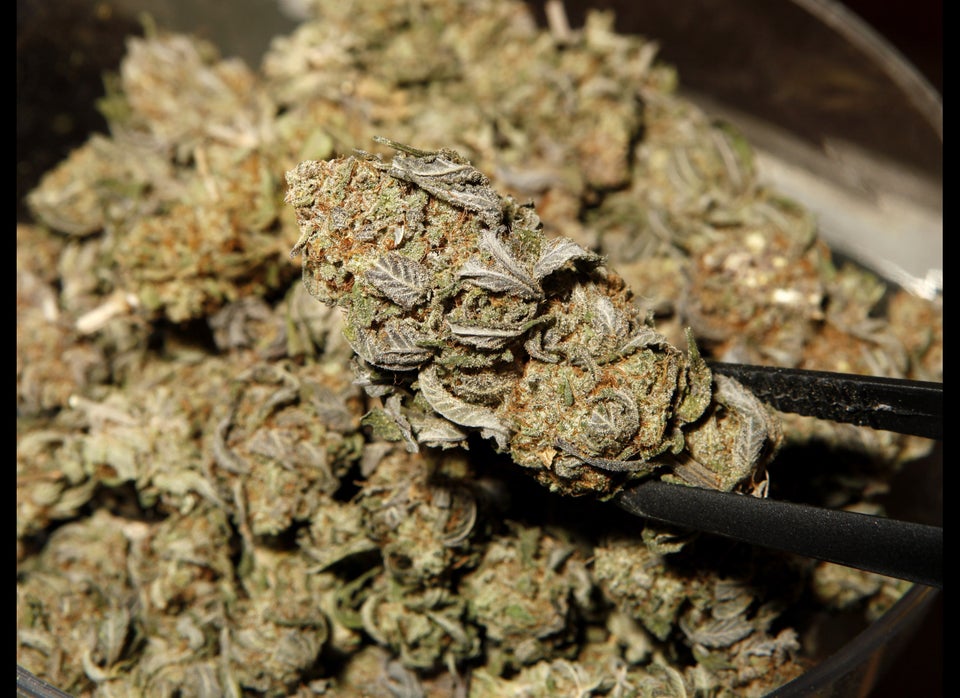 16 Facts About Marijuana And The U.S. Economy
Popular in the Community